Weekly Flyers Canada Canada Weekly
A native of Puerto Rico, singer Vanessa Cruz is an accomplished performer of many music styles, from romantic ballads to lively and rich merengue. Vanessa began singing professionally at age 9 with the group Las Hijas de Borinquen. She performed throughout Puerto Rico and the Dominican Republic singing in different festivals such as the Festival De La Voz y La Cancion, where she won several awards together with Las Hijas de Borinquen. Vanessa has also appeared on radio and television programs throughout her career. In 1991 Vanessa went solo, sharing the stage with such famous artists as Celia Cruz, Luis Enrique, Willy Chirino, Milly Quesada, Grupo Mania, and Manny Manuel among others.
Vanessa Cruz has performed at many important events in Florida, Puerto Rico, New York and El Salvador. Recent performances include the 20th Anniversary of JJ Production, Donating Smiles, Premios Estrellas, October Fest in Puerto Rico, Exponica International Fair of the Americas, The Annual White Party Sunset T-Dance, Fiesta De Pueblo, A Night Of Stars With Roberto Levermann, Red Carpet by Charlie Lapson "Rumba", New York Couture Fashion Week, and Calle Ocho in Miami, to name a few. Vanessa was nominated for seven Golden Mic Latin Music Awards 2013 for her new single, Me Gusta, winning "Artista Femenino Tropical del Año".
More information: www.vanessacruz.net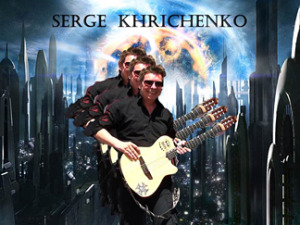 Serge Khrichenko
Serge Khrichenko is one of the most accomplished and innovative guitarists performing today. A graduate of the prestigious Rimsky Korsakov Music College in St. Petersburg, Russia, Mr. Khrichenko started his career as a guitarist and then worked as a professional composer and performer with the St. Petersburg Philharmonic for more than 10 years. He is now continuing his experiments in classical, jazz and rock music in the USA. Mr. Khrichenko has performed with numerous musicians in addition to his solo appearances in Russia, Europe, and the USA (NY, Philadelphia, and Washington DC). His performances include concerts at the Russian Embassy, French Embassy, the Strathmore Mansion, Kennedy Center and Cherry Blossom Festival in Washington, DC, as well as local and international jazz fests. In 2004 Mr. Khrichenko won the most popular guitar competition in America , "GuitarMageddon" (Maryland area). In 2009 and 2010 Serge Khrichenko performed his own compositions with the State Philharmonic in Russia to widespread acclaim, and in May 2012 he was awarded the Grand Prize for the Best Performance at the International Guitar World Festival in Moscow. Mr. Khrichenko has extensive experience composing for chamber orchestras, jazz-rock bands and fashion shows. His compositions Tango Mephisto and Raising Buddha were finalists in the instrumental category of the U.K. International Songwriting Contest 2007 and his composition Dangerous Journey was listed in the "Top 10 on Earth" for 2007 in the jazz-fusion category. Mr. Khrichenko also teaches at the International School of Music in Bethesda, MD.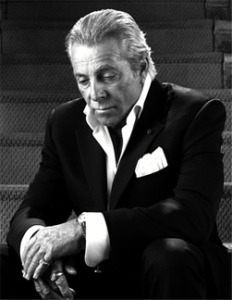 Gianni Russo
Gianni Russo has appeared in more than 45 motion pictures, but is perhaps best known for his portrayal of the infamous son-in-law, Carlo Rizzi in the iconic film The Godfather. He has also appeared in such motion picture hits as The Freshman, Rush Hour, Any Given Sunday, Sea Biscuit, and the recently released Send No Flowers, as well as in numerous television roles in Kojak, The Rockford Files, Prison Break, and more.
Along with his film career, he has sung at top show venues in New York City and throughout the world: the Copacabana, Rainbow Room, Carlyle Hotel, 5 years at Michael Feinstein's at the Regency Hotel, and for the past 3 years, appearing monthly at the famous Le Cirque. His musical skills have been compared to legends such as Frank Sinatra, Dean Martin, Perry Como, Sammy Davis, Jr. and more, and his debut CD, Reflections, paid homage to some of these iconic signers. His follow up CD was released in 2010, and his self-titled wine label, Gianni Russo Wines, launched nationally in 2009.
A native of New York City, Mr. Russo donates his time and professionalism to many charities and non-profit organizations. He has been recognized as Man of the Year by Boys Town of Italy, UNICO National, the American Cancer Society, the Muscular Dystrophy Association and St. Jude's, to name a few.
More information: www.GianniRusso.com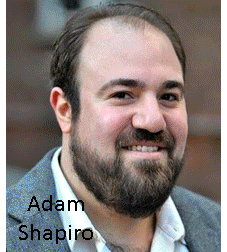 Broadway Stars
The February 2014 CFW runway was again honored with stellar performances by top Broadway stars. Appearing in support of Broadway Sings for Pride were Adam Shapiro, Alexis Acar, Andres Pratts, Ashley Tobias, Brian Craft, Bryan Austermann, Christian Dante White, Chondra Profit, Diego Rios, Elissa Goldstein, Haley Selmon, Jennifer Fouche, Kyle Motsinger, Matthew Corr, Megan Dorn, Michael Fernandes, MJ Rodriguez, Noreen Crayton, Onyie, Rachele Rommes, Rachel Lorin, Rachel Sophia, Romelda Teron Benjamin, and Rori Nogee.
Broadway Sings For Pride is a non-for-profit organization which brings together Broadway talent and celebrities to promote LGBT equality through song. Launched in June 2011, the organization has received support from Carol Channing, Channing Tatum, Nathan Lane, Joy Behar, Wendy Williams and many others. Broadway Sings for Pride is a sponsored project of Fractured Atlas, a non­profit arts service organization.
More information: www.BroadwaySingsforPride.com or on Facebook: Broadway SingsFor Pride
BlizzyBeatz
Ray Blizzy creates his infectious musical blend with a mix of crowd favorites and unexpected hits. He hooks audiences by linking current music with favorites from decades past, what he calls "musical time travel" and is known for keeping party-goers on their feet all night long. Ray's digital MP3 library includes a collection of over 10,000 hits from the 40's to the current Top 40. A great DJ for any group, he is a high-energy, multi-talented DJ who will get your guests up and dancing. More information: www.blizzybeatz.com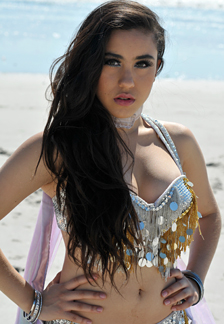 Lorena Ayub
A native of Colombia, Lorena Ayub began her dance training at age 4. She participated as the child Queen of the Carnival of Barranquilla, the world's second largest carnival event (after Rio de Janeiro). Ms. Ayub has performed on multiple occasions with the Zholuska Ballet Corps at Bogota's renowned Colon Theater, as well as during Bogota's annual Ballet Festival in the Park. She represented Colombia at the International Dance Festival of Panama, has performed with the Jorge Arnedo Ballet Company at the International Golden Gate Ballet Festival in Colombia, and with the Afro-Caribbean company in the Barranquilla Carnival parades, winning the Congo Gold Award for best choreography and artistic presentation. She danced in EstrellaTV's talent competition Tengo Talento Mucho Talento in Los Angeles, advancing to the top 10 finalists. She has studied with acclaimed dance instructors Nadejda Podtchikova (ballet) and Raquia Hassan (classic Egyptian), as well as with the Ballet Hispanico in New York and with the Camaguey Ballet in Cuba. She has appeared in several music videos and has also taught dance. Ms. Ayub is currently studying at the Peridance Capezio Dance Center in New York, and also dances with the Pajarillo Pintao Colombian folkloric dance troop.
Visit Lorena Ayub on Facebook.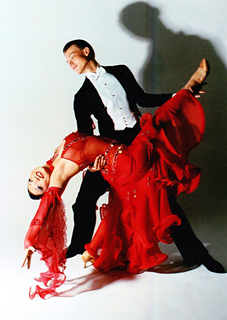 Ryan Raffloer & Shelby Joy Cole
Art Development Center "My Way"
Ryan Raffloer is a young dancer, actor and model. He has been in the entertainment business for more than 10 years, acting in many movies, TV, and Off-Broadway shows, as well as modeling in several runway shows. Mr. Raffloer is a very talented and hard working ballroom dancer. His big dream is to catch a rise to a high level of dancing in Latin and European programs, and hopes to become a World Champion one day. Ryan's life quote is: "Never Say Never!"
Shelby Joy Cole did competitive gymnastics for 8 solid years, and then went on to pursue ballet. She achieved her goal and was accepted into the Professional Performing Arts School, and continued to dance ballet at Manhattan Youth Ballet. There she met her future dance partner who helped her begin international ballroom, having previously trained at American Ballroom Theater. She is currently training at Alvin Ailey, and in her spare time practices International Ballroom and Latin with her partner, Ryan Raffloer.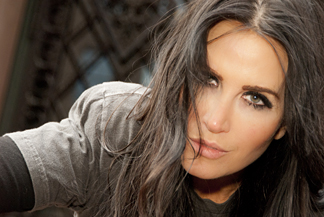 Reagan Richards
Reagan Richards is a singer/songrwriter who has been in the industry since she was 4 years old. The daughter of a former big band singer and fashion executive, she began her career as a child model in New York City and soon after began singing and performing. Reagan's musical career has had her singing on the Steve Allen Radio Show at 10 years old and moving to Nashville, Tennessee, where she lived and performed for 7 years. She has sung backup for major artists including Jon Bon Jovi, Lisa Loeb, Michael Des Barres and Darlene Love. One of the biggest highlights of her career was singing with the legendary Les Paul for 4 years, where she was part of two major concerts for the icon at Los Angeles' Gibson Ampitheatre and New York's' Roseland Ballroom. She has appeared on the hit show Gossip Girl with Lisa Loeb.
Reagan created her "ROCK & ROLL ODDITY", which is a theatrical show with her band of her original music and glam rock and roll songs. As a huge fan of fashion and everything avant garde, Reagan leaves no stone unturned in her always visually stimulating performances. In addition to writing her own material, she writes and produces her music videos. Reagan is a model for various companies, including a rock and roll apparel store, FETISH, in famed music town, Asbury Park.
September 2013 marks Reagan's fourth season appearance at Couture Fashion Week.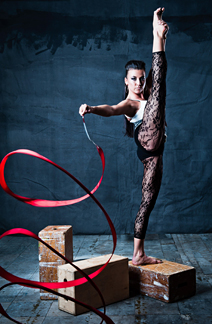 Silviya Taseva
Whether it's a gymnastics art performance, choreographing the top new dance steps, manipulating different apparatuses in her hands, flying with an aerial hammock, eating fire or modeling in front of the camera, Silviya Taseva is an amazing, multi-talented performer. She is a unique combination of Cirque du Soleil, a Broadway production and a Gymnastics event and more, all in one.
A native of Bulgaria, Silviya began rhythmic gymnastics training and a competitive career at age 4 working with a world-famous gymnastics coach. She joined the Bulgarian National Gymnastics Team at age 12, and her achievements include: Gold Medalist of Rhythmic Gymnastics World Team Cup, Bronze Medalist European Championship, 5-time Bulgarian National Champion, as well as being a medalist in numerous International Grand Prix and World Qualification Tournaments.
Silviya is pursuing a successful career as a gymnastics and dance choreographer, stage performer and model, and has appeared in many commercials, popular television and fashion shows, music videos, beauty contests, and toured with top recording artists. She served as a choreographer for the USA National Gymnastics Team and has been the leading choreographer of the Rhythmic Gymnastics Junior Group Team — the current two-time National Champions of the USA. Silviya is currently choreographer for the upcoming Broadway show, The Last Days of Pompeii. She is also the 2nd runner up of the of Miss Bulgaria in USA competition, among other accolades. More information: www.silviyataseva.com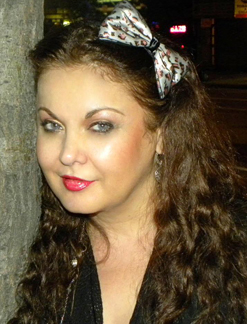 ESTÉREdiva
Soprano ESTÉREdiva is an international concert vocalist who performs in concerts throughout the USA and Europe, at private, corporate and social events, fundraisers, and fashion shows. ESTÉRE captivates her audience with her unique style and effortless high notes, and her range has been called "unfathomable." A native of Israel, ESTÉRE was influenced from an early age by the career of her father, a noted opera singer. She served in the Israeli Army, and sang as part of the military entertainment for soldiers on the Israeli borders. She has performed in musicals and various European productions, TV shows and movies. ESTÉRE represented Israel in the esteemed European Song Festival "The Eurovision" and with the "Alpha-Betha" Group won first place in Paris. ESTÉRE began her musical career as a pop and jazz singer, and went on to develop a love for the classics, embarking on extensive opera training and coaching. Today her repertoire includes music by Puccini, Verdi, Catalani, Bellini and Lehar. Her successful debut at Carnegie Hall in 2009 led to a second concert there in 2010 with the male operatic group "Dolcissimo", as well as a TV appearance on channel 56MNN which aired in NY, CT, CA and Boston. Recent concerts include the Westchester Broadway Theater; Le Frak Concert Hall in Queens College; Triad Theater NYC; Italian Festival, Syracuse NY; Italian Festival, Long Island NY; Hod Hasharon Israel and Valetta, Malta. She currently studies with Soprano Hallie Neill. More information: www.esterediva.com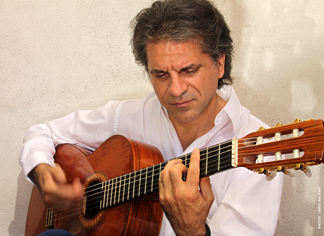 Spiros Exaras
Spiros Exaras is a graduate of the Athens Conservatory of Music in classical guitar and composition. In Greece he has performed with the Greek National Radio Television Orchestra (ERT) for several years, as well as with the Orchestra of Colors. He has also performed and recorded with pre-eminent composers and singers such as Evanthia Reboutsika, Elias Andriopoulos, Alkistis Protopsalti, Mario Frangoulis, Ellie Paspalla, Yannis Markopoulos and Kostas Hatzis, to name just a few. In the USA, Spiros has collaborated with Shirley Bassey, Randy Brecker, Ray Vega, Jon Benitez, Matt Garrison, Philip Hamilton, members of the jazz-fusion group Spyro Gyra, Grammy award winners Dave Valentin, Arturo O' Farrill and Hernan Romero and the legendary jazz singer Mark Murphy, among others. He also performed on Mariah Carey's smash hit My All (Sony 1998). Spiros has composed music for the feature film Everything For A Reason, the short film Niko's Restaurant, and the theatrical play Gallathea as well as numerous commercials. He released his first personal CD in 1992 (MBI Greece), playing the music of legendary Greek performer Kostas Hatzis, while his recent work entitled Phrygianics featuring his own compositions, has been released internationally to wide critical acclaim, by Blue Note Records (EMI 2003). His new collaboration CD with Cuban pianist Elio Villafranca, entitled Old Waters, New River is scheduled to be released in late 2013. More information: www.spirosexaras.com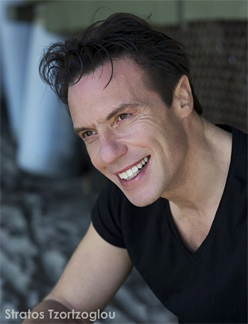 Stratos Tzortzoglou
A native of Greece, award-winning theater and film actor Stratos Tzortzoglou has received accolades from numerous industry legends including director Ingmar Bergman (nine-time Academy Award nominee) director Elia Kazan (three-time Oscar winner), Chairman of 20th Century Fox Jim Giannopoulos, and Oscar winning actress Olympia Dukakis, among many others. He has played leading roles in such theater productions as A Streetcar Named Desire, Orpheus Descending, The Milktrain Doesn't Stop Here Anymore, Death of a Salesman, Mourning Becomes Electra, Our Town, Salome, The Idiot, Dangerous Liaisons, The Portrait of Dorian Gray, to name but a few. Stratos has worked with top directors including Theo Angelopoulos in Landscape in the Mist, Michael Cacoyannis in Up, Down and Sideways, Eva Bergman in One Love and The Other, Andreas Voutsinas, and many more. Acclaimed actresses with whom Stratos has worked include Irene Pappas, Catherine Deneuve, Lena Endre, and Sarah Douglas. Stratos recently moved to New York City.
More information: www.tzortzoglou.gr
Ileana Exaras
Ileana Exaras started her acting and singing career at the age of 10, while she was living in her native Greece. She participated in several theater productions and TV commercials, while her anti-drug song was chosen and performed by ACS school choir, to wide critical acclaim. Currently Ileana is a drama studio senior student at the Frank Sinatra School of the Arts in New York and has played leading roles in several theatrical productions such as Twelve Angry Men and Measure for Measure, as well as supporting roles in Footloose, Carousel and The Lion King, among others. She was chosen by the award-winning director Alan Metzger to play an antagonist role in the film The Corruption of Antoinette, which is an ongoing production. Ileana wrote the Greek lyrics and sang the Greek version of the award-winning song by Jim Papoulis for Haiti Relief, which was recorded in 35 languages. She has written several songs and is working on her first script. She also has her own weekly show on Radio Kosmos, 91.5 FM.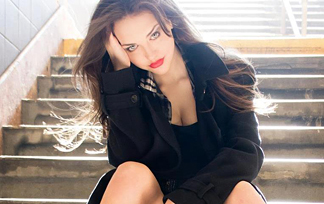 Brooke Lacey Humphrey
Model, singer and actress Brooke Lacey Humphrey is a native of Houston, Texas, now proud to call NYC home. She is delighted to return to the Couture Fashion Week stage in 2013, this time singing as well as walking the runway. Brooke's numerous theatrical appearances include roles in regional productions with Theatre Under The Stars – Mainstage: Urban Cowboy, Hairspray, Little Shop of Horrors, The Sound of Music , The Who's Tommy and Pinocchio. In regional premieres, she has appeared in Vote: A New Musical, and 13- The Musical. Her favorite roles: Ursula (The Little Mermaid), Velma (Hairspray), Meg (The Little Women-The Musical) and Polly (Crazy for You). Brooke is also featured on the original cast recording/CD of Vote: A New Musical. Brooke has performed in events and cabarets in both Houston and New York City. She has extensive vocal, dance, and acting training and is currently represented by MSA Models NYC. Modeling credits include the cover of the Random House I So Don't Do book series, as well as Milton Bradley's international game board The Game of Life: Twists and Turns. Brooke has also been seen as a print model in The New York Post, Men's Health magazine, and the Museum of Natural Science's National Butterfly Exhibit, as well as in catalogs, look-books, and fashion presentations. Notable runway work includes Couture Fashion Week New York, NYC Lingerie Fashion Week and The Bridal Extravaganza. Brooke has also appeared on television in Mirror Mirror (The Live Well Network), Luby's, Academy, and Great Day Houston.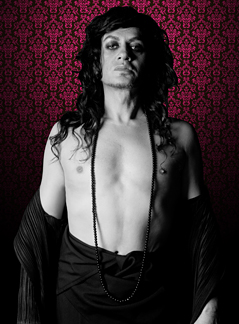 Mika
Exotic. Tribal. Iconic. These are words that many have used to describe one of New Zealand's most alluring live exports, Mika, as he arrives for a whirlwind tour of New York City in September 2013. Mika will be adorned in clothes created by NZ designer Lela Jacobs – as New Zealand is no longer viewed as a small series of islands in the South Pacific, but as a globally recognized brand and culture.
While a New Zealander performing live as part of the city's fashion celebrations isn't a common occurrence, this isn't Mika's first dalliance with the Empire State. His decadent nature insists he must return. Past career highlights include opening for Grace Jones, shocking audiences in the Oscar-winning film The Piano, penning the world's first gay "haka" (Maori war dance), and performing for HRH Prince Charles at the Palace of Hollyroodhouse.
Looking to launch his brand internationally, Mika is passionate as he beckons the world to witness his cutting edge, indigenous art. "This is a fabulous chance for New York to get a flash of Maori culture that they might never have seen before," he states. "I can't wait to unleash the Mika experience on the fashion queens of New York City – as I'm sure they will unleash some of their own upon me." An iconoclast to convention and an innovator across the ever-changing faces of media both new and old , Mika's striking, eye popping originality is a rare commodity; one that is set to erupt on a global level.
Mika's artistic achievements – from the seven albums recorded in English and Te Reo Maori, numerous works behind the scenes and on stage, television and film, and touring critically acclaimed live shows, to an astonishing seven Edinburgh Festivals – are matched only by his philanthropic efforts. His eclectic and rewarding career has inspired equally rewarding efforts to give back by educating and inspiring new generations of Maori and Pacific artists and performers. The multi-talented Mika Haka Foundation tribe includes actors, dancers, singers and musicians, visual artists and fashion designers.
More information: www.mika.co.nz
LaMarcus Miller
Hailed as "a voice to remember" for his performance at The Rockwall Music Festival, LaMarcus Miller has sung numerous leading and supporting operatic roles including Palemon in Thais, Raimondo in Lucia di Lammermoor, Les Comtes Des Grieux in Manon Lescaut, Prince Yamadori in Madama Butterfly, Il Commendatore in Don Giovanni, Dancaire in Carmen, and Simone & Marco in Gianni Schicchi. He made his musical theatre debut as The Beast in Beauty and the Beast in 2011.
Mr. Miller has also performed a wide array of oratorio and sacred works including Kodaly's Te Deum, Malcom Archer's Requiem, Handel's Messiah, Haydn's Missa Sancti Nicolai, and Mozart's Requiem. He has been a soloist with the Rockwall Philharmonic Orchestra, Dallas Baptist University Chorale, Texas A & M Chorale, and has performed with Jazz at Lincoln Center. He made his Carnegie Hall debut in Karl Jenkin's "The Armed Man" Mass of Peace in 2013.
Mr. Miller's accolades include First Place in the Vocal Division at the 2009 Delta Symphony Concerto Competition, Second Place at the 2011 African American Business and Professional Women's Vocal Artist Competition in Houston, TX, and First Place in the 2012 Nico Castel International Master Singer Competition at Carnegie Hall. Recently, he was awarded an Encouragement Award for 2012 from the Metropolitan Opera National Council Audition (Eastern Region).
Upcoming for Mr. Miller will be singing and covering various roles with Utah Festival Opera (summer 2013) and scheduled auditions on the west coast. He is currently a candidate for a Master of Music Degree at the Manhattan School of Music in New York City and studies with Mark Oswald and Bruce Stasyna.
More information: www.lamarcusmiller.com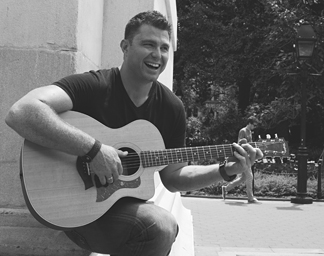 Dan Reardon
Fast rising solo artist/songwriter Dan Reardon currently juggles four non-exclusive publishing deals. When music biz legend Neil Gillis (Warner/Chappell Music) signed the Long Island, NY-based singer to a publishing deal, he had one transformative suggestion: "Don't try to sound like what you think others want to hear." When Reardon applied his stellar songwriting chops to the emotions within, he created his definitive music. The blend of poignantly personal lyrics and soaring choruses on the upcoming EP Can You Hear Me Now? (Right Me Up Records) is both distinctly Dan Reardon and universally resonant. The five-song mini-album follows a revelatory love, loss, and, ultimately, personal triumph narrative. Reardon wrote every song, played every instrument (except drums and cello), and co-produced Can You Hear Me Now? "This album is me wearing many different hats," he says. "I feel really proud of this record. It's a true reflection of my style, my experiences, and my emotions."
Counting the storied Dave Matthews Band among his strongest musical influences, Dan Reardon's own first successful band was Soundside, focusing on modern pop-rock. Soundside did 5 records, one in Spanish, and played over 400 shows, opening for such diverse and esteemed artists as Berlin, Days Of The New, The Tubes, and the New York Dolls. The band also played charity gig at Syracuse University's Carrier Dome before 20,000 people, and worked with producer Adam Lawson (Panic at the Disco, Paramore) and video director Scott Culver (Hellogoodbye, Yellowcard), among other highlights. Dan is currently writing his full-length debut to follow up his EP Can You Hear Me Now?. More information: www.danreardonmusic.com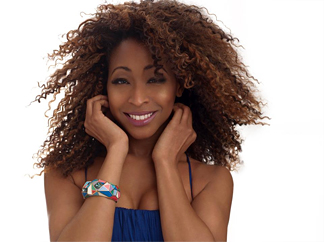 N'Kenge
N'Kenge has been hailed by Variety as "a sensational powerhouse singer packed in a lithe body" and is taking the music world by storm with her versatility and show stopping stage presence. N'Kenge made her Broadway debut in Sondheim on Sondheim, her West End debut in The Genius of Ray Charles, and her New York City Opera debut in The Mother of Us All. She appeared in 3 Mo Divas (Helen Hayes Nomination for Outstanding Actress), Aida by Elton John and Tim Rice (Arizona Theater Award for Best Lead Actress), and in the world tour of the Michael Jackson Tribute Show. N'Kenge was honored to give a solo performance at the Commander-in-Chief's Inaugural Ball hosted by President Barak Obama, and she recently sang God Bless America for the LA Dodgers' Opening Game. Both events were televised through the US and Canada. N'Kenge has also sung at the White House for President Bill Clinton, was part of a worldwide broadcast by NPR from the Library of Congress in Washington, DC and has done solo engagements at Carnegie Hall and Lincoln Center in New York, and starred in her own one-woman show entitled DivaLicious, to name but a few.
A native of the Bronx in New York City, N'Kenge studied at the renowned High School of Performing Arts, Manhattan School of Music and The Julliard School. She won accolades for her voice as well as her beauty when she won the title of Miss Manhattan in the Miss America Pageant. From opera to rap, N'Kenge's performances are consistent in their technical excellence. Her musical repertoire covers 11 languages with an uncanny power and control. Stephen Holden of The New York Times called N'Kenge "a classically trained diva who can stretch from Broadway pop-soul to opera." N'Kenge is currently appearing in Motown: The Musical on Broadway. More information: www.nkengemusic.com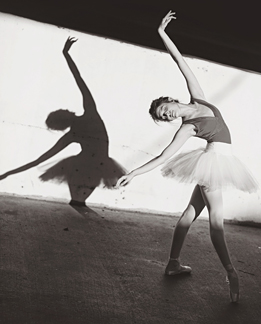 Lindsey Sagrera
Dancer Lindsey Sagrera began ballet at age 8 and has spent summers training with Ballet Austin, Ballet Chicago, Central Pennsylvania Youth Ballet, and American Ballet Theatre. Now, at age 18, she dances in the company of Lafayette Ballet Theatre. Her most noteworthy roles include Folly variation in Coppelia, Midnight Fairy variation and Ballet Master's Assistant in Cinderella, as well as Doll, Spanish, and Arabian variations in The Nutcracker. Lindsey plans to continue expanding her repertoire and has intentions of exploring other genres of dance performance that further stretch her imagination and body. Explains Lindsey: "Connecting with an audience, with individual people, through this art form in which I find such value gives me a happiness that I can't imagine discovering in any other place but the stage. To offer a kindred moment is something I continually strive for as an artist and hope that I only strengthen the bond I seek to create in my performances."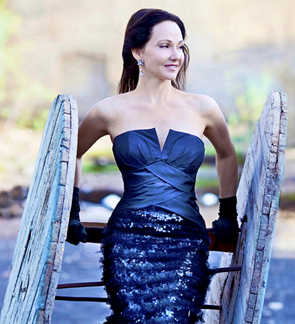 Angeles Dominguez
Angeles Dominguez was born on Grand Canary Island, Spain. She has been an accomplished songwriter for more than a decade composing music and lyrics for many well-known artists in her native country. Her compositions cover a wide array of musical styles, and she has also composed songs for commercials and other events. In 2009 Ms. Dominguez launched her own singing career with the release of "Dejame" which quickly reached the top of the music charts. See her latest video: on YouTube.com
More information: www.AngelesDominguez.com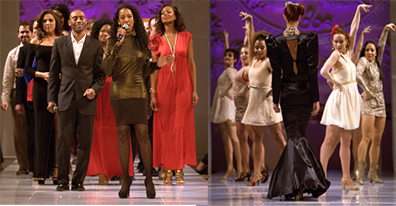 Broadway Stars
The CFW runway was recently graced by dazzling performances by a number of top Broadway performers. The performers appeared in support of Broadway Sings for Pride, and included singers Adam Chandler, Adam Shapiro, Andres Pratts, Ashley Arcement, Benjamin Torres, Bruce Wilson, Bryan Austermann, Ceasar Munoz, Chondra Profit, Christopher Sidoli, Connor Antico, Dan Domenech, Elissa Goldstein, Ethan Paulini, Hansel Tan, Jennifer Fouche, Kyle Motsinger, Lauren Zakrin, MJ Rodriguez, Noreen Crayton, Rachel Filsoof, Rachele Rommes, Romelda Teron Benjamin, Shawna Menifee, Trista Dollison, and Wendy Watson, as well as dancers Alexandra Frohlinger, Sasha Iman, Sarah Kay Marchetti, Lauren Strigari, Jessica Wu, Ellen Zolezzi and choreographer Sidney Erik Wright.
Broadway Sings For Pride is a non-for-profit organization which brings together Broadway talent and celebrities to promote LGBT equality through song. Launched in June 2011, the organization has received support from Carol Channing, Channing Tatum, Nathan Lane, Joy Behar, Wendy Williams and many others. Broadway Sings for Pride is a sponsored project of Fractured Atlas, a non­profit arts service organization.
More information: www.BroadwaySingsforPride.com or on Facebook: Broadway SingsFor Pride
Olympic Ballroom
Yakiv Myronyuk is a professional dancer, instructor, choreographer (Ballroom, Latin, Ballet, Jazz) and actor. He has danced for 20 years, and has experience as coach and choreographer for 11 years. Mr. Myronyuk teaches all kinds of students – children and adults, social and competitive — and all his students demonstrate great improvement. In July 2012 Mr. Myronyuk fulfilled his dream. He opened his first dance school "Olympic Ballroom".
Ryan Raffloer is a young dancer, actor and model. He has been in the entertainment business for more than 10 years, acting in many movies, TV, and Off-Broadway shows, as well as modeling in several runway shows. Mr. Raffloer is a very talented and hard working ballroom dancer. His big dream is to catch a rise to a high level of dancing in Latin and European programs, and hopes to become a World Champion one day. Ryan's life quote is: "Never Say Never!"
Shelby Joy Cole did competitive gymnastics for 8 solid years, and then went on to pursue ballet. She achieved her goal and was accepted into the Professional Performing Arts School, and continued to dance ballet at Manhattan Youth Ballet. There she met her future dance partner who helped her begin international ballroom, having previously trained at American Ballroom Theater. She is currently training at Alvin Ailey, and in her spare time practices International Ballroom and Latin with her partner, Ryan Raffloer.
Amanda Maria Herrschaft started competitive gymnastics and ballet at the age of 6. She also has studied at American Ballet Theater's summer intensive in New York City. At age 15 she started training in Ballroom Dancing and fell quickly in love with it. She hopes to have a bright future one day in Ballroom.
More information: https://www.facebook.com/OlympicBallroom
Blake Carrington
Blake Carrington is a gifted R&B/Soul singer, songwriter, arranger, recording artist, actor and driven entrepreneur. His stunning five-octave tenor voice has thrilled audiences across the nation and around the globe. Mr. Carrington's major musical influences include Stevie Wonder and Marvin Gaye, Musiq Soulchild, Maxwell and Donny Hathaway. He has shared the stage with Eric Roberson, Jagged Edge, Ne-Yo, Keyshia Cole, Akon, Tank, Ludacris, and Ciara, among many others. His take on classic urban Soul and R&B is delivered with a substantive message, expansive vocal prowess, in soul-fused performances. Mr. Carrington's recent album, Be a Man, is reminiscent of great singers of the past who combined uncanny talent with class, a rare commodity these days. The album is an introspective view of his personal values, ethics, and contributions.
Also an accomplished actor, Blake Carrington has appeared in numerous commercials, TV shows and films, including Nurse Jackie (Showtime), Orange is the New Black, Royal Pain, Adjustment Bureau, The Other Guys, Salt, Fighting, American Gangster, Sex in the City 2, The Big C, Law and Order (SVU, Criminal Intent and L&O), CSI New York, Blue Bloods, and many more.
Mr. Carrington is also the Founder and CEO of Bigger Than Life Music (B.T.L. Music) LLC, an independent music company with special interest in singers, songwriters, and entertainment performers, striving to create music that promotes lyrical content while embodying depth and insight.
More information: www.BlakeCarrington.net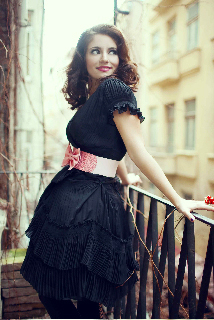 Sinem Saniye
Sinem Saniye (pronounced SEE-nem SAH-nee-yeh), is an award-winning songwriter, singer, guitar player and music lover. Sinem is an ancient Turkish word meaning deep from within my heart. As her name implies, Sinem writes and delivers her music in this very manner. Every song and lyric in her debut album, When I Don't Sleep.. comes from the most honest and passionate place in her heart. Sinem has been featured in magazines like TimeOUT NY, Global Rhythm Magazine, The VillageVoice, and The Los Angeles Times. She has also been featured in television programs across the US including Indi Music TV, Music Mix USA, Swept Away TV, The Rhythms of NY, The Directors Chair, Metro Unplugged in Los Angeles, and many more. Sinem's music can be heard on Delta Airlines' flights, Whole Foods, Williams Sonoma, Fairview Hotels, and retailers and restaurants across the world. Sinem's music videos are in high rotation on MTV in Europe. More information: www.sinem.net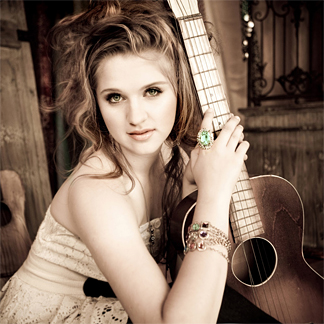 Lizzie Sider
Lizzie Sider is a devoted and passionate country-pop singer/songwriter. She writes music that touches people, and perhaps, takes them back to their own similar experiences. Her debut single, "Butterfly", has surprised listeners with her mature vocals and youthful lyrics. "Butterfly" climbed into the top 60 on the well-respected Music Row Country Music charts, and the in-studio music video is playing on GACtv.com, CMT.com and TCN – The Country Network's television station.
Lizzie sees herself as having a calling to perform on the big stage and to become a role model and inspiration to others. People in the industry love working with Lizzie. She is clean cut, a breath of fresh air, a little old fashioned in some ways, and fun loving – a genuine sweetheart. Currently a high school student in South Florida, Lizzie takes creative inspiration from such artists as Miley Cyrus, Taylor Swift, Lady Antebellum, and others.
Lizzie recently opened for Jamie O'Neal and Aaron Tippin, and has been the featured performer at the Ocala and Inverness, FL Rodeos. She has played at writer's nights in Nashville venues including both Hotel Indigos, The Listening Room, The Red Rooster, and Rooster's BBQ, and has been a featured artist at the Commodore Lounge. She is slated to perform at Teddy Gentry's (Alabama) 2013 birthday party in Nashville and at the Bluebird Café in Nashville in early 2013. She recently performed in the Grand Ballroom at The Waldorf Astoria Hotel at Couture Fashion Week in NYC. She has been the host of Breaking Out, on TCN (The Country Network), a showcase for up and coming country artists. Lizzie has performed at the Southern Women's shows in Birmingham, AL, Jacksonville, FL and Orlando, FL. She has toured St. Jude Children's Hospital in Memphis, and performed at the Joe DiMaggio Children's Hospital in Hollywood, FL and at the Ronald McDonald House in Nashville.
Lizzie Sider is currently working on her first full length studio album for release in 2013.
More information: www.LizzieSider.com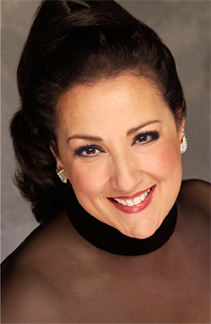 Cristina Fontanelli
Award-winning singer Cristina Fontanelli has become a well-known personality through her recordings, appearances on TV, radio, in concert, nightclubs, and opera, and through her acting debut on network television. Her most recent accomplishment is as PBS Host for Andrea Bocelli's historic free concert in Central Park also starring Celine Dion, David Foster and Tony Bennett, for the Vienna Boys Choir special and she will once again join PBS as host for the 2012 Il Volo special. She is the "voice of Domino's Pizza" on their current national radio commercial, the voice of "Nonna" on the beloved PBS TV Chef Lidia Bastianich's 2010 Christmas special (over 300 PBS outlets across the U.S.), and has appeared on CBS Weekend in interview/performance/co-hosting roles for the past 2 years.
Her beautiful soprano voice has taken her to the White House as part of President Clinton's holiday celebration and in 2005 she was invited to open the ceremonies at the Stars & Stripes Inaugural Ball for President George W. Bush. Recent appearances included the Hilton in Atlantic City, St. Patrick's Cathedral NYC, a 9/11 memorial concert at Rockefeller Center with the NYPD Concert Band (televised on CNN, Fox National and NY Channels 5, 7 and 9), the Columbus Day Parade on 5th Avenue NYC, the prestigious Hamptons Classic Horse Show, singing the National Anthem on Capital Hill in Washington D.C. for the testimony by fashion-icon Giorgio Gucci, the Jimmy Kimmel TV program, singing Happy Birthday to Mickey Rooney for his 90th birthday celebration at Feinsteins (Donald Trump, Regis Philbin, Tony Bennett, et al in attendance), a gala at the Pierre Hotel in NY City for Gucci, and her annual Christmas in Italy concert at Lincoln Center. Ms. Fontanelli i has been named one of the American Academy of Dramatic Arts 100 most notable alumni (along with Robert Redford, Danny DeVito, Edward G. Robinson, etc.). She has appeared with numerous opera companies and prestigious orchestras worldwide, and appears annually at the world-famous Feinstein's at the Regency Hotel in NYC. She was signed by a platinum-record winning producer to record Cristina Fontanelli Sings Great Italian Favorites. She is the recipient of numerous awards. Ms. Fontanelli sings and entertains in 8 languages.
More information: www.cristinafontanelli.com or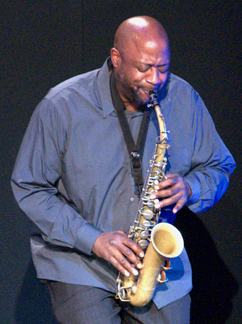 Sweet Lew
Sweet Lew is a musician who utilizes the saxophone's healing tones to uplift, inspire, promote peace and harmony and contribute to the general wellness of Planet Earth. Music is a known power to restore balance, bring about positive change and stimulate deep ruminations in the mind. Sweet Lew is dedicated to this mission.
Thomas Cook
Thomas Cook is the consummate entertainer, singer, songwriter, recording artist and performer. His career has been distinguished by performing for many chartable causes and he has been honored for his concerns by President Ronald Regan, Members of Congress, and The American Heart Association, as well as receiving numerous awards from such prestigious organizations as Outstanding Young Men of America. Most recently Mr. Cook was honored with the President George W. Bush's Presidential Service Award – the highest volunteer award in the country. The award recognizes Mr. Cook's life long commitment to making a difference in the lives of others.
Thomas Cook has produced, directed and performed at national fundraising concerts for the Salvation Army, Cystic Fibrosis, The American Red Cross, The National Center for Missing and Exploited Children and the Race Against Drugs Campaign. He has traveled the world with the cast of "Up With People" , and composed original music for Olympic figure skating medalists Peter and Kitty Caruthers. Mr. Cook has performed in Mexico and the United States with legendary singing star Englebert Humperdink, co-hosted "Avenue of the Stars" with Vanna White, and performed original compositions before His Royal Highness The Prince of Wales, former U.S. Presidents George Bush and Jimmy Carter, Larry King Live, The Ambassador's Ball at the Breaker's Hotel Palm Beach, "The Kennedy Center" 2007 Chairman of the Awesomely Bad Ball featuring Thomas Cook with a command performance, H.E. John Cardinal O'Connor in New York, and the Miami City Ballet, to mention just a few.
A descendant of one of the worlds greatest authors, Ralph Waldo Emerson, Thomas Cook is also President of Thomas Cook and Associates based in Washington D.C., specializing in public relations, corporate partnerships, sponsorships, marketing, development, strategic alliances and celebrity recruitment. More information: www.thomascookdc.com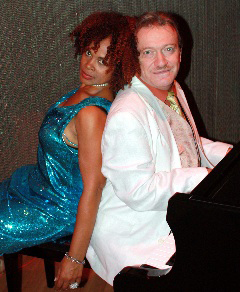 Prince Igor and Angel Rose
Prince Igor (Igor Yahilevich), founder of Prince Enterprises, Inc., is a classically trained pianist, keyboard player, composer and arranger. Mr. Yahilevich has over 20 years experience composing music scores for TV, movies and variety shows. He has recorded several albums/CD's of original compositions. Prince Igor has participated in many US and European jazz festivals and has performed in concert halls around the world, including Carnegie Hall, Town Hall, Sheraton Hilton, Water Club, Ambassador Grill and the United Nations Headquarters in New York City.
Angel Rose was honored to be the featured vocalist for Stevie Wonder and Dizzy Gillespie's collaboration, the Grammy nominated recording, Closer to the Source. Quincy Jones, George Duke, and Glenn Ballard are among the notable producers who have selected her to record with a diverse roster of artists, truly the elite of the industry, including Michael Jackson, Herbie Hancock, Chaka Kahn, Vanessa Williams, and Celine Dion.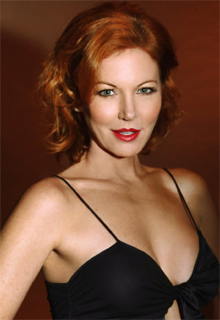 Cynthia Basinet
Cynthia Basinet is an American-born actress, critically acclaimed singer and humanitarian. Cynthia is best known for her iconic version of Santa Baby, which is mistakenly attributed to Marilyn Monroe and can be found in the soundtrack, Party Monster. Always interested in social and environmental issues, the former model was nominated for a shared Nobel Peace Prize in 2005. Recently she recorded The Christmas Song with Lee Musiker (Tony Bennett's pianist) as a followup to their It's Only a Paper Moon collaboration , which can be found on iTunes and Amazon. Cynthia has also appeared in over 100+ TV, film and commercials including the upcoming documentary, American Gold with Isaac Mizrahi, Judy Collins and YoYo Ma, narrated by Edward Burns. More information: www.cynthiabasinet.com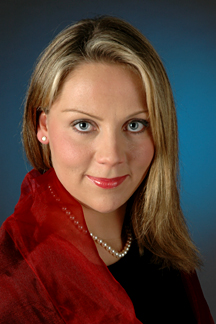 Christine Reber
A native of Stuttgart, Germany, Christine Reber is an accomplished singer who received her classical training in Freiburg, Germany, as well as in New York City. In addition to opera productions, sacred music, recitals and music/art festivals in the USA as well as in her home country, the soprano has performed in Switzerland, France, Great Britain, Italy and Canada, where she has received widespread praise and as a fresh, exciting presence on the international vocal scene. Ms. Reber was awarded the 2005 Achievement Award for Artistic Excellence from the New York German Forum, and participated in the 2006 memorial service for the victims of 9/11 at St. Paul's Church Manhattan that was broadcast on German, Swiss and Austrian national television. For 2011/ 2012 she is preparing appearances in the United Arab Emirates and China. She is also working on a CD featuring the songs of Bruno Droste, a popular East German composer and conductor, much of whose music was destroyed by the DDR after his defection to the West. More information: www.ChristineReber.com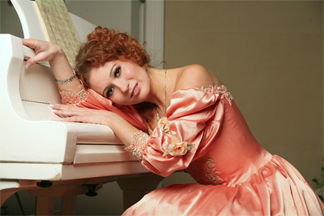 Olga Orlovskaya
Russian born soprano Olga Orlovskaya inherited her talent from her great grandfather, the famous Russian bass Fedor Shalyapin. Ms. Orlovskaya graduated with honors from the Russian Academy of Music and in 2008 was a prize winner in the Operetta Land international competition held in Moscow for the best performance of Kalman. Her career highlights include singing the role of Katerina in Lady Macbeth of Mtsensk by Shostakovich with the Novosibirsk State Opera Theater, for which she won a Golden Mask nomination. Ms. Orlovskaya has also had a great success with her solo concerts in many European cities and capitals (Paris, Rome, Geneva, Luxemburg, Dresden, Barcelona, Brussels). She made her U.S. debut in 2006 with the Helicon Opera Theater singing the role of Adele in Die Fleidermaus by Strauss., and during 2010-2011 she appeared as a season opener for the for National Museum of Women in the Arts concert series in Washington DC. She made her debut with Teatro Lirco D'Europa during its fall 2010-winter 2011 USA tours as Lucia in Donizetti's Lucia di Lammermoor to outstanding critical acclaim. In 2012, with great success, she performed the roles of Mimi in La Boheme and Violetta in La Traviata with the Baltimore Opera Theater. Ms. Orlovskaya is the founder and artistic director of the "The Russian Sopranos" quartet.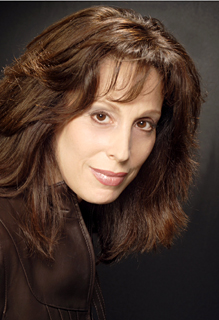 Tyler Merell
Tyler Merell began her career in Boston, Massachusetts acting and singing while attending Tufts University. She won the coveted Goddard Acting Award at Tufts, two years in a row, and earned her BA in Theatre. Next, winning the prestigious "Lotta M. Crabtree Grant for Actors" Ms. Merell went on, her training fully funded, to New York University Tisch School of the Arts, where she earned her MFA in Acting, studying under well-known faculty such as Olympia Dukakis. Ms. Merell went on to work exclusively with amazing singing coach, Twil Leipzig, in New York City. Throughout her career Ms. Merell has maintained ties to her classical training in theatre and music as she has developed a vast range, playing roles dramatic to comic, on stage and on camera. She has been delighted to perform the most gorgeous music and a variety of characters, utilizing her unique singing range of more than five and a half octaves and acting skills – from Musical Theatre to the American Songbook, Opera to Popular. (From Rodgers & Hammerstein to Lloyd Webber to Gershwin to The Bell Song, Pace mio Dio, Queen of the Night, Strauss Waltzes to Adam Lambert!) Most recently, she sang a solo concert in Mexico City and starred in You're So Vain music video (lead acting role) with Carly Simon. More information: www.tylermerell.com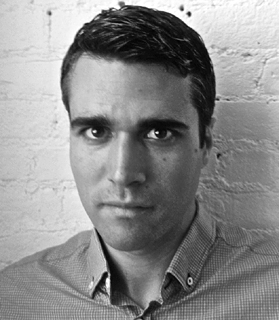 Christopher Wilson
Pianist Christopher Wilson studied for a Bachelor of Music in Piano Performance from Ithaca College under the direction of Charis Dimaras and Reed Gainsford, a Master of Music from Manhattan School of Music in the studio of Nina Svetlanova and at the Keski Suomen Opisto summer music festival in Suolahti Finland with Lawrie Vienma. As a fond advocate of new music, Mr. Wilson has served as the Music Director/Pianist for several Metropolis Opera Project productions, including Crossing the Straits by Christopher Sahar, One Hot Kitchen by Kristin Hevner Wyatt and Stig Jonas Pettersson's A Dream Play. He has also recently premiered works by Douglas DaSilva and Nolan Stoltz as part of the Composer's Voice concert series. Most recently, Mr. Wilson served as the Assistant Music director for the York Theater production of a new Sheldon Harnick musical entitled A Doctor in Spite of Himself. In addition to new music endeavors, Mr. Wilson has performed works from an eclectic array of genres extensively throughout New York City and the northeast. He fondly enjoys coaching and accompanying singers, and playing chamber music with his piano trio, The Helix Trio.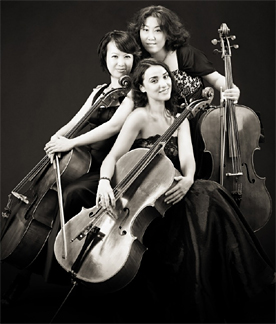 Monticelli Trio
A native of Albania, award-winning cellist Gjilberta Lucaj studied at the Padova Conservatorio di Musica (Italy), the Music Conservatory at SUNY Purchase, Mannes College of Music (NY) and holds a Masters in Music Education from the Steinhardt School of Education at NYU. She has performed around the world with numerous orchestras and at Avery Fischer Hall, at Carnegie Hall as a member of the Passionata Trio, and has toured extensively in South Korea. Most recently Ms. Lucaj served as artistic director featured performer for Grandes Poemas De Amor, a book and CD compiling the greatest love poems of the last 100 years by poets from Latin America and Spain.
South Korea native Min Kyung Lee began her musical path as a young pianist, later turning to the cello. She has studied at Kyung-Sung University, SUNY Purchase, and holds a Masters of Arts from Montclair State University. Ms. Lee has performed with numerous orchestras including the Pusan Chamber Orchestra, Bloomfield Symphony, Montclair Chamber Orchestra, Bergen Philharmonic, Livingston Symphony, Plainfield Symphony, and the New Jersey Philharmonic. She has also participated in the Chautauqua Music Festival.
A recipient of numerous prestigious music awards, Suji Kim is currently a member of the Montclair String Quartet, the Alacorde Piano Trio, and the Montclair Piano Trio in addition to the Monticelli Trio. She is a principal cellist of The Little Opera Company of NJ, North Jersey Concert Opera, The Baroque Orchestra of North Jersey, Plainfield Symphony and New Brunswick Chamber Orchestra. Ms. Kim holds degrees from Kei-Myung University (Korea) and Temple University, and studied at Montclair State University and the University of Missouri Kansas City. Ms. Kim is an adjunct professor at College of St. Elizabeth and on the faculty of the Judith G. Wharton Music School and Montclair Kimberly Academy.
More information: www.monticellitrio.com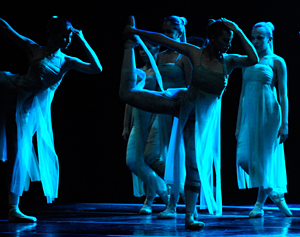 New York Children's Dance Theater – Nika Ballet Studio
New York Children's Dance Theater, established by the founders of Nika Ballet Studio in 2010, is a one-of-kind dance company comprised of non-professional young dancers who are passionately devoted to the art of dance. NYCDT has presented numerous performances throughout the New York City area, exhilarating diverse audiences with a wide range of classical, neoclassical and contemporary works, under the artistic direction of its talented founder, teacher and choreographer trained in the best traditions of the Russian School of Ballet, Ms. Anna Fateeva-Kazantseva.
Nika Ballet Studio is an innovative dance studio, founded upon a passionate belief that a dance center should not just be a comfortable place for exercise where children can aspire to become dancers, but a liberating and inspiring space for connection of the body, mind and soul. Nika Ballet Studio offers a uniquely exciting environment for anyone willing to embrace the magic of the wonderful world of music and dance.
More information: www.nikaballetstudio.com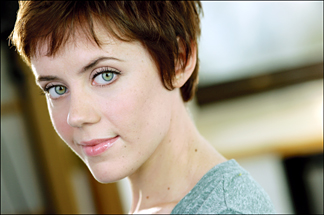 Carole J. Bufford
Carole J. Bufford, a bluesy singer with a penchant for any song that tells a great story, has been breathing new life into the Great American Songbook all across the country. She has been seen in numerous productions at New York's famed Town Hall as well as [email protected] Lincoln Center where she received specific praise from Stephen Holden in The New York Times. She recently ended an unprecedented nine-month run at Feinstein's at the Loews Regency with Eleven O'clock Numbers at Eleven O'clock. Her recent solo cabarets, intro at The Metropolitan Room and Carole J. Bufford sings Randy Newman at Don't Tell Mama, received rave reviews, and she is the recent recipient of the 2011 Bistro Award for Outstanding Vocalist.
More information: www.carolejbufford.com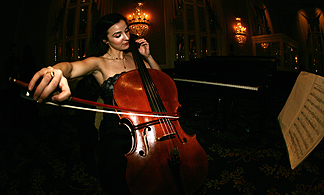 Gjilberta Lucaj
A native of Albania, Gjilberta Lucaj began cello studies at age six. At age thirteen she won the National Young Artist Competition and became the youngest student ever to be chosen to tour in Italy with the Shkoder Symphony Orchestra. Tour highlights included playing for Pope John Paul II and receiving a full scholarship from the Padova Conservatorio di Musica. Gjilberta went on to attend the Music Conservatory at SUNY Purchase College where she studied with Peter Wiley of the Guarnieri Quartet and graduated with a BFA in Music Performance. Soon after, she was accepted into the Mannes College of music in Manhattan and most recently, she received a Masters in Music Education from the Steinhardt School of Education at NYU. Gjilberta performed at Carnegie Hall as a member of the "Passionata Trio" in 2002 and 2003 and has since given numerous solo, chamber music and orchestral performances throughout USA. In 2006, she became a member of the New Jersey Philharmonic Orchestra, has performed frequently at Carnegie Hall and Avery Fischer Hall, and has toured extensively in South Korea. She has given lecture recitals for Hudson Valley Piano club for two years in a row and has participated and performed in many master classes including with Yo-Yo Ma. She has performed with many orchestras such as Westchester Chamber Orchestra, Glens Falls Orchestra, Gateway Classical Society Opera, Bronx Orchestra, and more. Gjilberta is a member of the Monticelli Trio (an all-girl cello trio). In 2009 she was the only classical musician chosen to tour as part of a group of distinguished actors, supermodels, Olympic hockey players, producers and singers to benfit the Mauricio Amuy Foundation in Mexico and to raise awareness of child abuse and poverty in that country. Gjilberta has been feautured in many major Albanian publications as well as in Couture & Luxury Magazine, Scarsdale Inquirer (NY), Village Voice (CT), and more. Most recently Gjilberta served as artistic director and was the featured performer for Grandes Poemas De Amor, a book and CD compiling the greatest love poems from the last 100 years by Latin American and Spanish poets.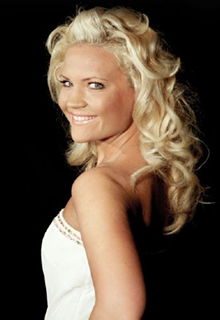 Julie Coucheron
At twenty-five years of age, pianist Julie Coucheron has established an international career, winning prizes in Italy, Germany and in the U.S. She has worked with many prominent musicians includingLazar Berman, Claude Frank, Emanuel Ax, Vladimir Feltsman, John O' Connor and Chistopher O'Riley and has toured Europe, North and South America and Asia, playing in such prestigious venues as Verizon Hall, Wigmore Hall, the Kennedy Center and Carnegie Hall.
Born in Oslo, Norway, Ms. Coucheron started playing piano at age four. She earned her Bachelors and Master's Degree with honors from the Royal Academy of Music in London studying with Christopher Elton and Michael Dussek while also gaining her LRAM teaching diploma at the same institution. Ms. Coucheron has performed at festivals such as the Oslo Chamber Music Festival, Bergen International Music Festival and the La Jolla Summer Fest. In 2002 she released her first recording, Debut, on the Naxos label, together with her brother David, featuring lyrical and virtuoso music from the classical repertoire. The response was excellent and it sold more than 40.000 copies in Norway alone. Ms. Coucheron and her brother released their second recording, David and Julie, on the Mudi/Naxos label in 2008, with sonatas by Grieg and Brahms. It received brilliant reviews worldwide. In 2009 she won first prize at the Pinerelo International Chamber Music Competition in Italy together with her brother. Ms. Coucheron, her brother – who is also Concertmaster of the Atlanta Symphony – and that orchestra's principal cellist, Chris Rex, have formed a trio that performs regularly in various concert halls around the world. Ms. Coucheron is also a frequent guest artist with the Georgian Chamber Players and recently performed the Brahms piano quartet with the ensemble in Spivey Hall in Atlanta. Ms. Coucheron performs in a wide variety of styles in a repertoire ranging from her highly trained classical background to more contemporary and popular music. Recent collaborations include performances with artists such as the Steve Miller Band and Elton John.
More information: www.coucheron.com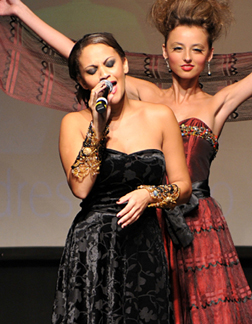 Sarah Elizabeth Charles
Audiences are moved by Sarah Charles's range of talents, whether she is singing the Ave Maria a capella or barreling out Muddy Water accompanied by a jazz band. She has performed at numerous jazz festivals, at the Majestic Theater in New York and on the steps of the Lincoln Memorial in Washington, D.C. as well as singing the national anthem at major sporting events for teams including the Boston Celtics and New England Patriots. At Couture Fashion Week in September 2009, Ms. Charles performed her composition of Ballerina with lyrics by producer and fashion designer Andres Aquino.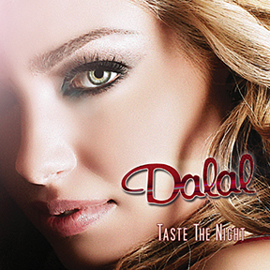 Dalal
Dalal is a dynamic Austrian singer and actress now building her career in the USA. Her recent single, Taste the Night, reached #5 on the Billboard Dance Club Chart, and the video of the song garnered over 1 million views on YouTube in its first two days after its premiere on AOL Music. Prior to her big break with Taste The Night, Dalal starred in various television shows and movies in Austria, Germany, Switzerland, Greece and Korea, and was a visual effects artist for the Disney series Sonny With a Chance and the hit show 90210. Dalal has appeared on the cover of Inspired Women magazine, and recently performed at The Fender Music Lounge and NY Loves Film parties at the 2011 Sundance Film Festival in Park City, Utah. She was featured as Artist of the Month on eatsleepbreathemusic.com. Upcoming projects including a lead role in the upcoming movie "Into The Darkness" alongside Kiowa Gordon from The Twilight Saga (New Moon and Eclipse), and Mischa Barton, as well as a role in the forthcoming horror flick OLD 37 with Brandi Cyrus. Dalal will be seen walking the runway at New Jersey Fashion Week, Fall 2011.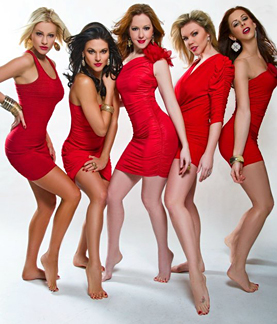 The Broadway Dolls
Girl Group meets Broadway in the most exciting act to burst out of New York City in years! The Broadway Dolls are the undisputed official girl group of Broadway, and they have gotten their act together, and are taking it on the road! A girl group with four full-length production shows and counting, The Dolls pull from a roster of the most fiercely talented women in the business. A cast of five performs the greatest music ever written, as you've never heard before, in non-stop song and dance concerts.
The Broadway Dolls hail directly from the Broadway companies of Mamma Mia, Chicago, Spiderman: Turn Off the Dark, Rock of Ages, Memphis, Jersey Boys, Million Dollar Quartet, Rent, Hairspray, Annie Get Your Gun, Legally Blonde, Chitty Chitty Bang Bang, Grease, The Wedding Singer, A Chorus Line, Good Vibrations, Jekyll & Hyde, Spamalot, Wonderland and more.
No other entertainment company in the theatrical community boasts such an accomplished and diverse team of working actresses. The Broadway Dolls have performed in New York City at such venues as the Marriott Marquis, Cipriani Wallstreet, Cipriani 42nd street, the legendary Birdland Jazz Club, the Triad Theatre, The Pierre Hotel 5th Avenue, Midtown Theatre, B.B. Kings, and Dixon Place, among many other venues. Nationally, the Dolls have toured numerous performing arts centers to sold out crowds. The Broadway Dolls made their first international appearance at the Atlantis Resort in Dubai, headlining the World Travel Awards. Recent TV appearances include opening for the World Champion Boxing Match in Quebec (HBO), and headlining the National Vocal Championship Finals (ABC).
The Broadway Dolls are currently in preparation for the opening of their latest production, Tour de Fierce!, which premieres at the prestigious New York Musical Theatre Festival this fall. Combining elements of Broadway, Rock, Cabaret, and Performance art, this production is the most ambitious event by The Broadway Dolls to date.
More information: www.TheBroadwayDolls.com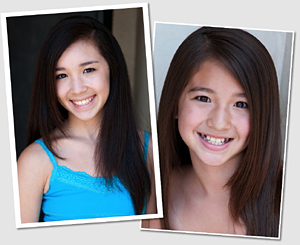 Kiana & Melia Mariano
The youngest dancers to perform on the Couture Fashion Week runway, Kiana and Melia were born in Orange County, CA and are 12 and 10 years old respectively. They've devoted most of their lives to dancing jazz, lyrical, tap, ballet and hip hop since they were 2 years old. They began competing at the age of 4. Kiana and Melia have been recognized by the dance community through numerous awards and 1st place honors at national dance competitions in their individual age groups.
Although Kiana dances various styles, she loves contemporary. She has appeared in numerous commercials including a primary role for MetLife Insurance and KOHL's. She has also performed on TV shows, most recently with a special group of dancers on FOX's hit show Mobbed, and she was also a backup dancer at a Taylor Dane concert in Las Vegas.
Melia enjoys dancing lyrical, but jazz funk is her strong suit. Melia also appeared on FOX's Mobbed, and will soon be seen in the popular video game Just Dance Kids 2 to be released in December 2011. Melia also had a primary role in a national commercial called "Brighthouse". But her most memorable dance experience was dancing behind Patti LaBelle and Taylor Dane during their Las Vegas show.
Kiana and Melia have trained with Dance Precisions and Mather Dance Company. They wish to thank their teachers, mentors, and choreographers Danielle Kenfield, Leslie Kenfield, Shannon Mather and a very special thank you to Molly Long.
More information:
Jane Hunt
British born violinist Jane Hunt, also known as the "Violin Venus", is quickly becoming one of the most talked about violinists in both the UK and USA. Making her debut at Carnegie Hall in 2007 and having appeared as a soloist at Radio City Music Hall, The Kennedy Center, The Cannes Film Festival and Sir Elton John's Lifeball Concert, the Violin Venus captivates audiences wherever she performs. Combining the beauty and refinement of classical music with the energy of folk and jazz, Ms. Hunt is an eclectic high-energy performer. She recently appeared at the U.S. Open Tennis tournament and at the Glamour Women of the Year Awards at Carnegie Hall along with such notables as Nicole Kidman and Michele Obama. She also appears regularly with the 3 Irish Sopranos and famed Irish tenor Ronan Tynan.
More information: www.ViolinVenus.com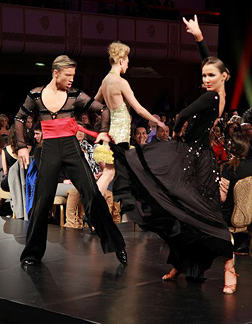 Madeline Plucinska & Ryan Raffloer
Two of the youngest performers at Couture Fashion Week at only 14 and 16 years of age, Madeline and Ryan are a talented, world-traveled, recently paired dance couple. They dance in amateur youth 10 dance and represent the USA at nationals and international competitions. They devote their time and passion to dance with their lives revolving around practicing with their world renowned coaches, competing and performing. They also excel academically and are honor roll students. In 2012 they will compete on the world stage in Blackpool, England.
Born in the USA of Polish parents, Madeline started dancing ballet at age 6 at the Rock School in Philadelphia, PA and has performed numerous times at the Philadelphia Academy of Music. At age 9 her mother introduced her to ballroom dancing and since then she has been enchanted with this style of dance. Madeline has also done fashion modeling.
Also born in the USA of Ukrainian and Irish-American parents, Ryan began dancing at age 7. In addition to ballroom, he continues to dance ballet at the Manhattan Youth Ballet School, where he earned a full scholarship. He has also appeared at the New York City Center Dance as well as having done theater and film.
More information: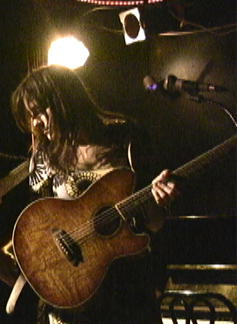 Dani Tersini
Whether intimately losing herself in playing guitar or singing under the lights before an audience, Dani Tersini's performance exudes emotional passion, raw intensity and sexuality. Ms. Tersini left behind the relatively sheltered life of a Yorkshire village in England to make the gigantic and courageous leap to New York which she now considers 'home' and where she continues to develop and hone her craft and unique style. Drawing inspiration from varied musical influences and experiences that she has encountered along her personal journey of discovery, Ms. Tersini expresses an eclectic blend of sounds reflecting the many facets of emotion stirring within. Through musical theatre, talent contests and many gigs, she continues to grow musically and professionally, expressing her own individuality through her music and performance.
More information: http://www.myspace.com/dani_tersini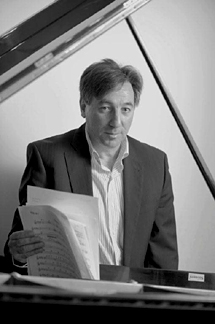 William Camilleri
A native of London, England, Wlliam Camilleri has been called a "music phenomenon. He showed exceptional talent for the piano, drums, violin and recorder starting at age 3. In his teens, Mr. Camilleri moved to Toronto, Canada where he studied with world-famous American drummer Peter Magadini. Upon moving back to London he went on to play with a number of world-renowned artists including Tina Turner on her hit single Let's Stay Together.
Finding that his style did not fit with traditional music groups, Mr. Camilleri started his own Revival Studios where he composed his own special brand of music. Soon after he was discovered by Prof. Pirkilbauer from the Mozarteum in Salzburg, Austria where he was commissioned to compose and record his first CD. A year later Mr. Camilleri was signed to Sony Classical in New York by Grammy-award winning producer Prof. Dr. Steven Paul, Head of A&R at the record label, who has described Mr. Camilleri's compositions as "monumental." Soon after, he signed as a composer with Marsh, Best & Associates in Hollywood. He has composed music for many top films.
Mr. Camilleri has composed over forty CDs of music. He is highly gifted composing all his music with ease and without any changes, a method he calls "direct composition." He has performed at Lincoln Center and at the event "Cover Girls for Change" in New York City ." He was recently approached by two major record labels and is working on a five-CD release for early 2011. Most recently, Mr. Camilleri was appointed Head of Music for First Impressions Films Ltd., London.
More information: www.filmworks-online.com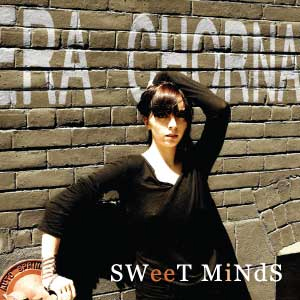 Era Chorna
Multi-talented Ukrainian-born Era Chorna is undoubtedly one of Toronto's best. She has traveled all over the world, and her music shows it. She is an award-winning singer, ballet dancer, and choreographer, as well as a model. Ms. Chorna's deep, rich, yet soothing voice reflects clear jazz and operatic influences, yet rises beyond her operatic background. Ms. Chorna trained extensively in ballet at some of Europe's most prestigious ballet studios, including the Ukrainian Ballet Academy and the Vienna Ballet Conservatory. She has performed and competed before many international audiences in such countries as France, Spain, Switzerland, Germany, Italy, Austria, the USA, and Canada, as well as he native Ukraine.
More information: www.musicandera.com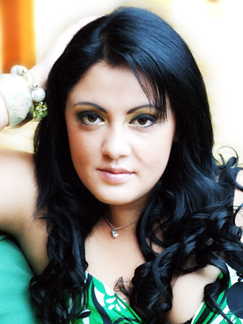 Kaya
An accomplished singer/songwriter who has been performing most of her life, Kaya's astonishing vocal range and heartfelt emotional impact have made her a rising star, whether she is performing pop or classical music.
Kaya studied classical voice, theory and piano at the Victoria, Royal and Trinity Schools of Music in London. In 2000, she won third place in the Malta Song for Europe, one of the most competitive song contests in the world. She went on to perform across Europe in countries such as Lithuania, Romania, Italy, Poland, Germany, and Spain among others.
Kaya founded an international singing school in her native Malta with a current enrollment of 87 students. The choir which she directs is much in demand. In television, Kaya appeared on a popular musical program in Malta for 2 years and served as producer for Kidz TV, featuring her students.
She was recently selected by top Hollywood film composer William Camilleri (Braveheart, Silence of the Lambs, more) to perform on his latest album Timeless, soon to be released worldwide on Dux Records.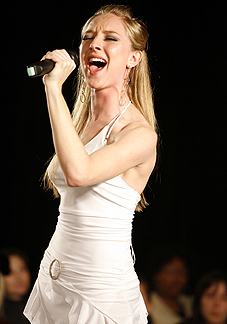 Lara Janine
Singer Lara Janine is also an accomplished songwriter, pianist and violinist. Her second album, It's My Time, was recently released as a follow up to her self-titled debut album. She was a regular performer of the national anthem for the Stanley Cup champions The Anaheim Ducks, was named Top Female Vocalist by the California Thespian Festival, has been a Featured Artist along with Britney Spears and Destiny's Child on Trollz.com, and was nominated three years in a row by the Orange County Music Awards, including Best Alternative Artist and Best Female Artist. Lara was awarded Top Female Vocalist in Pop & Overall by Garageband.com. Her songs have been featured in TV, films, and compilations, including Access Hollywood, Degrassi, and How Do I Look?
Ms. Janine has done numerous national Applebees commercials, films, voiceover work for Yu-Gi-Oh! cartoons, singing commercials for Mattel as well as the singing voice of the Princess Anneliese Barbie Doll and singing voice of Melody in the film Barbie and the Diamond Castle. No stranger to performing, Lara's stage credits include Vices: A Love Story (world premiere), Happy Embalmer (NYMF), Rock of Ages (Off-Broadway), Wicked-Japan (Elphaba), Aladdin (Jasmine), and Dvorak in America (Otilie). She is also an American Belle, having performed in Guam and the Ellis Island Medals of Honor Gala.
More information: www.LaraJanine.com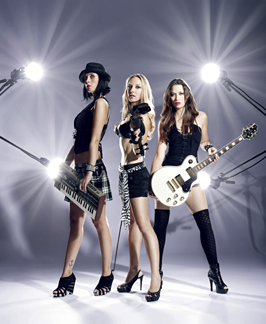 Black Liner
With a uniqueness, sound and performance ability that is unmatched, Black Liner is set to explode onto the top 40 mainstream scene. Black Liner consists of California native Lara Janine (violin), New Yorker Jeana Grillo (keyboards) and Tennessee-born Angel Picard-Ami (electric guitar). Each of these talented singer/songwriter/musicians brings their own style and personal experience to every song, but nevertheless Black Liner is a cohesive group. Their eclectic sound is born when you bring together Lara's pop/dance/r&b background along with Jeana's pop and alternative rock influences and Angel's Heavy Metal roots. Black Liner is the definition of a triple threat.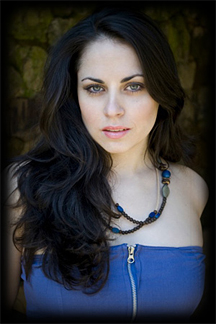 Ashley C. Williams
Ashley C. Williams, is best known for her starring role in the controversial cult horror film The Human Centipede. The award-winning film is distributed by IFC and Bounty Films.
Ms. Williams has an extensive background in dramatic and musical theater and is a graduate of the American Academy of Dramatic Arts in New York City where she received the Charles Jehlinger Award for Best Actress (the Academy's highest honor). She has toured the New York and New England areas for the last five years with theater companies including La Mama E.T.C., the Theater Engagement & Action Project, the Nitestar Program and the United Nations Y-Peer Project. In 2008 Ms. Williams served as guest director and political theater trainer for the Bulgaria U.N. Y-Peer International Theater in Education Trainings.
Ms. Williams is co-founder and vice-president of Mind The Art Entertainment, a NYC-based arts and entertainment company where she has produced and starred in new works of varying art forms in such venues as The New York International Fringe Festival and the Cherry Lane Theaters. She recently played Juliet in a new revolutionary version of Romeo and Juliet at La MaMa E.T.C. under the direction of the renowned Dario D'Ambrosi, and she teamed up with him and the La MaMa theater once more in October 2010 to star in his new musical Bong Bong Bong against the Wall, Ting Ting Ting in our Heads. The show has been picked up to go to Rome and Milan in June 2011.
More information: www.ashleycwilliams.org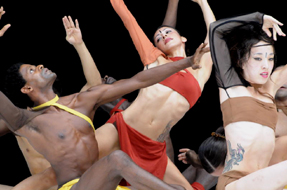 Cecilia Marta Dance Company
After many years of traveling the globe, Cecilia Marta returned to New York City with a vision she had many years ago. To bring together a diverse and extraordinary group of dancers that would create the Cecilia Marta Dance Company. The objective was to speak through the language of dance, about the ritualistic rhythms and magical experiences she encountered through out her life, and as a child growing up in Panama.
CMDC is a multicultural dance company, committed to celebrating diversity and unity by creating works that inspire collaborations with other artists and art forms. Ms. Marta is the Founder and Artistic Director/ Choreographer of the Cecilia Marta Dance Company, a Casting Partner to Cirque du Soleil, and an esteemed dance educator. She has worked with top name performers around the globe, and dancers she has trained have appeared in major motion pictures and on Broadway stages.
Possessing a distinctive breadth, CMDC's repertory incorporates elements which are reflective of Ms. Marta's life and heritage, as well as her intimate and lengthy acquaintance with many forms and styles of dance.
More information: www.ceciliamartadance.org
Cecilia Herrera Frioni
Early in her performing career, Cecilia moved to Los Angeles to study dance with Alex Magno, one of the choreography gurus of that era. She went on to study voice with the lyrical singer and teacher Vivian Hernandez, who has had played an important role in her life. Cecilia has sung important roles in various theatrical productions with such performers as as Massimo Ranieri and Patroni Griffi. In 1994, Cecilia signed a record deal with BMG Records, and her CD single "BLA BLA", from the album "Alta Tensione" reached the top of the Italian music charts. She has opened for one of the biggest stars in the music industry, Mr. Barry White. In 2005 Cecilia participated in the Latin American Music Festival in Mexico City where she was named "Best Italian Artist" outside Italy. She has played leading roles in "Complexo", "Brazil 5000" and "Soy Asì", but her real soul and inspirations are expressed through her latest album "Papillon", a soft Latin/ Bossa/ Jazz project, which showcases her inner artistic journey, directed by Alfredo Paixao and Gianni Herrera.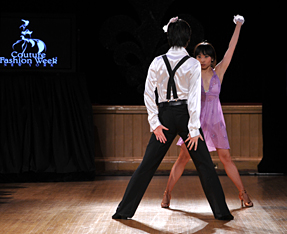 Davis & Ting Ting
Award-winning ballroom dancers David and Ting Ting met during their studies at Yale University. They have danced together for five years in competition and performances while training with world champions Eugene Katsevman and Maria Manusova. They believe that all people possess an inherent capacity for the beautiful, and dance is just one medium through which to explore and share the limits and non-limits of that capacity.
Davis was born in Beijing, China, and arrived in the United States at the age of three. His mother was fascinated by dance but never had the privilege to pursue it in her youth. She enrolled him in his first ballet class when he was four. Discomforted at being the only boy in class and wishing to play baseball instead, he resisted at first. His teachers encouraged him to continue, and over time his passion for dance grew. Davis is now a nationally ranked competitor in International Style Latin Dancesport.
Ting Ting first encountered ballroom dance when she stepped into a show by chance. She had focused on academics throughout her early life and was intrigued by this novel world. Ballroom is specifically designed to display the artistry and sensuality only created between a man and woman dancing together. This attracted Ting Ting most. Her seven year pursuit of Latin Dancesport has led her to the highest ranks of the U.S. Northeast competitive leagues and brought into her life a sense of profound liberation.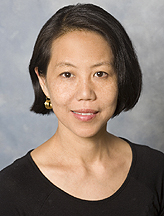 Donna Weng Friedman
Pianist Donna Weng Friedman has performed as a soloist with many world-class symphony orchestras throughout China, South America, Europe and the United States. Her performing credits include recitals at Carnegie Hall, Lincoln Center, the Caramoor Music Festival, Symphony Hall in Shanghai, the Flagler Museum in Palm Beach, Florida, Le Jeu de Paume in Fontainebleau, France and Tillett Gardens in St. Thomas, USVI. An American of Chinese heritage, Ms. Weng Friedman has performed as guest artist with the Orchestra of St. Luke's Chamber Ensemble at Caramoor, Bargemusic, Weill Recital Hall, and Merkin Concert Hall, and has collaborated with clarinetist David Shifrin, violinist Mark Peskanov, violist Paul Neubauer, and cellist Carter Brey. She has conducted master classes at the Beijing and Shanghai Conservatories and has been on the faculty of the Mannes College of Music Preparatory Division since 1989. A winner of numerous prestigious piano competitions and awards, Ms. Weng Friedman is the music supervisor and pianist for the award-winning film documentaries Frames of Life, Living Liberty and Morris Engel: The Independent. She will perform in and preside as the Artistic Director for the Music, Art and Technology festival to take place in Shanghai, China during the Shanghai Expo 2010. She was recently named Artistic Director of the Full Moon Art Center Concert Series in the Hamptons, New York.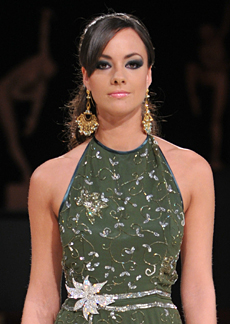 Sofya Skya
A native of St. Petersburg, Russia, Ms. Skaya began studying dance at age 9 while attending the elite Vaganova Ballet Academy and went on to perform in many theatrical productions, win numerous beauty pageants and competitions and make the talk show circuit. She opened the Venice Ball in Moscow where she met her soon-to-be husband, and at age 18 was crowned Mrs. World 2006. Soon after, Ms. Skaya moved to the United States and began to pursue a film career. She has appeared in Edgar Allan Poe's Ligeia directed by Michael Staininger and Shadows in Paradise with Armand Assante and Tom Sizemore.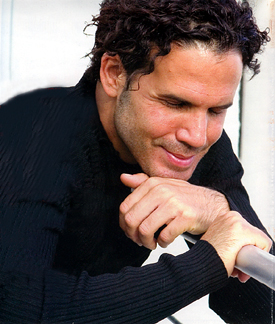 Eduardo Herrera
A native of Chihauhua, Mexico, tenor Eduardo Herrera earned his bachelors degree in vocal performance from the New England Conservatory of Music in Boston, and his bachelors of business administration from ITESM, Nuevo Leon, Mexico. He has developed a successful career mainly as concert soloist performing a diverse repertoire of opera, musical theater and Mexican music. Recently he has worked in a blend of classical and pop ("ClassPop") releasing two CDs: This is the Moment (2004) and Son of the Planet (2008). For more than 12 years he has sung in fundraising events to support the Center of Study for the Blind in Chihuahua, as well as other institutions. Mr. Herrera has performed in numerous operas in New York City, Mexico City, Cambridge, Massachusetts and other cities, including Dido and Aeneas, Seven Deadly Sins, La Traviata, Il Pagliacci and more. In 2000 he participated in the recording of the CD Songs of Life to promote values for young people. In 2004 he was tenor soloist in a gala concert at Chapultepec Castle in Mexico to celebrate UNICEF's 50th anniversary. In 2005 he sang at the first International Music Festival in Chihuahua, and in 2006 he was part of the cast of the musical play The Art of the Seducer at the International Theatre Festival in Ecuador. In 2007 and 2008 he collaborated with soprano Leticia Zepeda in a duet project performing throughout Mexico. He recently appeared as Javier in the zarzuela Luisa Fernandez with the Chihuahua Philharmonic and in the flamenco show Hear Me With Your Eyes in New York City.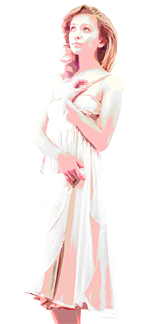 Material Girl
The sultry teenage pop-rock princess, whose sound has been described as a blend of Rihanna and Lady Gaga, is being hailed as the more conservative version of the latter talent with all the glitz and the glamour, but a sound unmistakably all her own. Hailing from Philadelphia, the talented singer, songwriter, and pianist is making waves in the entertainment world with the likes of 50 Cent publicly singing her praises, and a fanbase of entertainment elite. No one has had this much cross-over appeal since the rapper Eminem. Material Girl is currently working on her first album release.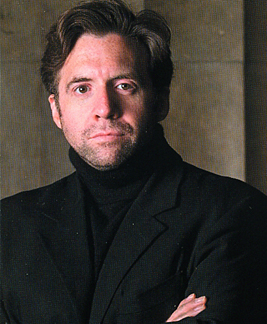 Dillon McCartney
…is a singer whose "voice and artistry harken back to a time gone by." (New York Times) The sheer beauty of his voice, his virtuoso technique, stratospheric range and unique command of a variety of musical styles from operatic classics to American musical theater, as well as popular and Irish favorites have brought him international engagements as an operatic, theatrical and concert soloist. He has performed in some of the great venues of the world including Carnegie Hall, Lincoln Center, The Benedum Center, Heinz Hall, Il Teatro Bellini and La Basilica San Marco in countries such as Brazil, Norway, England, France, Italy and Israel as well as regionally throughout the United States. His performances pay homage to the tenors of the "golden age" including Tito Schipa, John McCormack, Alfredo Kraus, Kenny Baker and Dennis Day with a modern sensibility akin to Josh Groban and Andrea Bocelli resulting in wide range audience appeal.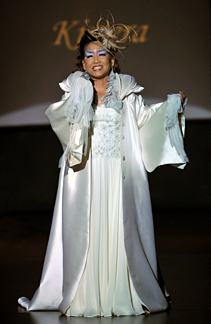 Kimera
With her four-octave range and visionary approach to art, Kimera has intrigued and fascinated many. Millions have embraced her unique opera-pop fusion embodied in various albums starting with "The Lost Opera", which sold over 10 million copies, followed by "Opera Express" and seven additional albums.
A native of Korea, Kimera has loved singing ever since she can remember. From the age of twelve, she began singing classical music in church choirs, as well as in the Korean National Metropolitan Choir. After earning a B.A. in French Literature from Sung Sin University in Seoul, she went on to pursue post-graduate studies at the Sorbonne in Paris, and began to train in opera at the Ecole Normale de Musique de Paris. After years of arduous vocal studies, she received a Superior Diploma in Lyrical Art with a unanimous vote, and with congratulations from the jury.
In 1984 Kimera released the controversial classic-pop fusion recording, "The Lost Opera", with the London Symphony Orchestra. Representing a divergence from her previous classical opera path, the album promptly climbed the British music charts and went on to gather momentum in France, South Africa, South America, Korea, and many more countries across the globe. Kimera, the blazing rebel of opera, blended two genres from opposite ends of the musical spectrum to create a new style of music utilizing traditional operatic arias and a modern rhythmic pop beat. She called it "Popera" or "Opera Rock." While it was well received by the public, she endured a great amount of criticism from classical purists who believed she had vulgarized opera. As one critic put it, "Mozart would turn over in his grave if he heard this." Criticism, however, did little to slow her down. She was happy to popularize opera and make it more accessible to kids, teens, and adults alike. Kimera's latest album is entitled "Opera Found."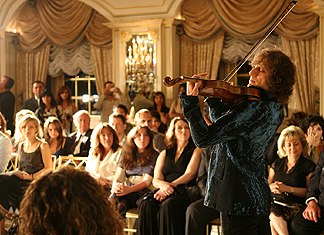 Alexander Markov has been hailed as one of the most captivating musicians in the world today. Lord Yehudi Menuhin has written, "He is without doubt one of the most brilliant and musical of violinists: Alexander Markov will certainly leave his mark on the music-lovers of the world and in the annals of the violin virtuosi of our day."
The Gold Medal winner at the Paganini International Violin Competition, Mr. Markov has appeared with some of the world's greatest orchestras including the Philadelphia Orchestra, l'Orchestre de Paris, the Montreal Symphony, the BBC and Detroit Symphonies as well as the Budapest Festival Orchestra. Concerto highlights include performances with such celebrated conductors as Lorin Maazel, Charles Dutoit, John Nelson, Neeme Jarvi, Sir Neville Marriner, Ivan Fischer and Franz Welser-Most.
Alexander Markov has established a reputation second-to-none in the 19th-century virtuoso repertoire. His recent Warner DVD release of Paganini's 24 Caprices for solo violin caused a sensation, and he remains one of the very few violinists who program the entire set in a single recital.
Alexander Markov was born in Moscow and studied violin with his father, concert violinist Albert Markov. By the time he was eight years old he was already appearing as a soloist with orchestras and performing double concertos with his father. Markov emigrated to the U.S. with his parents and now resides in New York City.
More information: www.AlexanderMarkov.com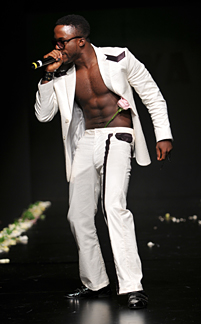 Iyanya
Winner of the popular West African program MTN Project Fame 2008, Iyanya recently released his first album entitled "Desire" which features his hit song "Love Truly." Iyanya is a young rising star in his native Nigeria as well as throughout Africa and beyond.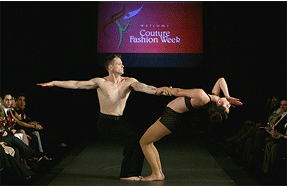 Aerialduo / Mantryx
These skilled aerialists and acrobats have performed in over 70 countries; for millions live, and millions more through their appearances on most major television networks. In addition to their traditional stage performances, they have shared laughter, silliness, and the spectacle of circus arts at hospitals, orphanages, and veteran's homes. Since their debut, they have become New York City's signature aerialists, having performed in Times Square, South Street Seaport, and the Jacob Javits Center. The performers have created shows for MACY's, MAXIM, BUD-LIGHT, HX, NORWEGIAN CRUISE LINES and notable charities such as the USO, the HRC, the CHILDREN'S VILLAGE, and CHAI LIFE, and they have appeared with such performers as Madonna, Justin Timberlake, Snoop Dogg and Patti Labelle.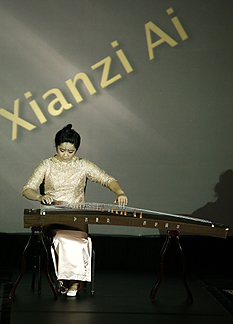 Xianzi Ai, New Tang Dynasty TV (NTDTV) Artist
Chinese-born guzhen (Chinese zither) performer Xianzi Ai, also known as the "Fairy" is a graduate of the famous performing arts school in Harbin, the capital of Heilongjiang Province. Ms. Ai has received a number of awards including the gold award in the July 2007 China Folk Instrument Solo Competition and third place in the 2005 Chinese Eastern Zither Competition. The guzhen is a traditional Chinese musical instrument and parent instrument to the Japanese koto, the Mongolian yatga, the Korean gayageum, and the Vietnamese đàn tranh.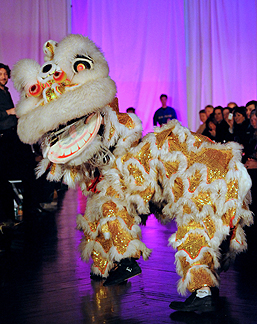 New Tang Dynasty TV Lion Dance Group
The Lion Dance (pronounced Wu-Shi) is an important tradition in China. During the dance, often accompanied by gongs, drums and firecrackers, performers mimic a lion's movements from inside an elaborate and colorful costume. Often part of festivities like Chinese New Year, restaurant openings, and weddings, the lion dance is believed to bring luck and happiness if well-performed. It is has been featured in major Chinese motion pictures including the Once Upon a Time in China series and the Shaolin Temple movies starring Jet Li.
Although they are not native to China, lions arrived there via the famous Silk Road. Rulers in present day Iran and Afghanistan sent lions to Chinese emperors as gifts in order to secure trade rights with Silk Road merchants. The lion dance dates back to the Han Dynasty (205 B.C. to 220 A.D) and reached its peak during the Tang Dynasty (716-907 A.D.) when it was especially performed during religious festivals. Variations on the lion dance can also be found in Korea and Taiwan.
April Zhu, New Tang Dynasty TV (NTDTV) Artist
April Zhu is a gifted and accomplished player of the pipa. The pipa is a plucked Chinese string instrument. Sometimes called the Chinese lute, the instrument has a pear-shaped wooden body. It has been played for nearly two thousand years in China, and belongs to the plucked category of instruments. Several related instruments in East and Southeast Asia are derived from the pipa; these include the Japanese biwa, the Vietnamese đàn tỳ bà, and the Korean bipa.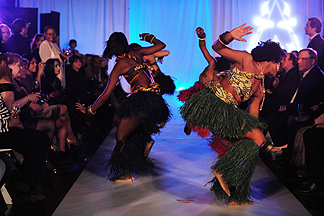 Congolese Dance Troupe
Prisca Ouya, Alexis Doster-Pennerman, Coreen Robledo, Aida Issaka
Choreographer and lead dancer Prisca Ouya trained in traditional Congolese dances with her late uncle Malonga Casquelourd. She is a member of Ellen Stewart's Great Jones Company, the resident theater company at LaMaMa Theater. These dynamic and powerful dances originated in the Kongo Empire, what is today Angola, the Republic of the Congo and the Democratic Republic of the Congo.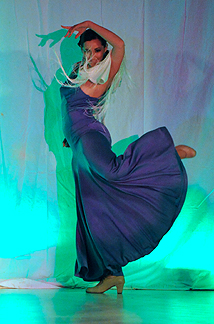 Carolina Catalan Carabia
An accomplished dancer, Carolina Catalan Carabia is a native of Spain and a flamenco devotee. The distinctive Spanish art form comes to life in her riveting performances.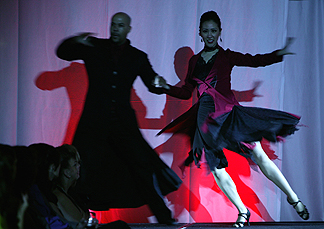 Sabor Masacote Dance Company
The performances by the six talented dancers of the Boston-based Sabor Masacote Dance Company are predominantly salsa. Most of the dancers have training in diverse disciplines, such as ballet, modern, and jazz. The music, dance and multimedia ensemble performs frequently throughout the United States as well as in Europe and Asia.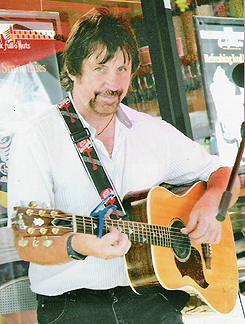 Kenny Cunningham
A native of Liverpool, England, guitarist, vocalist and songwriter Kenny Cunningham is an accomplished performer who has been delighting audiences for over 25 years. His musical influences and inspirations include Simon & Garfunkel and his fellow Liverpudlians, The Beatles. Says Kenny: "I have always been amazed with the process of song writing. It is something that I've never had to work at. Over the years thoughts/music just came out… I take no responsibility for what you may hear, blame some cosmic miscreant somewhere."
Down syndrome model Madeline Stuart
List of fashion events - Wikipedia
Trends And Highlights From London
Mulberry catwalk show at London
LatexFashionTV Award-winning
Arcade Fire - Wikipedia