Fotos de anti real madrid
Posted on December 30, 2015 by MadridMan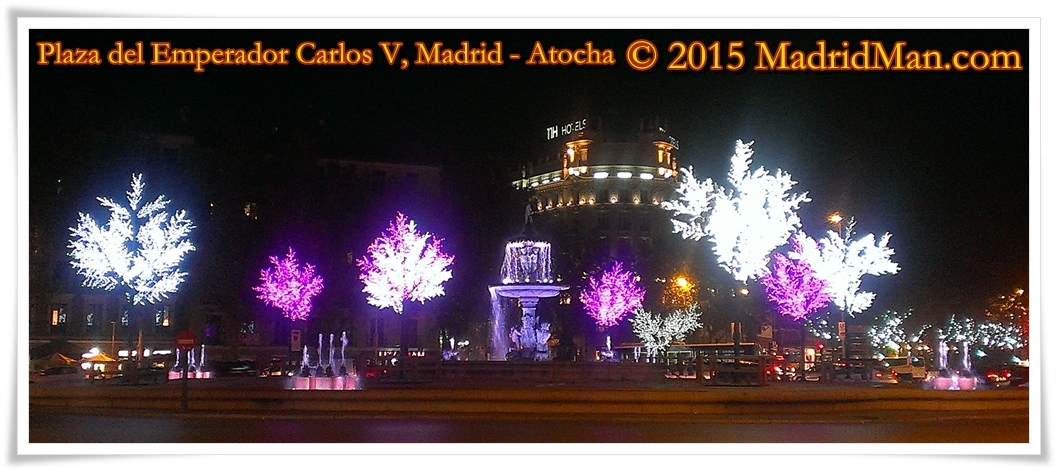 In Madrid, and in Spain in general, the Christmas holiday lasts roughly two weeks. Some families celebrate Santa Claus "Papá Noel" on the 25th of December while other families celebrate the Three Wise Men "Los Reyes Magos" on the 6th of January. And some families celebrate both.
I've heard arguments in favor of one or the other or both, but most parents recognize the usefulness of giving toys on the 25th of December in order to allow children more time to play with them during their Christmas break.
Madrid's Mayor announced a serious cut-back on Christmas lights in the city this year in order to save money, but you can't tell at all. Maybe they hung fewer lights outside of the downtown area. To the casual eye, Christmastime in Madrid looks as good as every year.
We've already bought our turrón, our polvorones, and will wait a day or two before "Reyes" (6th of January) to buy our first "Roscón de Reyes". I prefer the ones filled with cream, but others like theirs filled with chocolate or just nothing. Regardless of the roscón, SOMEONE has to cut-into the little toy hidden inside, which means they have to buy the roscón next year.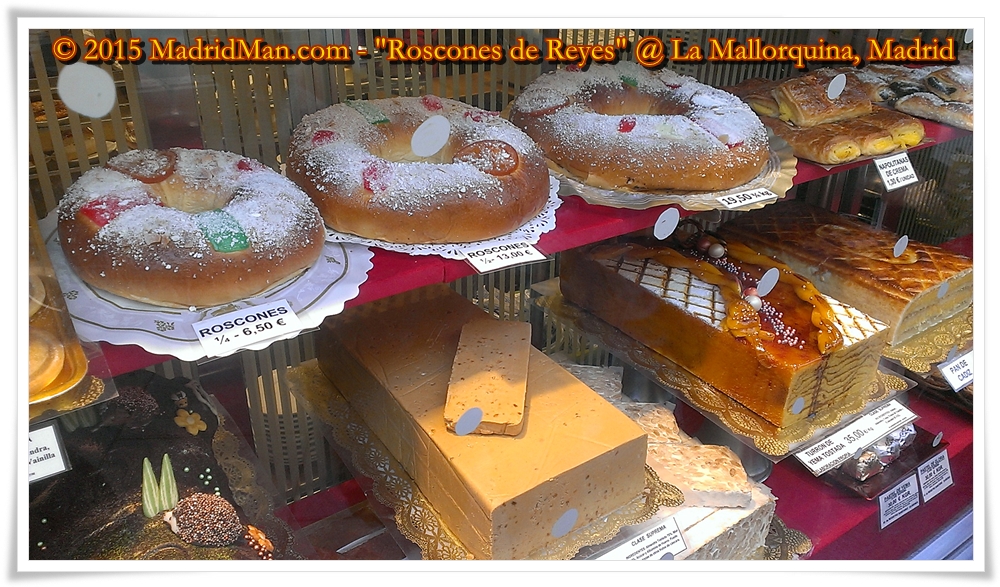 And while Spain is still in a deep economic crisis, it's certainly not evident while walking the streets of Madrid in Christmas. Maybe people are spending less money, but the streets are still practically impassible with hoards of people, the bars and restaurants are all full, the lines are long at shops and shopping centers, and the general "feeling" seems every bit as joyous as every year.
As every year, one can visit the large Nativity Scene in the Real Casa de Correos, but expect long lines to see it. I visited one inside the patio of the Casa de Cisneros on the Plaza de la Villa. It's really quite nice!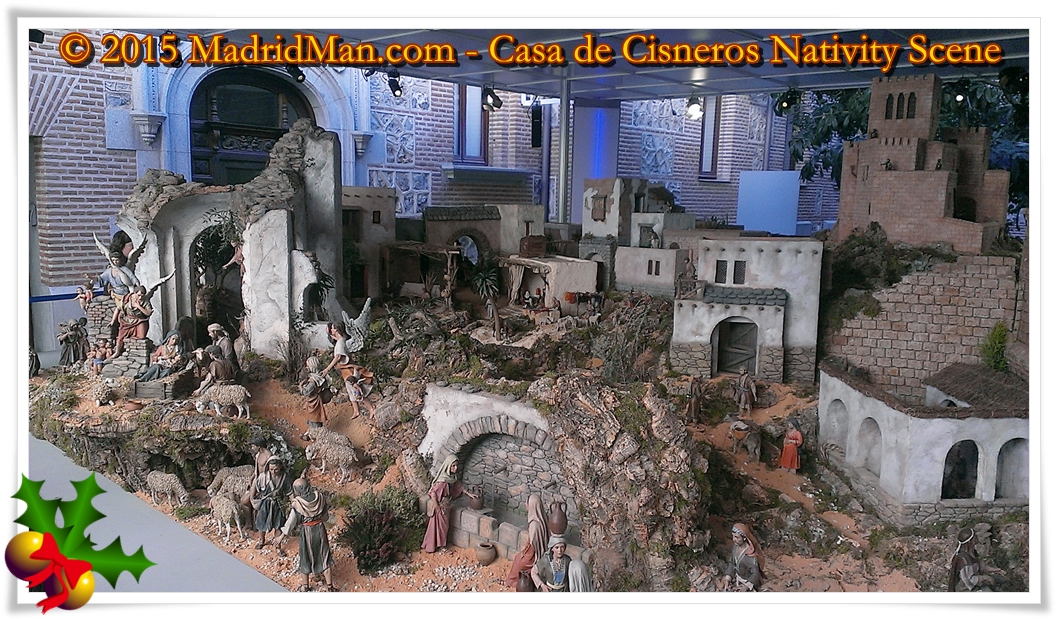 Plaza Mayor's Christmas Market is as big – and as popular – as ever. Here, the Christmas lights are particularly nice, criss-crossing the plaza and hanging over the dozens of stands below selling nativity scene figurines and Christmas decorations.
Puerta del Sol's lights are simpler and home to Madrid's tallest Christmas tree, the same one as the last two years – sponsored by the National Lottery Commission. At midnight on New Year's Eve in Madrid, thousands of onlookers will fill the Puerta del Sol, awaiting the 12-chimes of midnight and the dropping of the golden ball from the Real Casa de Correos' clock-tower to ring-in the new year, 2016. As the custom goes, Spaniards are to eat one grape with every chime of midnight. Achieving this not-so-easy task will give good luck throughout the next year.
The final Christmas in Madrid event will be the annual "Cabalgata de Reyes" Parade ("Three Wise Men Parade") on the 5th of January 2016, the night before the National holiday. It officially starts at 6:30pm and passes slowly down the Paseo de la Castellana/Paseo de Recoletos to the Plaza de la Cibeles where the Three Wise Men will address boys, girls, and adults with their Christmas message at 9pm. Last year you could watch live online via RTVE.es.
So that's it for MadridMan® and MadridMan.com for 2015. Let's hope 2016 brings unexpected pleasure and success to each and every one of us. Merry Christmas, Happy New Year, and Happy Holidays to one and all.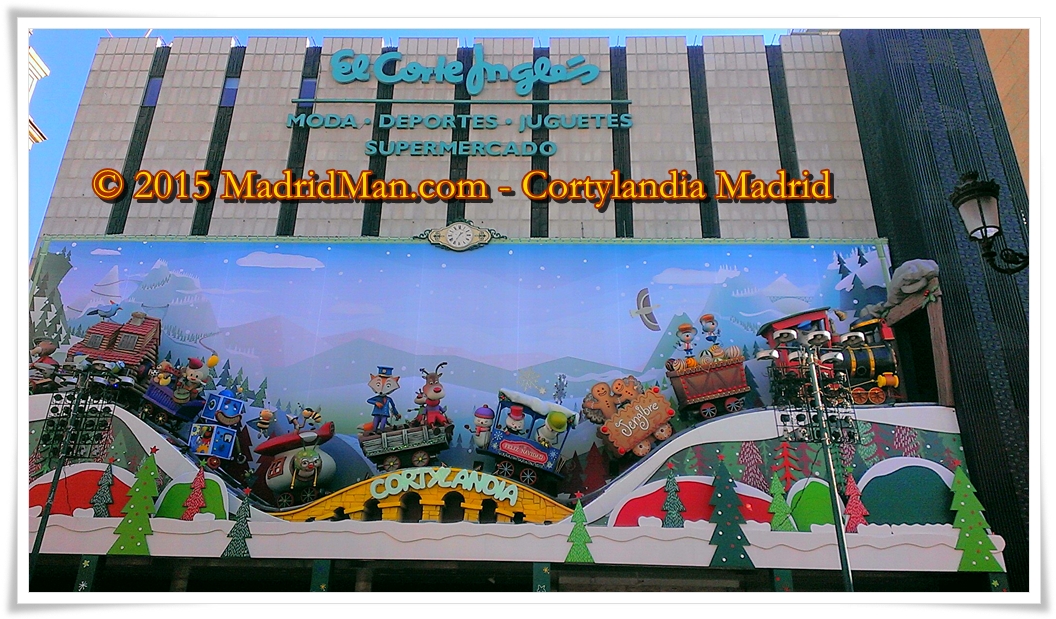 Share THIS on Facebook!
Posted in About Spain, General, Photos | Tagged 2015, belen, Cabalgata de Reyes, Cabalgata de Reyes Magos, Christmas, Christmas Lights, Madrid, Madrid Christmas Lights, Nativity Scene, plaza mayor, polverones, Puerta del Sol, roscón de reyes, turron | 2 Comments
Posted on December 19, 2014 by MadridMan
Last Friday night I had the distinct pleasure of watching Madrid Flamenco at La Taberna de Mister Pinkleton, located a few doors down from the "Arco de Cuchilleros" of the Plaza Mayor on the Calle de Cuchilleros, 7.
Having walked past this place several times, I never thought much about it. You know, one thinks (or at least I do), "It can't be very good if it's located in one of the most touristy places of Madrid." And with a name like "Mister Pinkleton"? What's that all about?? But names – and locations – can be deceptive; at least it was in this case.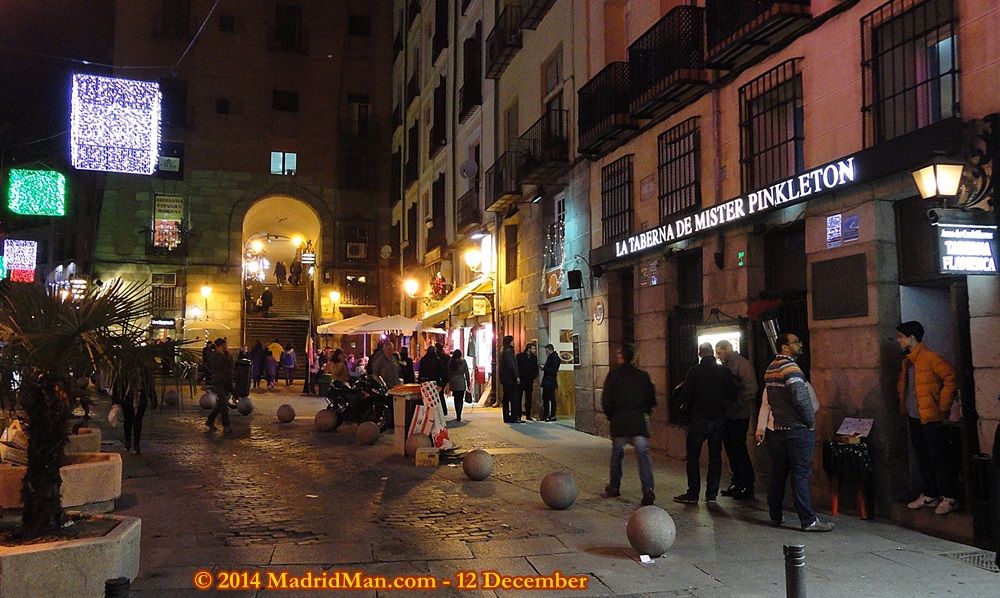 "Different" is the word I'd use upon this first impression. And while many people associate "different" as negative, it couldn't be farther from the truth here. I've never seen, experienced a flamenco show in Madrid quite like this before.
I've been to all the most popular flamenco tablaos in Madrid (except Casa Patas) more than once, and in a few cases a half a dozen times or more. Those who follow me know those to which I refer – and maybe you've gone with me!
You arrive at the door of La Taberna de Mister Pinkleton and you're greeted by a young man soliciting passersby to take in a flamenco show. I am somewhat reluctant to say (because the owners might read this), by all outward appearances, it looks like your typical tourist trap. But again, outward appearances can be deceiving.
There are shows beginning at 7pm, 9pm, and 11pm. My tag-along and I had 9pm reservations and arrived a couple minutes late. Luckily, the show hadn't started yet, but did at about 9:15pm. I'm guessing they don't start on the hour so that people can be seated and order their food & drinks before the show gets underway.
We were given a rather privileged table (see yellow arrow) on the 2-table upper level next to the windows and the view was excellent, being higher than the stage. The taberna/tablao isn't big, which is a plus, and has about 25 strategically placed 2-person tables so that every table has a full-stage view.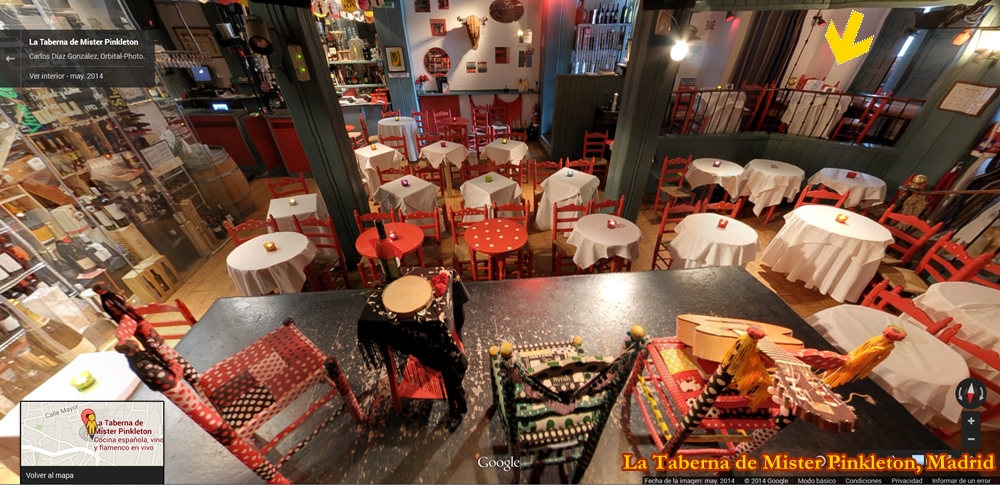 The waitress served us each a glass of wine. Mine was red Rioja wine and my tag-along chose the white Albariño wine. Both were very good. The wine came with two bowls of snacks, one with potato chips and one with mixed nuts. One drink is included in the very affordable 25 Euro admission price and the show lasted about 1 hour and 15 minutes – which took a 15-minute break in the middle. Considering the quality-price ratio, it's a very good product for the price – and in a VERY central location.
As I mentioned above, the show was "different". It wasn't all and only flamenco dancing. Just before the show started, the bilingual doorman jumped onstage to welcome the crowd in both English and Spanish – and some things he said surprised me. He said spectators could take photos and post them to Facebook and Twitter. He invited people to record video and post them to YouTube. He then proudly announced their high standing on TripAdvisor.com and encouraged everyone to rate & review the Taberna/Tablao. It appeared to be a young staff with very progressive ideas about how best to present and promote their product. These people are smart. They're VERY clever. I was impressed.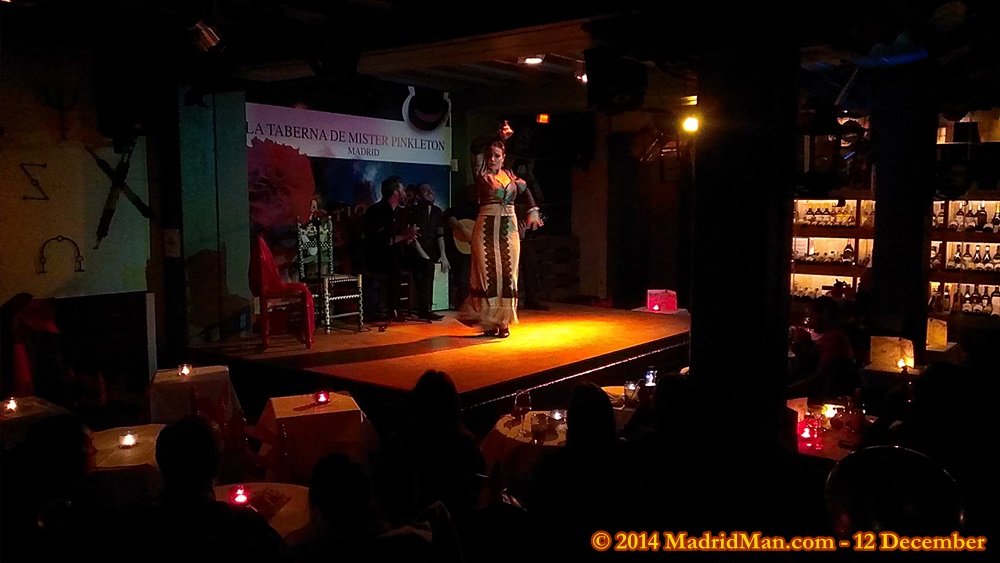 The flamenco group included a guitarist, a box player, a male singer, a female dancer, and a female singer who also danced (when she wasn't singing). There was an initial number of just singing and music. Afterwards, the "show" included some interesting elements not normally seen in other flamenco shows.
The female singer sang, "A Tu Vera" onstage (photo below), a "Copla" song Lola Flores made popular, although Concha Piquer sang it earlier (as did others). Later, the same singer sang another beautiful, slow "Copla" as she slinked through the tables, handing red carnations to a number of female spectators. This reminded me of a Fado show I saw once in Porto, Portugal, where the female singer sang without a microphone, walking through the crowd. Same thing here. She was very professional and quite moving, too.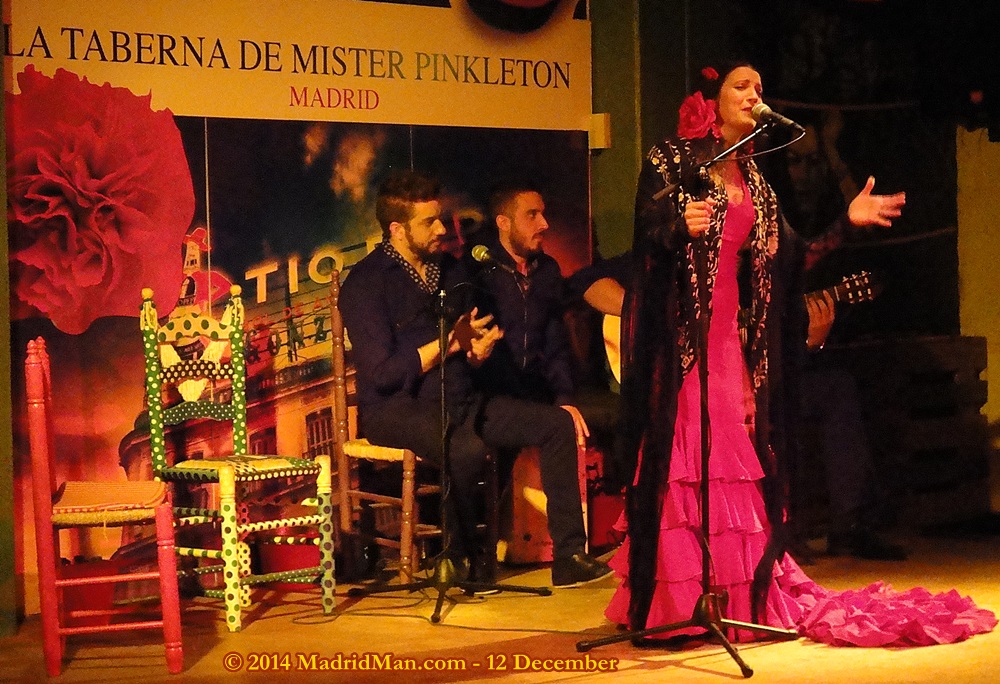 The two female dancers took turns dancing flamenco individually and later danced a "Sevillanas" together (see video below), one expertly twirled, then opened and closed a large fan. On this night there were no male dancers although I see from their website that they do sometimes perform.
"Sevillanas" danced at La Taberna de Mister Pinkleton

Then came a moment which quite possibly made some people uncomfortable. One of the female flamenco dancers started encouraging people to join her on stage and try a few flamenco moves. Some people take it well and enjoy the experience while others, well, might be put off. I know there was a moment of panic in me when I saw her scanning the crowd looking for "victims". hehehe.. It was all in good fun and those who went up onstage seemed to enjoy themselves while we in the audience enjoyed watching normal people doing it, too – as long as it wasn't us.
The place opened as a tavern/tablao in 1961, but changed owners and name just two years ago. I haven't gotten to the bottom of the origin of the name, but will try.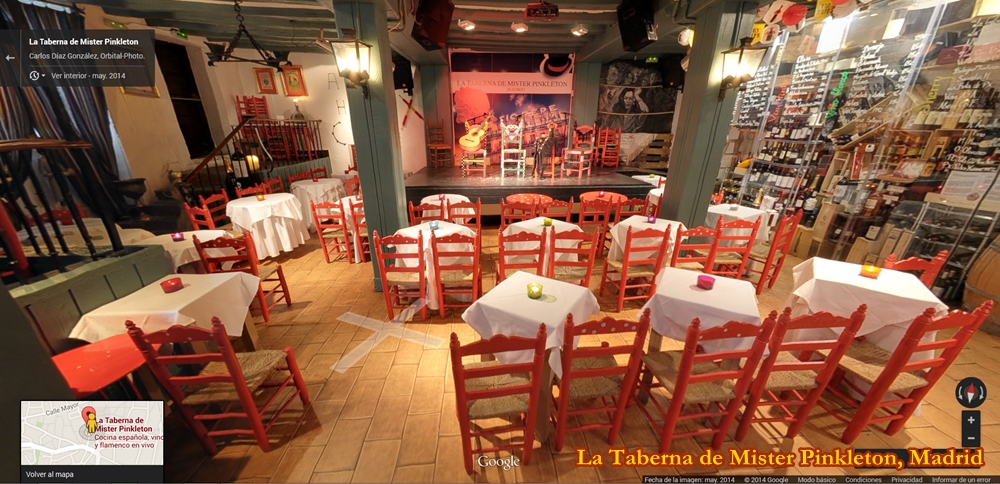 Cool: Take a 360º look inside the Tavern via Google Maps Street View. The same "virtual tour" can be found at the bottom of the La Taberna de Mister Pinkleton website as well.
Flamenco danced at La Taberna de Mister Pinkleton

Share THIS on Facebook!
Posted in Entertainment, Flamenco | Tagged Arco de Cuchilleros, Calle de Cuchilleros, dance, flamenco, flamenco show, Madrid, Mister Pinkleton, Old Town, plaza mayor, Taberna, Taberna de Mister Pinkleton, tablao, tablao de flamenco, Wine | 3 Comments
Posted on July 29, 2014 by MadridMan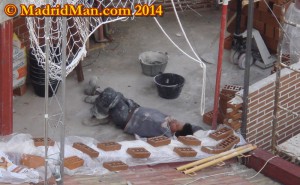 Go ahead. Admit it. You wish you could take a long, refreshing nap in the middle of your workday, right? Sure you would. Who wouldn't? The fact is, most Spaniards would LOVE to have a long nap after lunch, too.
But wait a minute. Didn't Spain invent the siesta? Don't all Spaniards take midday naps? Is that maybe why their country is on the verge of a total economic collapse? There are lots of myths floating around about the infamous Spanish Siesta. Instead of the word "myth", maybe a better word would be "misconception".
Dictionary definition for the word "Siesta": "a midday or afternoon rest or nap, especially taken in Spain and Latin America."
Even the dictionaries are perpetuating the misconception that all Spaniards and Latinos take midday naps. Where did siestas come from and what is it really?
WikiPedia describes "naps" as the following, "…Other cultures (especially those in hot climates) serve their largest meals at midday, with allowance for a nap period (siesta) afterwards before returning to work." The WikiPedia description is more descriptive and more accurate.
Spain, with the exception of the northernmost region, is a rather warm/hot climate most of the year – except in the winter. The "siesta" was "invented" as a way to avoid working during the hottest hours of the day, oftentimes in construction or in the fields. And who wants to be out shopping during those hottest hours of the day? If there are no shoppers during the hottest hours of the day, what's the reason for shops to stay open during these hottest hours? It makes sense, really.
When you were a kid, didn't your parents encourage you to take naps during long, hot, summer car trips? Mine did. It was a way of keeping kids from complaining and it helped the time pass more quickly for them – a twofold solution for weary parents. Same goes, historically, with the "siesta". You get though the hottest part of the day while unconscious. That was then. This is now.
Back in the day when people worked more-or-less near their residence, they could go home for lunch and then take a nice, refreshing nap – and maybe also avoid the stifling summer heat. But those days are mostly gone – unless you live in a small village and work in the corner store.
City people rarely, IF EVER, go home for lunch or, much less, have time for a nap. Sure, they may have a big lunch, Spain's biggest meal of the day, but logistically speaking, crossing city traffic in car or public transportation, each way, just doesn't make sense. So city people have their big lunch, maybe lasting 2+ hours with a strong coffee at the end, rest and relax alone or with friends, and then go back to work for another 3 to 5 hours.
So WHO takes naps in Spain? Answer: nearly everyone, but almost never during weekdays except for small children or retirees. Teenagers almost never take naps during the week. Hormones. LOTS of people take naps on the weekend, however, (except teenagers) as it's practically the only time they have free time to do it.
And isn't it annoying passing by shops in Spain and finding them closed, looking at your watch and it's only 3pm?! 3PM!!!! That's not only annoying, but also frustrating as it may be the only opportunity you have to go shopping. That, and at end of your work day at 8 or 9pm, you find everything is already closed, leaving you only Saturday morning to do your shopping – the time when everyone else is doing their shopping because they couldn't do it during the week.
The "Siesta", in Spanish, [is] derived from the Latin term for the sixth hour after sunrise.
These odd OPEN HOURS in Spain, 9am-2pm then 5pm-9pm, can be very frustrating to foreigners more accustomed to the 9-5 or 9-9 office/store hours in their home countries. I know it made me anxious upon arriving to Spain 9-years ago, but I got used to it. And once you change-the-chip and consider the workers' comfort, it all makes sense – while also forcing YOU to relax a little more, like it or not.
Share THIS on Facebook!
Posted in About Spain, Food, Health | Tagged afternoon nap, business hours, closing hours, envy, fact, long lunch, myth, nap, Siesta, Spain, Spanish, Spanish siesta | Leave a comment
Posted on April 11, 2014 by MadridMan
Religious or just "cultural", anxious spectators prepare for the 2014 Semana Santa Madrid Holy Week Processions – and everyone hopes the weather cooperates.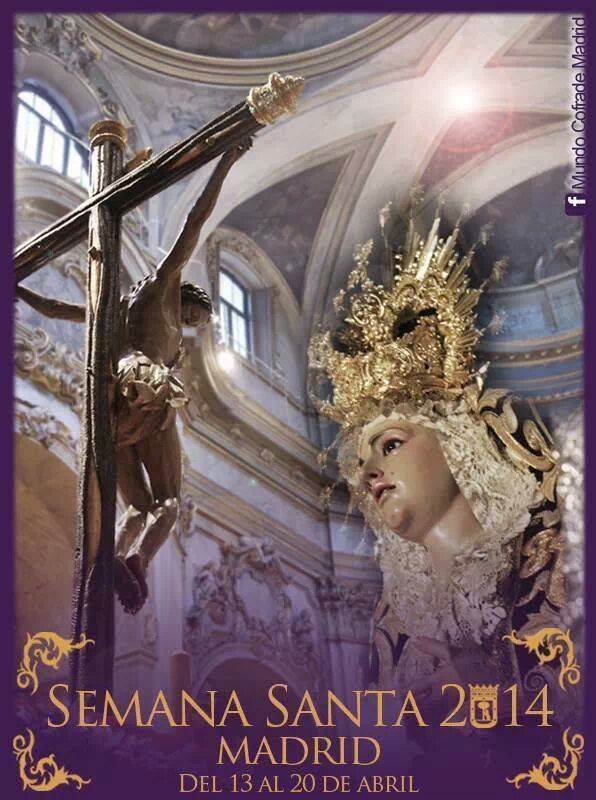 The majority of onlookers of the seemingly countless Holy Week Processions in Madrid are people of faith, but many attend for the spectacle of slow-moving, flower-and-candle-covered, band-following floats of religious symbols like the Virgin Mary (of which there are countless) and Jesus Christ (sometimes on the Cross and other times laying down). Still others go just because everyone else is going. And finally, others refuse to attend on anti-religious grounds. To each his own, I say. Live and let live.
Holy Week, or "Semana Santa", in Spain begins on Palm Sunday, "Domingo de Ramos", and ends on Easter Sunday, "Domingo de Resurrección". In between is important for many Spaniards for religious processions, Catholic mass, and opportunity to travel with family and friends. Most Spanish adults only have Good Thursday, "Jueves Santo", and Good Friday, "Viernes Santo", free which, added to the following weekend, only gives them a 4-day holiday. Teachers and children have the entire week off.
Many Catholic Spaniards, while not necessarily "practicing, will attend both Palm Sunday and Easter Sunday but maybe not mass throughout the rest of the year. It may be more for tradition than religious reasons.
Palm Sunday is interesting as you see elaborately woven, and sometimes amazingly long, palm leaves into amazing shapes. Many you see being carried through the streets and others you see proudly displayed in residents' balconies to show their faith and/or to show-off their palms.
This year there will be no less than 13 processions in Madrid and each is represented by one particular Madrid church. The individual processions leave from and return to the same church after winding through the streets for all the public to see and appreciate. In 2013 I was an official photographer for the Santa Cruz Church (next to the Plaza Mayor) and had total access inside the church and along the procession route of the "María Santísima de los Siete Dolores". That was quite an experience.
The first Semana Santa procession of 2014 in Madrid will take place on Sunday's "Domingo de Ramos" from the San Miguel Church, passing through the Plaza de Oriente. The next one is on Wednesday from the "Parroquia Nuestra Señora del Carmen y San Luis" and passing through the Puerta del Sol.
On Good Thursday there are no less than 3 processions. Of these, arguably, the biggest and most important one is that of "La Macarena" which passes through the Plaza de la Villa.
Good Friday is the busiest day of Holy Week in Madrid with a total of 6 processions, nearly all of which start at 7pm or 7:30pm, and 3 of which pass through the Plaza Mayor. And unless you stay in the Plaza Mayor itself, seeing – AND FINDING – more than one procession on this evening can be challenging. These processions move so slowly it can be difficult to know where they might be at a given time. Most people follow one particular church and arrive long in advance at a certain point along their procession's path in order to secure the best vantage-point possible.
Saturday hosts the last 2 processions of Holy Week. Oddly enough – to me, there are never any processions on Easter Sunday itself, only a "Tamborrada", or drum session, in the Plaza Mayor at noon. I've never attended one of these so I hope this year will be the first.
First-timers may be surprised to see the hundreds of pointy-hooded "Nazarenos" in Holy Week processions. At first glance, Americans may confuse these for members of the racist Ku-Klux-Klan organization, but "Nazarenos" are on the opposite end of that spectrum. Many times "Nazarenos" carry long candles, sometimes they carry heavy crosses, sometimes they carry banners, and sometimes they carry chains from one barefooted ankle to the other.
Persons you don't normally see during processions are those hidden underneath each float – or "paso". These 28-or-so "costaleros", the guys carrying these several-thousand-pound floats on their shoulders for hours upon hours, taking only short breaks when directed by the float's leader. I've seen many-a-costalero literally shedding tears and sweat in pain – or in faith – at the moment of lifting these heavy floats.
If you attend the processions, wear your most comfortable shoes and take a jacket as these springtime evenings get cool once the sun goes behind the buildings. Take a route map of the processions you plan to witness. And finally, be sure to take a good deal of patience as you wait for the processions to arrive, pass, and then swim your way through the crowds to leave or move on to the next one.
Happy Easter, Everyone!
Semana Santa Madrid 2014: Official Website with info, maps, and routes. In Spanish.
Mundo Cofrade Madrid on Facebook & Twitter with procession news in Spanish.
Video: 2013 Virgen de la Macarena procession
Share THIS on Facebook!
Posted in About Spain | Tagged 2014, Carmen, costaleros, Domingo de Ramos, domingo de resurreccion, Easter, easter sunday, holiday, Holy Week, Jesucristo, jesus christ, la macarena, Madrid, Nazareños, Palm Sunday, paso, Plaza de la Villa, plaza mayor, Procession, Puerta del Sol, Semana Santa, virgen, virgin | Leave a comment
Posted on January 22, 2014 by MadridMan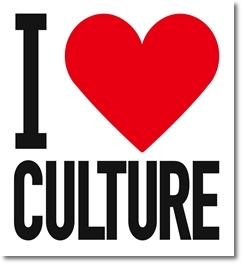 If you're in an environment created by you, like your own house where you control everything, be happy as a hermit crab. But if you live outside in the real world, be prepared for things that rock your psychological boat, things that make you nauseous.
Moving to another country can often make foreigners somewhat nauseous, perplexed, and oftentimes downright angry. Said another way, it's one thing to "go with the flow" and another thing to "make waves because you don't like the water". (huh?!?!) If you don't like the water, stay on the beach and watch others have fun – but then you have no right to complain just because you don't want to muss-up your fresh pedicure.
There's an old R.E.M. song called "STAND", with one lyric saying, "Stand in the place where you live." That's how I try to live my life. BE where you are in the moment. Take expat life with several grains of salt – and sugar – and 'season' your way to assimilation and inner peace. (break out the incense and find your third eye!)
Some people LOVE to rock that boat, man, just because it's their way or the highway, their cooking or you-pay-take-out, their preferences or your misery. A lot of Americans have real difficulty assimilating upon moving to Spain. Sure, most Americans have a certain superiority complex. I do, too. It's inbred and more deeply engrained every time we sing the National Anthem. I'm living proof! I get misty-eyed every time I hear it! It's much harder to think and reason for ourselves than follow the same principals taught us since birth. I'm certain the youth leagues created by history's dictators truly believed in their causes, too.
Spain, as with any country, has its charms but also has its flaws. There. You see? "Charms" & "Flaws". Two very subjective words. One man's charms are another man's flaws. It all comes down to perspective. How can one become objective in his perspective? That's a toughy. It takes real self control – and self control doesn't happen overnight.
I see it every year. A new batch of expatriate university students come to study in Spain. Woo Hoo! Party-Year Abroad! It's hard to blame them, really. This may well be their first time visiting another country and the only thing they may know about Spain is the bullfights, flamenco, paella, and SANGRIA! And… that's about as far as many get by the end of their study term in Spain. Many take along their home-countries in their back pockets, stick closely with their hometown friends, and few can take off their blinders to experience Real Spain.
For those only living here for a year, I get it. It's only a year, right? But it's a year of opportunity to open those eyes, experience new things, meet new people, and compare your own culture and customs to others. Compare the good and the bad in your eyes – but do it objectively, if possible. What's considered good by you, "charms", may be considered bad by them, "flaws", and vice versa.
Those living-and-working in Spain have fewer-to-no excuses not to assimilate. As positive and beneficial as it may be, we can't expect a country & culture to suddenly "pull itself up by its bootstraps" when the going gets tough. Apart from the elite class, Spain is a country which has been desperately poor and (sometimes) starving for 75 out of the last 100 years, and 40 of those under the heavy thumb of a brutal dictator.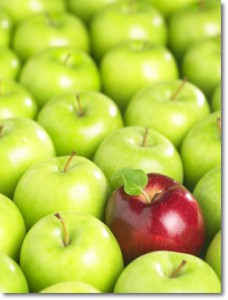 I'm not suggesting Expats relinquish their individual personalities. Of course not. Everyone is – and should be – unique. If you want purple hair, great! Dye your hair purple. Your purple hair doesn't infringe upon the comfort of others. Keep in mind WHERE you're living. Hanging an American flag outside your balcony probably won't win you many Spanish friends, and thereby shutting one cultural door of opportunity. Having purple hair doesn't suggest you're a purple-hair purest, just unusual, but hanging the American flag on your balcony, well…
Spain now, finally, has freedom of speech, freedom of religion, as well as all the other freedoms modern, western countries enjoy – and then some! Spain is still "different", but that's changing, too.
Scoring cultures is a dangerous game, one which will only leave you frustrated. ("Mine's better than your's because…") That's not to say a lack of [what many would call] quality customer service, Wal-Marts, and 24-hour supermarket shopping should make you happy living here, but appreciate that it's not the SAME as where you came from. If all countries were the same, what would be the point in traveling?
As for Spain, my friends, it is what it is. For good and for bad, try to take pleasure in the differences and don't fight them – unless they pose a threat to your well-being, of course. Live WITH the people and their customs in your community. Don't live against them.
Share THIS on Facebook!
Posted in About Spain, General | Tagged charms, community, country, culture, customs, environment, expatriate, flaws, habits, infringement, living, norms, personalities, rights, Spain, Spanish, Spanish culture, Spanish customs, study abroad, working | 5 Comments
Posted on January 13, 2014 by MadridMan

Tour Madrid with MadridMan!
MadridMan®, an American expatriate and Spanish resident, offers 2 to 2.5-hour walking tours of Old Madrid via MadridTours.com. Discover the hidden corners of Madrid and learn of Spain's capital city's colorful and often bloody past.
We'll visit Madrid's principal plazas and walk through its narrow, Old Town pedestrian streets. You'll learn of its Roman, Arab, & Christian roots as well as Madrid's current-day customs and lifestyle. I assure you, it's not all wine and siestas!
But this isn't your ordinary historical Madrid tour. Between stops, MadridMan will share insights to Madrid's most typical foods & tapas, his favorite old-style bars, as well as the market-shopping culture.
Since the Capital was from Toledo by King Philip II in 1561, Madrid has changed quite a bit. But while many things have changed, a surprising number have remained as they were 500+ years ago.
Who better to show you the hidden corners of Madrid and recount unusual anecdotes than a guy named MadridMan®? He's been a self-proclaimed "Madrid Maniac" since 1996 and has lived & worked in Madrid, Spain since 2005.
Book your Madrid Tour today with MadridMan®! (you bet it's trademarked!)
Share THIS on Facebook!
Posted in About Spain, Travel | Tagged book Madrid Tours, culture, customs, excursion, history, Madrid, Madrid Tours, MadridMan, Old Town, Plazas, Tour Madrid, tours, Tours of Madrid, walking tour | Leave a comment
Posted on December 20, 2013 by MadridMan
They say Spain's annual Christmas Lottery is the richest in the world, distributing more than 2 Billion Euros, or 3 Billion U.S. Dollars, all taking place this coming Sunday, 22nd of December. TVE1 coverage starts at 8am and the whole lottery drawing process can last until 11:30am.
While 2 Billion Euros are handed out, it's a very broad dispersment. The BIG prize, "El Gordo", will carry a grand prize of 4 Billion Euros – if you hold all 10-tickets in the series. Tickets are sold in "décimos", or "one-tenths", so if you bought just one of those 10-tickets in the series you'd walk away with just 400,000 Euros – before taxes.
Most people buy the "décimos" and gift them to friends and family as Christmas presents. I always buy a few décimos every year and send an email with the "gift name list" and a scanned copy of the tickets. That way, if the winning number is called, everyone knows who won, how much they won, and with whom they must share the winnings.
I say it every year, while the Christmas lottery is the biggest in the world in total distribution, holding the 10-ticket series for the number called "El Gordo" will only win you 4 Million Euros – which is about the twice-a-week total for my Ohio state's lottery winning per ticket in the USA. So if there are two lotteries a week in Ohio worth 4 million U.S. Dollars each (almost 3 million Euros), that's 104 four-million-dollar lottery tickets per year. Now THOSE are lottery winnings. But alas, the USA is a bigger, richer country.
Even if you don't win "El Gordo", "The Fat One", you might win any number of the hundreds of other smaller winners. You won't be able to retire with those winnings, or even buy a new house, but you could possibly take a nice vacation or enjoy a fancy dinner, but little else. Every time I see people dancing in the street with their winning tickets, popping corks on Cava/Champagne, singing victory songs, I think, "Man! All this celebration and they can't even retire!"
Different lottery commission stands or outlets have their own reputations, too. Some are considered "lucky" because they may have doled-out more winning tickets than others. Those stands/outlets which have been around the longest, those which have history, tend to be the most popular. The ONE and only which comes to mind is the "Doña Manolita" stand (pictured) on the pedestrian street Calle del Carmen, just downhill from El Corte Inglés department store and the FNAC store from the Plaza de Callao in Madrid. "Doña Manolita" always has long lines to buy the tickets from their shop as it's not only historical (since 1904), but has also sold among the most "El Gordo" tickets along that time.
I didn't wait for the 45-minutes+ to get my ticket at Doña Manolita in downtown Madrid, but I did get it at my neighborhood lottery ticket office with no lines – and I 'feel' just as lucky as those which braved the cold and boredom to 'improve' their chances. When you choose your décimo, you can ask the clerk for a random ticket or you can ask for tickets starting with 'X' or ending in 'X' with the numbers of your choice. You can also choose exact numbers, whichever you find lucky and assuming they're available at that particular stand.
So Sunday morning's the day, the 22nd of December as always, when people sit semi-glued to their TVs to hear the uniform-wearing school children from "El Colegio de San Ildefonso" singing out the numbered balls as they drop from the huge tumblers. (see video below of the 2012 "El Gordo") The large tumbler carries 85,000 numbered, wooden balls and those are matched with 2,000 numbered, wooden balls which carry the price amount. Admittedly, after an hour – or two of hearing the children singing this repetitive song, it can get tiresome – UNLESS you win, of course!!
Best of luck!
Watch online live at http://www.rtve.es/sorteos/loteria-navidad/directo/
Check winning numbers at http://loteria-navidad.rtve.es/
Previous blog entries about Spain's Christmas Lottery for 2007, 2008, 2009, 2012.
2013 Video of the Winning "El Gordo" Prize:

Official 2013 Spanish Lottery Video:

Share THIS on Facebook!
Posted in About Spain, Money | Tagged 2013, Christmas Lottery, décimo, décimos, el gordo, España, lotería, Loteria de Navidad, loteria nacaional, Lottery, Madrid, navidad, Spain, Spanish Christmas Lottery, The Fat One, winning | Leave a comment
Posted on December 15, 2013 by MadridMan
In many ways Spain is still a very quaint country, retains many old-world charms, and puts higher value on quality of life rather than the quantity of life or the size of your bank account. But this is sadly changing.
Little by little, Spain is becoming more homogenized with the rest of Europe and the world, and is not-so-slowly losing its identity. Young people no longer listen to flamenco music. American TV series, Hollywood movies, and US-made music dominate the media. Only a small percentage of Spaniards are practicing Catholics.
Some might argue it's about time that Spain drag itself into the 21st century – or at least into the 20th – and toss-away these "backward" customs and practices and get with the times, effectively stripping it of its identity. Admittedly, many changes are necessary and welcome.
The European Union, with support of the current Spanish government, has approved a measure to regulate OLIVE OIL, Spain's greatest and most lucrative product, by removing the self-serve pitchers at bars, cafés, and restaurants in favor of a pre-approved, labeled, pre-packaged product – effective 1 January 2014.
They claim many establishments may not be cleaning the "aceiteras" – "olive oil pitchers" – thoroughly or at all, potentially mixing original the flavor from one brand to another. They also say olive oil in glass dispensers degrades when exposed to light and oxygen.
Spain's most popular breakfast is toasted bread with olive oil, salt, and sometimes garlic and tomato purée. Upon placing their orders, customers are sometimes served breakfast already prepared on a plate. But more often than not, the client is offered a plate with one or two halves of toasted, dry bread along with an "aceitera" – "olive oil pitcher/dispenser", a salt shaker, and tomato purée in a small bowl for the customer to create his own breakfast masterpiece.
Having to essentially make your own breakfast in a café is kind of counterintuitive to my American mind. But once you experience it a few times, where you have the freedom to put very little virgin olive oil – or a lot (as I do) , a little salt or a lot, a little tomato puree or a lot, makes you feel right at home. THIS is one of Spain's charms, one which will be erased since the widespread production of olive oil several hundred years ago. Olive oil is, afterall, an essential ingredient in the Mediterranean diet.
So why regulate olive oil? They say it's to assure the customer, many of whom may visit from abroad, experience an assured, high-quality product and then choose to buy the Spain-made, imported product back home.
Starting in January 2014, cafés, bars, and restaurants will do away with serve-yourself olive oil pitchers and customers will be given single-serving, plastic, tear-top packets of olive oil with the commercial producers name clearly printed on it – just like the ketchup packets they give you at fastfood restaurants. Establishments will have a "transition period" of 2 months, allowing them to go through their remaining stock olive oil without penalty. But after that period of time, they'll be fined.
Have you ever grabbed one of those olive oil pitchers only to find the oil had dripped down the neck, getting your hands all oily – and then desperately trying to dry/clean them with those non-absorbent, waxy bar napkins? That's nasty, I'll admit. But nastier is tearing open an olive oil packet – if you can get it open in the first place – and sending the (sometimes) pressurized contents all over your shirt. Or worse, all over the person across the table! And you'll STILL, surely, get olive oil on your hands!
The establishments are against the measure, saying the individually packaged product will cost more, forcing them to raise the price of their "pan tostado con aceite". This can make their strained finances even worse in this already struggling economy.
Ecologists are against the measure, too. They say less than 30% of these plastic packets will make it to recycling stations, the rest going to the landfills or to city streets or sewers and creating additional, unnecessary environmental strain.
So who benefits? One would assume the end-user, the customer, would benefit the most by receiving an approved, high-quality Spain-grown product. The few producers of olive oil, those on the government's approved list, will benefit too, of course. No more getting supermarket, store-brand olive oils, oftentimes from a blend of different olives oils, which may come more cheaply from Turkey, Morocco or "other". No more getting home-grown olive oil from the bar-owner's "pueblo", made at the village "cooperativa" for cheap, even if it would happen to be a very high-quality product.
So who loses? The customer also loses in this one. They'll not only pay more, but they'll also lose the freedom of self-serve. The customer also misses out on one of Spain's homestyle customs at the café breakfast table. The environment clearly loses, too, as more waste will go to landfills. Also, at least some of the product will be wasted as it is impossible to extract the entire contents of the product from the packets, thereby the establishment will pay for product not consumed.
Before long, freshly-layed eggs or legs of cured hams will no longer be allowed to kept at room-temperature for days, either, and beautiful scenes like the photo below will become a thing of the past. (I can hear a lot of people out there saying, "It's about time! That's not sanitary!")
For those lovers of this familiar, self-serve custom in Spain, get it while you can!!
Article: (in Spanish) http://sociedad.elpais.com/sociedad/2013/11/15/actualidad/1384549071_954125.html
Video:
Video:
Share THIS on Facebook!
Posted in About Spain, Food, Health, Money | Tagged aceite, aceite de oliva, aceitera, aceiteras, aceiteras rellenables, European Union, extra virgin, olive oil, olive oil packets, olive oil pitchers, packets, pan tostado con aceite, single serving, Spain, Spanish breakfast, typical breakfast in Spain, typical Spanish breakfast, virgin olive oil | 6 Comments
Posted on August 21, 2013 by MadridMan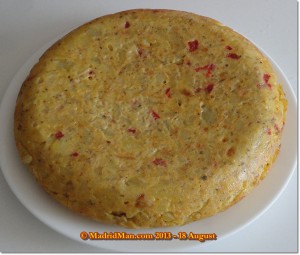 The following is a tortilla de patatas recipe by MadridMan™ himself. I'm not saying it's the BEST recipe, but my Spanish eaters seem to like it, bringing me ever-closer to winning the Best Non-Spaniard Spanish Cook award in this house. (that'll be easy since I'm the only non-Spaniard here)
Question: What is a "tortilla de patatas"? Answer: It's a "Spanish potato omelette", also known as "tortilla española" in Spanish. It's made with eggs, potatoes, and salt to start. Additional ingredients depend on the preference of the cook. Spain loves its "tortilla de patatas" as much as its Paella and I've seen a dozen different kinds. Here's mine in only (?!?!) 34-steps:
TORTILLA DE PATATAS INGREDIENTS:
3 fat potatoes – or 4 regular sized ones
4 large eggs (or 3 if you're cutting back)
half onion
1 or 2 large roasted red peppers
Salt-N-Pepa (anyone remember that hip-hop group?)
oregano
Extra Virgin Olive Oil (preferably from SPAIN!)
TOOLS OF THE TRADE:
1 large plate-sized non-stick frying pan with lid/cover
1 mid-sized non-stick frying pan (2/3 the size of the large one)
1 hand strainer into/onto which you will drain the cooked potatoes
1 very large bowl, large enough to accommodate your combined mixture
1 plate which will fit over top of the mid-sized frying pan
1 large wooden spoon or wooden spatula
a sink
2-hand coordination
WHAT TO DO, STEP-BY-STEP:
add and heat roughly one half-inch or 1.25 centimeters of Extra Virgin Olive Oil to a large plate-sized frying pan (and don't take your eye off of it, either!)
peel and finely chop half an onion and add it to the heated olive oil
while the onion is frying, peel and chop/slice 3 fat potatoes into flattened, big-toe sized slices (see photo)
once the onion slivers begin to curl and have the slightest tinge of brown around the edges, add your potatoes to the frying pan and cover with lid
lower the heat – you don't want the potatoes to brown, just cook slowly
mix the potatoes carefully with the wooden spoon or wooden spatula, separate the slices from one another and see that the olive oil touches (almost) all potato surfaces
add more olive oil as necessary so you can see pools of it between the potato slices. NO NEED to totally cover the potatoes with oil in the pan
carefully turn potatoes every few (2-4) minutes, making sure the potatoes are not browning. If so, lower the heat more
chop one or two large roasted red peppers to the size of your thumbnail. (the photo shows just 1 chopped red pepper) These roasted red peppers are oftentimes bought in a jar or can with water/oil
crack and beat 4 (or 3) large eggs in a LARGE bowl (large enough to fit all your fried potatoes later)
add chopped roasted red peppers to the egg mixture in the large bowl
add two dashes of pepper to the egg mixture
add a tablespoon or two of oregano to the egg mixture
add and mix-in a couple pinches of salt to the egg mixture. IMPORTANT NOTE: Salt is a crucial – and dangerous – ingredient in any "tortilla de patatas". Go too far and you can't eat it. Come up short and it's bland. This step can be trial-and-error depending on your salt preferences, but better to add too little than too much until you get the hang of it
once the frying potatoes break easily when mixing, turn off the heat
with a hand strainer (the typical Spanish ones are like a handled, flat spoon with holes in it – see photo), fish-out the fried potatoes, allowing as much olive oil as possible to drain off into the frying pan, and add them to your LARGE bowl containing the egg mixture
mix the potato, egg, etcetera thoroughly
add a couple spoons of the previously used, still-hot olive oil to your smaller frying pan
turn heat on low under the smaller frying pan
pour potato and egg mixture into the smaller, heated frying pan, not allowing the mixture to reach the top edge of the frying pan – but almost (if you have mixture leftover, you can later make a nice mini-potato-omelette)
once the mixture is in the frying pan, unstick and push-down the edges with a wooden spoon or wooden spatula to give it nice, round sides. Next, comes the most difficult part…
when the top of the mixture becomes ever-so-slightly firm, after 8-10 minutes, lift the frying pan from the heat and completely and firmly cover the top with a plate. Ready? The following is the most difficult, dangerous part coming up…
carry the frying pan covered with the plate to the sink – or safe area – and give yourself space for the following mini-circus act
with one hand firmly placed on the top of the plate and the other hand firmly holding the frying pan handle, smoothly turn the frying pan and tortilla over onto the plate, releasing its contents. IMPORTANT SAFETY NOTES: when performing this not-for-the-faint-hearted procedure of "turning", in the instant before the tortilla falls onto the plate, tilt the plate-pan combination slightly away and to the left-or-right of your body, toward the sink because hot oil may spill out if you've added too much. This is to say you'll be conducting a 170º turnover – not a 180º turnover. If you burn your fingers/hands, you can drop the whole thing into the sink instead of on the floor. (be sure to push the kitchen sink's spigot out of the way if you can) I recommend practicing a couple times with an empty pan topped with a plate so when you reach GO TIME you won't be flustered with which way to turn it
you now have the still-somewhat-soupy tortilla de patatas on the plate. Quickly return the frying pan to the heat and gently slide the tortilla off the plate and back into the frying pan
use your wooden spoon or wooden spatula to push down the edges and give the frying pan a shake forward and back from time to time so the tortilla stays unstuck
if you see your first-cooked side, the side now facing up, is anything but yellow, turn down the heat a bit more. This is a slow-cooking process
after a good 5-10 minutes on low heat, take your wooden spoon or wooden spatula and ever-so-gently lift up the edge of the tortilla to see when the underside is nearly firm, being careful not to split or crack the top of the tortilla de patatas. With practice and timing, you can forego this step
conduct a 2nd 170º turn onto a plate while over the sink. You shouldn't have any more oil left to spill
slide the tortilla back into the frying pan from the plate, give it a shake to keep it unstuck, and push down the edges with your wooden spoon or wooden spatula
check the color of the up-facing side. It should still be yellow or ever-so-slightly beige-yellow. If it's brown, turn down the heat some more
after another 5-10 minutes, conduct the 3rd – and last – 170º plate flip return to the frying pan
stick a butter knife through the middle and it should pull-out nice and clean, with no liquidy egg yolk
for better presentation, flip-out the tortilla de patatas onto a clean plate, now that you're an expert, and let cool slightly
SERVING SUGGESTIONS:
some, like me, put "tomate frito" (fried tomato sauce) or even ketchup on their tortilla de patatas
some people cook their tortillas without onion, some cook theirs with chorizo, others add eggplant to make it more moist
Spaniards NEVER put their tortillas de patatas in the refrigerator, usually not even overnight, until it's eaten – which can take 2-48 hours. I realize this is very contrary to American customs of refrigerating everything. I've been converted and have never gotten sick
you'll often get served tortilla de patatas in Spanish bars as a free tapa or a for-purchase "ración" – and it's almost always served room temperature, likely made that morning. You can ask them to heat it up via microwave if you like yours warm
SUMMARY:
I started making the famed "tortilla de patatas" a few years ago and it definitely is a practice-makes-perfect journey. The first effort was a disaster, the potatoes were overcooked and brown, too salty, and I burned my plate-hand with the hot oil when I turned it. Plus, it took more than an hour to make. The second was less, but still brown and bland for lack of salt. Happily, the third and (nearly) all subsequent tortilla de patatas were edible and quite attractive and took roughly 45 minutes from start to finish.
¡Que Aproveche!
Share THIS on Facebook!
Posted in About Spain, Food | Tagged best, cebolla, cook, cooking, eggs, food, fotos, home made, huevo, patatas, photos, potato omelette, potatoes, receta, recetas españolas, recipe, sal, salt, Spanish, spanish cook, Spanish cooking, spanish food, Spanish omelette, Spanish recipe, Spanish tortilla, tortilla, tortilla de patatas, tortilla española, traditional, Video | 16 Comments
Posted on July 6, 2013 by MadridMan
Today at 6pm starts Madrid's 2013 Gay Pride Parade! The annual, blockbuster "Orgullo Gay" event is a Gay-Pride Celebration, attended by Gays & Straights alike, and one of the biggest in all of Europe and definitely the biggests in Spain.
In a nutshell, the Gay Pride Parade is a big street party with lots of ab-ripped, sweaty guys on double-decker buses passing every 30-minutes, "regular looking" people marching down the street with banners, and about a million spectators trying to catch a glimpse of the parade, trying not to spill their beer, and trying not to need to use a toilet – because there are few-to-none.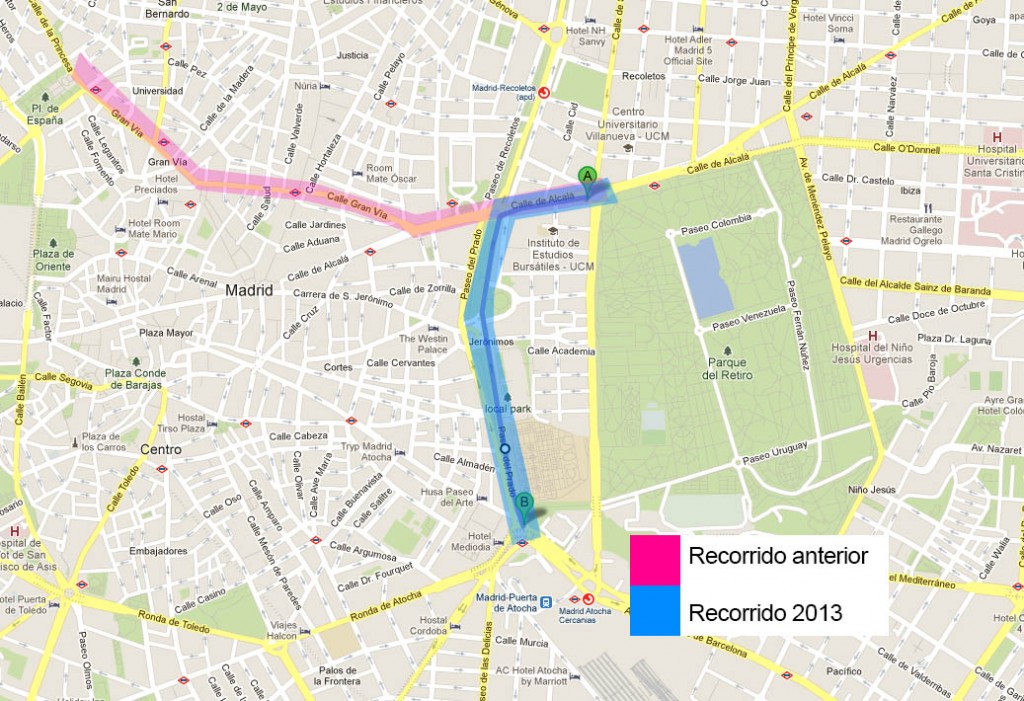 This year, for unknown reasons to me, they've changed the parade route from the traditional to the (nearly) absurb. The 2013 Gay Pride Parade in Madrid will start at/near the Atocha Train Station, move northbound up the tree-lined Paseo del Prado, turn right at the Plaza de Cibeles to the Calle de Alcalá, and end at the Puerta de Alcalá.
As long as I can remember, the Gay Pride Parade route started at the Puerta de Alcalá, passed through the Plaza de Cibeles, went up the Calle de Alcalá, and then along the VERY wide Gran Vía Boulevard.
Maybe they're testing new routes for future Gay Pride Parades, I don't know, but I can't think of a less-logical route utilizing the Paseo del Prado. Sure, it's a long, straight boulevard, but it has 4 lanes on each side of a tree-lined green space in between and somewhat rather narrow sidewalks.
On the western edge of the Paseo del Prado boulevard you have tall buildings right up againsts the street. On the eastern edge of the boulevard you have fences. I can't imagine how people will be able to get close enough to see anything if they're not at either Atocha, Cibeles, OR at the Puerta de Alcalá – and these three locations are HUGE. Fill those locations with tens of thousands of people and you won't be able to see much there either if you don't get there early. I think going down the Paseo de la Castellana is a much more logical route.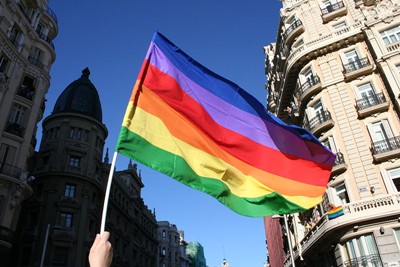 The parade starts at 6pm, but it travels at a snail's pace. I don't expect the last "carroza" ("float") will start up the Paseo del Prado until 9pm. The first groups in the parade are always the most mundane and are usually small groups of LGBT associations holding banners and wearing street clothes with no flash whatsoever. I know, they don't HAVE to be flashy, they just have to be themselves – and that's what it's all about.
The most "fun" floats, however, come towards the end of the parade with groups of big, buff, ripped male bodies standing atop double-decker, open-top buses, waving and dancing to loud disco music. To be honest, in the 3 times I've seen the Gay Pride Parade in Madrid I've NEVER seen these double-decker buses. I never could wait around long enough in the heat to see them.
And who (not me, sure, but many will) wants to stand under the hot sun among thousands of sweaty people? I know a lot of people can put up with it, but as some of you might know, "MadridMan is a Hot Body", and hates the heat. But that's life – and I expect to be accepted for who I am, just like anyone.
Previous Year's Postings: "Orgullo Gay Madrid Gay Pride 2009" & "2011 Madrid Gay Pride Parade: Not Just For Gays".
Share THIS on Facebook!
Posted in About Spain, Entertainment | Tagged 2013, atocha, Calle de Alcala, Carrozas, desfile, gay, gay parade, Gay Pride, heat, hot, Madrid, orgullo, Orgullo Gay, parade, Paseo del Prado, Pride, Puerta de Alcala | Leave a comment
Posted on July 5, 2013 by MadridMan
NEW DEVELOPMENTS! A lot of interest has been generated since I wrote "Permanent Residency in Spain with Home Purchase" back in November 2012. Because of it, I've received numerous emails and questions/comments on that previous blog entry, everyone wanting updates. Well now you have (some of) them.
Before, the price for Spanish residency with home purchase was 160,000 Euros, but that has been raised to 500,000 Euros. The new law is 'expected' to come to fruition this month in July 2013.

But since November 2012, another law has been officially and quickly enacted, called "Modelo 720" (see below), which requires all Spanish residents, either foreign or domestic citizens, claim assets outside of Spain totaling more than 150,000 Euros. I have to wonder which law was considered first, but I think I know the answer. This is a law being enacted throughout Europe as well.
Spain is in such desperate straits that the government is looking for any and all manner to raise money to pay back those European Union loans and to boost its own economy, particularly through the tumbling housing market. I'm not so sure, however, that "selling out" and charging higher taxes to its already struggling people and would-be residents is the way to do it. I don't have the answer, either.
I don't know about you, but if one is wealthy enough to buy a 500,000+Euro property in Spain for residency, that same person certainly has property and assets outside of Spain as well, and probably worth more than 150,000 Euros! This could also affect current and future retirees living the high life around Spain's beaches. Once they know they'll have to pay taxes in Spain for those properties & assets back home, that's exactly where many of them may decide to return, leaving Spain in the dust.
IMPORTANT: Residency with Home Purchase in Spain would not include the right to work, have public health care benefits, or attend public schools. The resident would have to pay for all these services privately and individually. That's the sticker.
So what good is Spanish residency if you can't enjoy the benefits other Spanish residents have? Therein lies the rub. Foreigners can currently and legally buy property in Spain. But without European Union residency already established, they cannot live in Spain more than half the year. The home-purchase-for-residency would allow the new resident to live in Spain all-year-round, but without many of those aforementioned benefits.
I was recently talking to an accountant familiar with these matters and he didn't seem to think anything would come of the "Spanish Residency with Home Purchase" initiative, mainly because it would be made prohibitive with the new Modelo 720 law (below).
The rich, and even not-so-rich, can easily buy property around the world – and maybe even for local residency. Unfortunately, it may cost them more than they'd like to spend in the end.
Read The Telegraph (UK) Article in English: "Residency Law Gives the Spanish Market a Boost" (read the article's comments section, too, for even more details) and ElEconomista.es article in Spanish, "El Gobierno Eleva a 500.000 Euros la Inversión para Obtener la Residencia" (again, read the comments section, too).
See the Modelo 720 document below regarding taxable assets held outside of Spain.
Residents in Spain (Spanish citizens, foreigners, individuals or companies) will soon be obliged to declare all overseas assets (including those who have chosen to pay as a nonresident). From 2013 all foreign assets (outside of Spain) must be reported (under MODELO 720).
This new declaration is not only for the owners of foreign assets but also for those who are authorized signatories co-signatories or beneficiaries.
So, for example, even if you are only an authorized signatory on your father's bank account, you are still required to report this account.
The reporting period is March – April 2013.
All kinds of assets will have to be reported:
Real estate
Bank accounts
Shares and securities
Life insurance policies, pensions or any kind of insurance…
Trusts
All incomes (for example if you are receiving payments on loans…)
With regards to bank accounts, the value to be declared is either the balance as on 31st December or the average balance taken from the last three months of 2012 (whichever is higher). With regards to real estate the asset value will be derived from the original acquisition price (the price you bought the property for).
You are only liable for this new fiscal obligation if your total assets held outside Spain are worth more than €50,000 in each category:
Real estate : €50,000
Bank accounts : €50,000
Shares, funds: €50,000
You will only need to report the assets again if their value has risen by over €20,000.
Failure to comply with this fiscal obligation "could" have costly consequences if your assets are discovered by the tax authorities. You should also be very careful if your assets are in the European community, USA or Switzerland as the financial institutions are currently in the process of agreements that will allow the sharing of financial information between countries.
In the case of Switzerland a new law is already under discussion which will require to Swiss banks to close any "anonymous" accounts. The law will probably be in place in 2014 and for the first time in Switzerland's history, acts of financial fraud will be prosecuted.
The minimum penalty for failure to comply with this new declaration will be 10.000€ plus 5.000€ for each omitted account/income…
The most severe consequences of this new declaration are that the Administration are abolishing backdated revision of tax declarations having a maximum period of four years. Until now if you committed a fraud you could have been prosecuted within a period of four years. However from this declaration forward there will be no maximum period if you are found not to have declared your assets in the future. From the moment the Administration locate your undeclared foreign assets they will automatically add any undeclared assets (from any period) to your tax declaration for the previous four years. The resulting total asset value will determine what penalties and interest rates should be paid to the Administration. Be careful!! the penalty will be 150% of the amount you haven't pay to the Authorities!
Good news though, this new declaration is just informative. That means, no payment is required so it's really worth to declaring your foreign assets.
If you are planning to comply with this new tax obligation don't forget to adjust your four previous tax declarations if they are incorrect! As a resident of Spain (although you may not be aware) you are automatically required to report all Spanish and overseas assets or incomes (via La Renta) as income and capital gains tax (via Patrimonio) is applicable worldwide!
Share THIS on Facebook!
Posted in About Spain, Money | Tagged getting residency, home purchase, house purchase, laws, legal, living in Spain, modelo 720, obtaining residency, residency, residency laws, Spanish Residency, taxes, work permit, working in Spain | 7 Comments
Posted on June 26, 2013 by MadridMan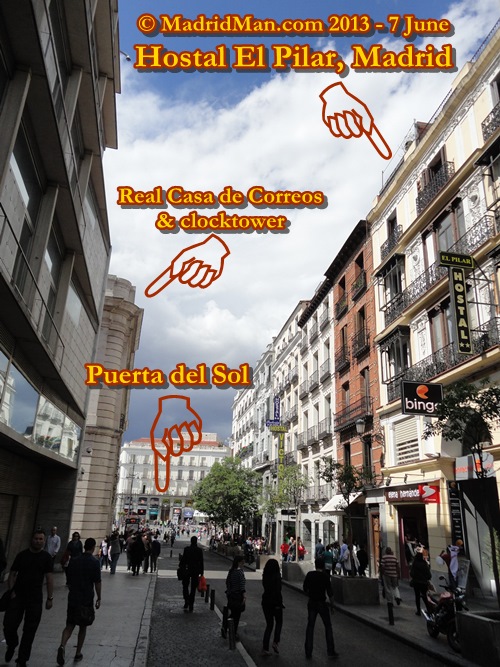 A few weekends ago, early June 2013, I spent Friday and Saturday night in downtown Madrid while a friend was visiting. I'd reserved Hostal El Pilar on Calle de Carretas, 13, just about 80 meters from the Puerta del Sol's south side, on the same street as the famous Real Casa de Correos. It was my first overnight stay in a Madrid lodging establishment since moving here in 2005.
Why did I choose Hostal El Pilar? Answers: Location, price, and reviews. Location: The location couldn't be better, right next to the Puerta del Sol and literally a stone's throw from the Real Casa de Correos and its clock tower. Price: I'd booked the 39€ room via MadridHostels.com (yeah, that's one of mine, too) and thought that was a pretty good deal for a single room in downtown Madrid. Reviews: The Internet is great for such things and I used it to its fullest, searching reviews of Hostal El Pilar in Madrid, including TripAdvisor, Frommers.com, Fodors.com, and others.
What is a "Hostal"?: People new to Europe may easily confuse a "hostal" for a "hostel" – or "youth hostel". The two are nothing alike. In Italy they would be called a "pension". A "hostal", called "hostales" in the Spanish plural form, is a lodging establishment of individual rooms, usually family owned and operated, most often with private, in-room bathroom facilities. You possess your own key and control your own space. As you can see, this is nothing like the community shower/bathroom facilities, lockers, and bunk bed establishments of "hostels" or "youth hostels". The terms, nevertheless, are frequently confused and mistakenly interchanged. Now, on with the review…
General: The building's façade is beautiful, clearly historic and has an elevator to take you up to the hostal's 2nd floor (which is the 3rd floor by USA standards). Mine was a single/individual room, number 318, and was located up the wooden stairs from the reception desk and at the very end of the hall. The window faced the "patio", or air-shaft, two floors below the top floor.
Location: The location couldn't be better, just a stone's throw from the Puerta del Sol and so close to everything in old downtown Madrid.
Room Description: My single room had a single bed (called a "twin bed" in the USA), a small bedside table and a lamp, telephone, a wall-mounted flat-screen TV which worked well, closet, air conditioning unit, one window with curtains and roll-down blinds, and a small desk and chair. The room was cleaned daily including a change of bed linens. The room was light enough and quiet since it was at the very end of the hostal's hall.
Bathroom Description: Mine was a typically small bathroom – typical to "hostales", that is. It had a half-bath with the metal hose and plastic shower head which you COULD attach to the wall connection to stand under the shower. This is a plus. The water pressure was good and there was hot and cold water whenever needed. The shower curtain doesn't quite reach from wall-to-wall but does reach to the end of the bathtub itself. My initial worry was that the floor would get wet, but it never did in the 2 showers I took. The sink is tiny, just big enough in which to wash my hands. Since I'm one to wash my face before going to bed I had great difficulty keeping my face over the wash basin, plashing water on the floor. But that's what towels are for, I guess. I also had to be careful not to hit my head on the glass shelf immediately above the sink. They provided a small bar of soap, a drinking glass and clean towels each day. The tap water tasted good and fresh.
The Bed: If there is a negative I'd have to put on my Hostal El Pilar experience it would have to be the bed mattress quality. Mine was somewhat lumpy, far less than firm, and the springs sprung with shifting weight. It was also leaning slightly to one side. But for a couple nights, I could live with it. There were plenty of blankets, too.
Cleanliness: All the living quarter space was very clean and in order, cleaned daily, so no issues there – thank goodness. The halls, reception area and stairs were all clean.
Noise: This is an important detail for any hostal. Many times the room walls can be very thin and you can hear your neighbor snoring and talking or the trash being picked up at 4:00am – but not my room! As I mentioned above, mine was the last room in the upstairs hall so no one passed mine to get to theirs. Sure, I could hear people walking down the floor-tile hall and opening/closing their doors, but couldn't hear – or didn't notice – people talking once they were inside. And since my room faced the "patio"/air-shaft, I had no street noise whatsoever and slept peacefully both nights.
Internet: These days, having an internet connection is absolutely necessary. Hostal El Pilar provides Internet Wi-Fi free to its guest (ask for the password upon checking in). When I reached my room on the far side of the hostal I was a bit worried the signal wouldn't reach, but it did and never failed at any time during my stay. It was very reliable.
Privacy/Security: Since my room faced the "patio"/air-shaft, the windows across the way and above, about 12-feet from my own, could easily see in my room if they looked. There was no problem leaving my window open at night for fresh air, either. . Room doors don't lock upon shutting so you have to lock the doors from inside. Not a problem. Room doors use standard keys with wooden keychain bobs which must be left at reception upon leaving the hostal each time. The closet, with plenty of hangers, also had a combination safe into which one could put important documents or cash, I suppose, but I didn't need to use it.
Reception: Reception is staffed 24-hours a day. Since you have to drop-off your key upon leaving and pick up your key upon arriving, this is a plus. You also have to ring the door-bell button at the street-side entrance, too, to be let in. They have a video camera to see your face and will tell you to push the door open once they recognize/trust you. I met three different persons during my stay, all in their 30s, I believe, and all seemed to speak at least some English – although I spoke to them exclusively in Spanish. When checking in, I noticed there were 2 or 3 rooms facing the reception area. Avoid these rooms like the plague! There's nothing worse than hearing the hostal phones ringing constantly, people requesting/dropping-off their room keys and checking in/out at all hours of the day and night.
Summing-Up: Hostal El Pilar, for me, was a good and affordable choice for a couple nights. I know I could've had a bigger, more decorative, more modern room elsewhere at a higher cost (and maybe even with a door keycard and refrigerator, as my visiting friend had). But for me this small room was fine in which to sleep cheap in Madrid's downtown.
Hostal Video: (created by the hostal itself)
Share THIS on Facebook!
Posted in General, Money, Travel | Tagged bathroom, cheap, cheap hostels, cheap hotels, económico, habitacion, hostal, Hostal El Pilar, hostales, hostales baratos, hostales baratos madrid, hostales madrid, hostel, Madrid, near Puerta del Sol, pension, pensiones, pensiones baratas, Puerta del Sol, shower, single room, toilet | 2 Comments
Posted on May 15, 2013 by MadridMan
Today, the 15th of May, is Madrid's Patron Saint's Day, "El Día de San Isidro Labrador". It's a day for the city of Madrid to come together and celebrate its history and traditions, costumes and music, and of course, its people. Sure, the festival started on the 10th and ends on the 19th of May, but today is THE BIG DAY.
Many years it's hot and sunny, but this 2013 San Isidro Festival in Madrid's Pradera de San Isidro Park was cool, cloudy and rainy – until about 11:30am. After the last drop dropped I edged outside and looked up, saw some blue sky between the dark clouds and decided to take a chance. I'd also checked the (mostly unreliable) weather forecast which said it should stop raining by noon.
While I usually start at the bottom of the Paseo de la Ermita del Santo street near the Río Manzanares river and work my way uphill, this time I started at the top and walked downhill – although I walked back up when I was finished and I'm glad I did it this way.
The first things you notice at the top are rows of Port-O-Pots (mobile toilets), parked police horse trailers, and a large stage for the nighttime concerts. These rock/pop concerts, while I've never attended one personally, can always be heard from my home when the windows are open just 1.2 kilometers away "as the crow flies" or 15-minutes onfoot.
Walking downhill, there's no mistaking you're in the middle of Fair Food Heaven. But this is like no typical United States County Fair Food you've ever tried before. Sure, they do have hotdogs, but these are rarely touched by Spaniards. Imagine the following Fair-Food Smells wafting across the San Isidro Park: roasting suckling pig, lamb and ribs, 5 varieties of sausages, 2 varieties of fried squid, fried sardines, croquettes, roasted whole chickens, fried-egg-covered potatoes, paella, and – this is a big one – something called "entresijos". "Entresijos" is a popular fried delicacy of the stomach and intestines of a lamb or hen. (Trust me, they look nearly as nasty as they sound, all undulating and crusty fried – and I haven't tried them yet. No, those pictured below are NOT "entresijos", but are fried "porras" and "churros")
Most of the food stands have a streetside bar where you can also enjoy a beer, wine, sangria, "tinto de verano", or even something to eat. Many of the stands also have a covered seating area with tables and chairs to have a sit-down meal. In general, the food all looks delicious to my Spanish-assimilated eyes. And although I'm tempted to stop for a bite, I have lunch plans so I have to get back.
Among the food and drink stands, there are also a number of political party stands – which I find odd. Why mix party politics with festival fun? I guess since they paid their fee to have the stand, they're hoping to sway the opinion of passersby. Not sure.
Although dark, billowing clouds continued to threaten the party, the overall attendance seemed only slightly smaller than last year's, surely due to the rainy morning and cool temperatures. They say the Madrid City Hall spent 20% less on this year's festivities, but I couldn't tell a difference, at least not at the Pradera de San Isidro. Maybe you could notice at other venues.
Shortly after noon I found myself in the middle of the Pradera de San Isidro, right at the bend in the Calle de la Ermita del Santo street where the Catholic Mass for the Madrileño masses had just begun. I stood awhile and witnessed the procession and of the image of San Isidro Labrador while youngsters sang "Hallelujah" to an acoustic guitar. That was kind of nice and not so somber. Apart from all that, I had to think for a minute. This city-sponsored festival surrounds a religious figure. No separation of Church and State? This is Spain, afterall, where most (or all) of its holidays are religion-based. The kids and parents don't care, though. They get the day off.
Video Below:
Catholic Mass and Arrival of "San Isidro Labrador"
in the Pradera de San Isidro in Madrid, Spain:

Leaving the seated Mass(es) behind, I continued downhill with several stands on my right selling "Rosquillas", a traditional San Isidro pastry. Rosquillas are fried dough very similar to doughnuts with different sugary glazes. The most popular and most common of all "rosquillas" are "Las Tontas", "Las Listas", and "Las de Santa Clara", but there are probably five additional flavors including coffee, lemon, chocolate, orange, strawberry, and more I can't recall now. Since I didn't want a swinging bag around my wrist while trying to take photos, I decided to buy my "rosquillas" on the way back – so I pressed on.
A little further down I reached the "Ermita de San Isidro". This is a small church or hermitage first constructed in 1528 and then rebuilt in 1725. It's dedicated to Madrid's Patron Saint, San Isidro Labrador. On this day, "Día de San Isidro", the faithful wait in line, sometimes for hours, to get inside and pay tribute. There's another long line to drink the spring waters, "with healing power", on the outside wall of the hermitage. This year I didn't wait in line for either, but during previous years I would go the day before when there are often no lines at all.
It's here in the street, immediately in front of the "Ermita del Santo" ("Ermita de San Isidro Labrador"), where most of the real ACTION is. Organized groups from different parts of Madrid display their period dances in period costumes. The most common dances are "El Chotis" but also the "Pasodoble". The most common costumes are those of the "Chulapas" (for women) and "Chulapos" (for men) but also the "Goyesca" costumes. These groups dance for the crowds and are always happy to pose for photos, being quite proud of their appearance and skills.
Video Below:
"Chulapas" and "Chulapos" dancing "El Chotis"
in Madrid's Pradera de San Isidro

A few raindrops dropped and I feared the worst, but it never happened. Still, I decided it was time to make my way back up hill and head home although I was packing a mini-umbrella just in case.
Before leaving, I stepped up to a "rosquilla" stand to buy the obligatory sweets for today's "merienda", for tomorrow's breakfast, or for whenever. I bought 18 total for 11 Euros, a nice mixed bag and they are tasty!
Passing the catholic mass once again and heading up through the food stands, I paused several times for food-photos and the occasional cute-kid photo, too. Some people were already having their lunch at 1pm (so early!!) while others were having a pre-lunch drink at the streetside bars.
Leaving the Pradera de San Isidro grounds at the top of the hill and passing the concert stage once again, I noticed throngs of young and old pouring in and more parking their cars wherever they could fit. That's good. I'm glad to see the San Isidro festival still so popular among Madrileños.
Also read all year's accounts of the San Isidro Festival in Madrid with lots of information, insights, photos and videos:
San Isidro 2012, San Isidro 2011, San Isidro 2010, San Isidro 2009, San Isidro 2008
Share THIS on Facebook!
Posted in About Spain, Entertainment, Food, Photos | Tagged Baile, catholic mass, chotis, Chulapas, Chulapos, dance, El Chotis, ermita, ermita de san isidro, Ermita del Santo, fair food, food, imagen, Madrid, mass, Patron Saint, Pradera, pradera de san isidro, san isidro, San Isidro Labrador, Spain, Video | 6 Comments
Posted on May 11, 2013 by MadridMan

Yesterday, the 10th of May, was the official start of the 10-day 2013 Madrid San Isidro Festival and it lasts until the 19th of May. The 15th of May is THE BIG DAY, San Isidro Labrador Day, Madrid's Patron Saint, and is a city-wide holiday.
I know many people hear "San Isidro" and first think of the world's largest bullfight festival, "Fería de San Isidro", with daily bullfights from 9 May to 1 June. But Madrid's San Isidro festival is much more diverse than that.
Video Below (not mine): "Gigantes y Cabezudos" dancing in Puerta del Sol:

For example, yesterday/Friday afternoon I was downtown and there was a parade of "Big Headed Giants" ("gigantes y cabezudos") through the Puerta del Sol of Madrid. After that, there was a symphony orchestra concert in the Plaza Mayor. (photo below was taken an hour before the 9:30pm concert started)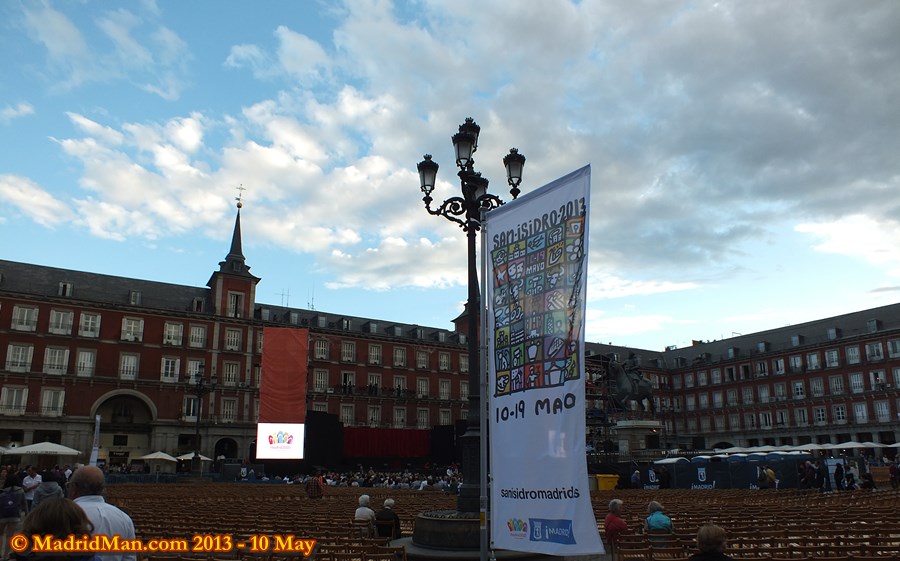 Many events take place during the 15th of May including many things in the "Pradera de San Isidro". This is the large, hilly city park located immediately across the Río Manzanares river from the Vicente Calderón Stadium (home of the Atlético de Madrid football team). It's also the park from which we have Madrid skyline views as seen by painter Francisco Goya in his 1788 painting, "La Pradera de San Isidro". (see painting below)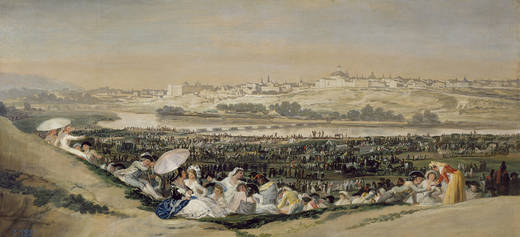 In the Pradera de San Isidro on the 15th of May, Catholic Mass takes place at noon and costumed "chulapas" (women) and "chulapos" (men) dance the traditional "el Chotis" in the street throughout the day. There will also be people standing in line for hours to drink the spring water beside the "Ermita de San Isidro" hermitage – which is said to contain "healing powers". I always go the day before the 15th to drink the same water and there's never a line – but it's not the same as doing it ON San Isidro Day, I realize. Thousands of people will also buy "rosquillas" (kind of like doughnuts) – "las tontas, las listas y las de Santa Clara" to eat there and to take home. I always get a "mixed bag" of the three kinds to eat for "merienda" and breakfast over the following days after San Isidro.
There are also other cultural events, dances, and concerts taking place in Madrid's "Las Vistillas", the small park south and west the Viaducto. I tend to only attend events in the "Pradera de San Isidro" as it's practically in my neighborhood and access is easy onfoot. These days it's impossible to find parking anywhere in this area.
This year, 2013 Madrid San Isidro Festival, on the 15th of May itself, I'll post a new blog with photos and video of my experiences in the Pradera – assuming it doesn't rain, that is.
Enjoy the 2013 Madrid San Isidro Festival!
Also read all year's accounts of the San Isidro Festival in Madrid with lots of information, insights, photos and videos:
San Isidro 2013, San Isidro 2012, San Isidro 2011, San Isidro 2010, San Isidro 2009, San Isidro 2008
Share THIS on Facebook!
Posted in About Spain, Entertainment, Food, Photos | Tagged 2013, bullfights, ermita, ermita de san isidro, events, feria, feria de san isidro, fotos, Las Ventas, las vistillas, Madrid, photos, Pradera, pradera de san isidro, san isidro, San Isidro Labrador, toros, Video | 11 Comments
Posted on April 21, 2013 by MadridMan
Last week I had the distinct pleasure of enjoying some INCREDIBLE views from a Madrid rooftop – IN THE PUERTA DEL SOL!
Madrid's Puerta del Sol, 17 April 2013.
Sometimes I think to myself, "I really am blessed to have such good friends and good contacts." My new-ish Madrid buddy Nacho Gil, of "Callejeando Madrid", is an impressive photographer hobbyist and seems to have more (rooftop) contacts than the Prime Minister of Spain. This time he brought me along.
I'd been begging (read: nagging) Nacho to let me tag-along for one of his Madrid rooftop photo shoots and he finally relented. Maybe it was just good timing or maybe because he knows well my affinity towards Madrid's Puerta del Sol. In any case, he gave me an photographic experience of a lifetime.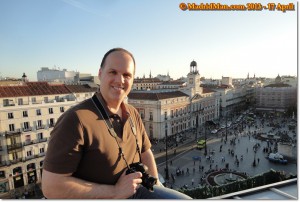 We met at the Oso y el Madroño statue at 7:45pm last Wednesday under a super-sunny clear sky; a perfect day for taking pictures. I would've preferred a few thin, wispy cirrus clouds on the horizon for character, but when appointments are made, you must make the best of the time you've been given. So that's what we did.
Nacho and I then met his contacts in the northeast corner building of the plaza. For reference, this is the building immediately left of the Old Hotel Paris and the would-be flagship Apple Store which held up the iconic "Tío Pepe" sign for more than 75 years.
After the obligatory handshakes and smalltalk, we were accompanied up to the fifth floor by elevator. From there we took the "secret passage" up a very tight wooden spiral staircase barely thicker than my own body. Good thing I'm not claustrophobic! Since I was the last to go up, I was asked to bolt the door behind me before going up. 'THUNK!' Door securely bolted behind me. Oh, my!
As I exited onto the wide-open, flat-top roof I could swear angels were singing as the afternoon sun hit my face. But the temporary euphoria was smacked-down by a heavenly hand when I saw what was next.
The corner of the building with the best views of the Puerta del Sol was just…. over there. But to get – over there, we'd first have to cross a ledge roughly 25cm/10inches wide and 1.6m/5ft long. We were told, "I hope you're not afraid of heights because that's the only way to get across."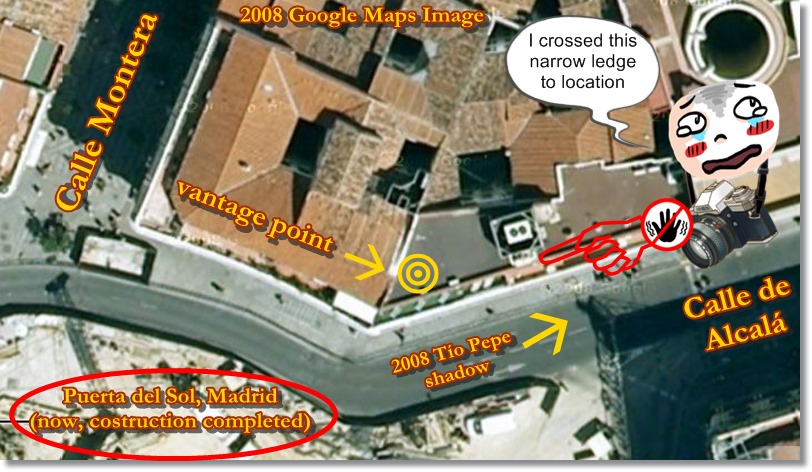 Taking a deep breath – and last in line (smart, eh?!), I quickly shuffled along the length of the ledge with my camera bag held tightly to my body. Maybe I'm making this all sound worse than it was. To my inside I had a knee-height compressor and pipes. To my outside – and about 15-feet down, I had the terrace below me. Past that terrace, well, you know, was hot asphalt and unforgiving stone. Given the choices, I leaned towards the compressor while completing the distance.
Now it's just after 8pm and we have the entire plaza of Madrid's Puerta del Sol at our feet. What a view. What a privileged view.
With the sun in our eyes and the plaza dark below by contrast there's not much to do. The only things we can see clearly are to our left and behind us, buildings with sun-shining façades. These include the some-day/year/millennium flagship Puerta del Sol Madrid Apple Store, now totally gutted and with a new roof where the "Tío Pepe" sign is sorely missed by millions. A little to the right and on the near-distant horizon one can clearly see the red brick tower of the Parroquia de Santa Cruz. More to right and on the plaza Puerta del Sol is the clock and bell tower of the Real Casa de Correos, the regional Madrid government building, standing tall in the afternoon sun. Looking due west, nearly into the sun, we can see the dome of Madrid's Almudena Cathedral. And just below the nearly setting sun we can just make out the foothills to the Sierra Guadarrama mountains. To the right of the setting sun, we can make out the tops of the FNAC and Telefónica buildings.
As the sun goes behind the Capital City buildings we can see the typically busy Puerta del Sol better and better. This plaza NEVER sleeps – especially in good weather, and today is no exception. Bicycle stunts are performed to an animated crowd. Human statues are standing/leaning/hoisted motionless at an fiscally agreeable distance between each one. The ever-present, yellow-faced Sponge Bob is dancing around with that big, goofy grin. There's also the police van parked up against the horse-riding statue of King Carlos III in case citizens or tourists have security issues in Madrid's "home of the pick-pockets". Today, fortunately, there are no Mariachis entertaining us, making unaware travelers think theirs is indigenous music to Spain.
(Imagine you're there now…) It's just after 9pm and there goes the sun. The plaza's street lamps are turned on and the two fountains and all building façades are now illuminated, glowing. The horizon still has a warm, cozy allure, but it's fading fast. The yellow turns to orange and the orange turns to pale blue. The stars have tossed back their daytime blankets and are waking up, beginning to twinkle.
(You're still there…) Now it's 9:20pm and we've reached twilight, "La Hora Azul" ("The Blue Hour"), the fleeting span of time during which the sky isn't yet dark but no longer light. It's that moment of the evening when you hug your sweetheart a little tighter because you feel some natural, inexplicable energy in the world. It's also the perfect hour of the evening for photography. It's now when you have a rich, gorgeous sky while still having a slightly light landscape.
Nacho, nickname for "Ignacio", and I were up on that Puerta del Sol rooftop for nearly two hours and we each took dozens of photos, the majority of those during this valuable and brief "Hora Azul". Having a tripod is a necessity during this critical time because the best, richest photos require a slower exposure and a camera's movement becomes a photo's death sentence, quickly and easily deleted.
Shortly before 10pm we were packed up and ready to go back down – but FIRST we had to cross over "The Ledge of Doom"! The ledge gained its name since the sun went down, leaving it nearly dark and with far fewer reference points needed for balance. Oh, my! So I leaned harder on the compressor, making Nacho's contact wince a bit, thinking I might damage the thing. Truth is, it did buckle just a bit with the added pressure I was putting on it, but only lasted a couple seconds so presumably it was fine. Knock on wood.
Back down the narrow, spiral staircase to the fifth floor and took the elevator to the building's front door. After saying goodbye to Nacho's contact, we stepped out onto solid ground of the Puerta del Sol with the "Oso y el Madroño" statue immediately in front of us. We then said our own goodbyes and parted ways – until the next time he'd let me tag along for more rooftop photo-ops. Thanks again, Nacho!
A final note: It should be mentioned that the rooftop I visited is not open to the public nor is easily accessible.
En Español: Lee este blog en versión española en PuertaDelSol.net, "Desde una Azotea de Puerta del Sol Madrid", aunque es bastante distinto, está escrito en mis propias palabras.
Share THIS on Facebook!
Posted in About Spain, Photos | Tagged azotea, Casa de Correos, hora azul, horizon, Madrid, observation deck, Oso y el Madroño, Plaza, Puerta del Sol, rooftop, rooftop views, sundown, sunset, twilight, Views | 9 Comments
Posted on April 6, 2013 by MadridMan
Renting a rowboat isn't the first priority on tourists' To-Do-List in Madrid, Spain, but it sure is a pleasure if you have time, if you have good weather, or if you have kids!
Over the Easter holiday I rented rowboats in both of Madrid's "lakes", Retiro Park and Casa de Campo Park, and both are similar experiences apart from the setting. A couple relatives came to visit me in Madrid over the Palm Sunday weekend, one of which was a 10-year old boy. So what does one do with a 10-year old in a big city? Answer: Anything which has moving parts. So that's what we did!
Saturday we went up to the observation deck under the clock tower of the Palacio de Cibeles for a 30-minute visit – of which we spent 15 minutes before the 10-year old got bored. GREAT views from up there with lots of photo-ops of the Madrid skyline.
Details: Reservations necessary. 4€ per adult. 0.50 € for kids 4-12 years old. Hours are seasonal, but they close for 2.5 hours for lunch.
From there we walked through the nearby Retiro Park and rented a rowboat on the north end of the park. It was a cool, but partly sunny day so we three took the boat out for the entire 45-minute rental period, letting the 10-year old do most of the rowing at his insistence.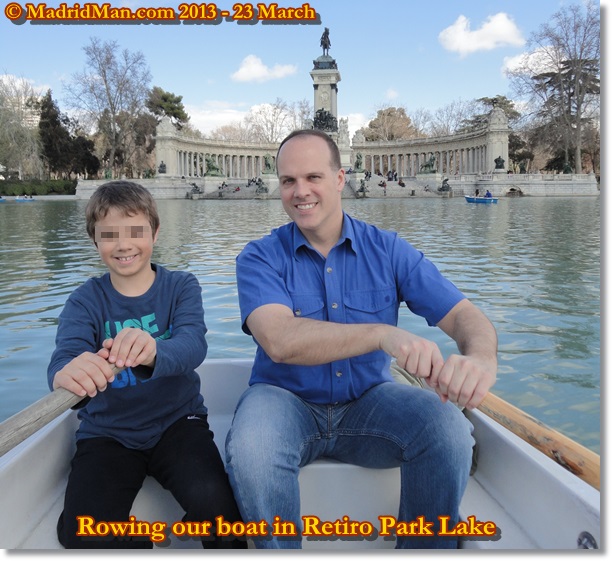 We enjoyed views from the 4-corners of the lake, admired the fountains, watched the ducks, and avoided crashing into the other rowboats. The people lying in the sun on the Monument to King Alfonso XIII looks so relaxed and I vowed to do that some day. We also saw lots of kissing-couples drifting through the water while others were full of families or giggling friends as their boats tipped.
On this day, everyone was enjoying themselves around the 60,000 m2 Retiro Lake "estanque", as were we; no blisters incurred and no complaints shed.
Details: No reservations necessary. 45-minute rental. Price per boat, not per person. 5.80€ Monday-Friday. 7.50€ Saturday, Sunday, holidays. 10:00am-6:30pm. Hours are seasonal, but they are open until about 45-minutes before sunset.
Sunday morning was much cooler. We first took the double-decker Madrid City Tour touristic bus, route #1. Making one entire loop (without getting off) took about 40 minutes. After the first 15-minutes, the 10-year old was bored, complaining that each building looked exactly like the last. Understandable.
We also missed our intended stop because we didn't go downstairs and tell the attendant. Apparently, they don't automatically stop at every bus stop on the map unless requested. Lesson learned. Details: 21€ per adult, 9€ for kids 7-15 years old. RESULT: 51€ for 40-minutes of boredom, complaining, runny noses in the cold = a waste of money/time. Not recommended for kids. Live and learn.
Getting off at the Royal Palace/Palacio Real, two stops after our targeted stop, we popped indoors for hot coffee and chocolate and churros to warm up after freezing on the open-top bus.
Next, we walked through (read: past) the Plaza de España and up the Calle Ferraz and bought a loaf of bread to feed to the pigeons/birds. Next, we crossed through the Templo de Debod and briefly admired the views of the "river valley" and the Casa de Campo Park as well as the Royal Palace and Almudena Cathedral. Here, the pigeons had their first meal from us – but not their last.
Continuing up through the park paralleling the Paseo Pintor de Rosales, we reached "El Teleférico", the cable-car sky-lift from the Parque de la Rosaleda to the Casa de Campo. This, the kid enjoyed! We got on and crossed over the Río Manzanares river with views of the Estación del Norte train station, the Royal Palace, and the Almudena Cathedral while spending most of the time over the unusually green Casa de Campo Park. Details: 4€ per person one-way or 5.75€ round-trip. Trip lasts about 15-minutes. Recorded, in-cabin auditory presentation can be given in English when requested at the time of boarding.
We got off in the recently remodeled Casa de Campo Teleférico station which has a large terraza bar/restaurant (fast-food, mostly) with views of the Madrid skyline. Funny, in order to exit the station one must first pass through a gift-shop!
Now we're at the highest (?) elevation of the Casa de Campo park. Everything's wonderfully green thanks to the seemingly and unusually non-stop winter/spring rains. Time for a walk around the trees, climbing on the playground's Jungle Gym, and admiring the Madrid skyline. We walked around for 20-minutes before we noticed the tall-shooting fountain of the Casa de Campo park lake below and in the distance.
Although I'd bought the return/round-trip tickets on the Teleférico, the 10-year old insisted that all he wanted to do was to return where we were yesterday, the Retiro Park, to row a boat again. Luckily, I was able to persuade him to row a boat at the nearby lake below us instead. So we walked.
We walked downhill, followed winding trails, stopped for a sit on a log in the sun to admire the Madrid skyline and tiny wildflowers and take some photos. There were a few other hikers around, too, as well as a young couple relaxing under a tree with a sandwich-and-Coke picnic. What a pleasant, mostly sunny day! This is something I'd never done and was enjoying this nature walk. And as most adults know, happy children make happy adults.
After a good 20-minute walk – including a race to the next tree, we reached the Casa de Campo lakeside, passing first through the restaurants and their terrazas. Hurray! There were lots of busy ducks and large Carp fish swirling about at the surface. Break out the loaf of bread!! There, we spent 20-minutes feeding them both, watching the ducks scrambling over each other and the carp gulping at the water's surface with their big, fat mouths.
Saving some bread, we walked to the southern edge of the large(er) Casa de Campo lake to rent a boat. I rowed us away from the pier, but the 10-year old quickly took over, splashing all over and fighting a fierce headwind. After 20-minutes of going in circles and being wind dragged to the far side of the lake, my butt took the driver's seat, putting some muscle into the old wooden oars in search of ducks to feed. I'll tell you, I didn't do much better! With much effort, I was able to get us to the far sides of the lake, found some ducks to feed and even more carp. The lake's high-shooting fountain was mercifully turned off so we didn't have to deal with getting wet on this now cold, windy and cloudy afternoon.
The Casa de Campo lake is 80,000 m2 in size, that's 1.3 times larger than the Retiro Park Lake. This is no pond (!) and requires the entire 45-minutes to make it to the four corners, leaving 10-15 minutes for the return. Details: No reservations necessary. 45-minute rowboat rental. Price per boat, not per person. 5.80€ Monday-Friday. 7.50€ Saturday, Sunday, holidays. Hours are seasonal, but they are open daily until about 45-minutes before sunset.
On our way back to the boat dock the wind was stronger and I felt the first sprinkles so we made our way to one of the outdoor/enclosed cabañas for lunch. We chose "La Cabaña de Senen", sat down, and it started to rain. Great timing. The lunch consisted of typically Spanish "raciones", all chosen by me, to be shared among us. I ordered a plate of "almejas a la marinera" (clams in garlic sauce), "chorizo a la sidra" (cider-fried chorizo), "croquetas de jamón serrano" (serrano ham croquettes), and a plate of fried potatoes with mayonnaise. (mayonnaise?!) While the 10-year old had promised to try different foods during his first visit to Spain, in the end he ate nearly nothing but fried potatoes with mayonnaise. That's okay. If he's happy, we're happy.
Summary: Rowing boats in Madrid, hiking in parks, and feeding the animals are quite possibly the best things for 10-year olds. Luckily, he loved the pancakes and French toast I made him for breakfast.
Share THIS on Facebook!
Posted in Entertainment | Tagged activities, boat rental, boredom, boring, bus, bus tour, Casa de Campo, children, chocolate, churros, ducks, fish, kids, Madrid, Madrid City Tour, Palacio de Cibeles, Park, pigeons, raciones, rental, Retiro, Retiro Park, rowboat, spanish food, Templo de Debod, things for kids, things to do, to do list | 2 Comments
Posted on March 31, 2013 by MadridMan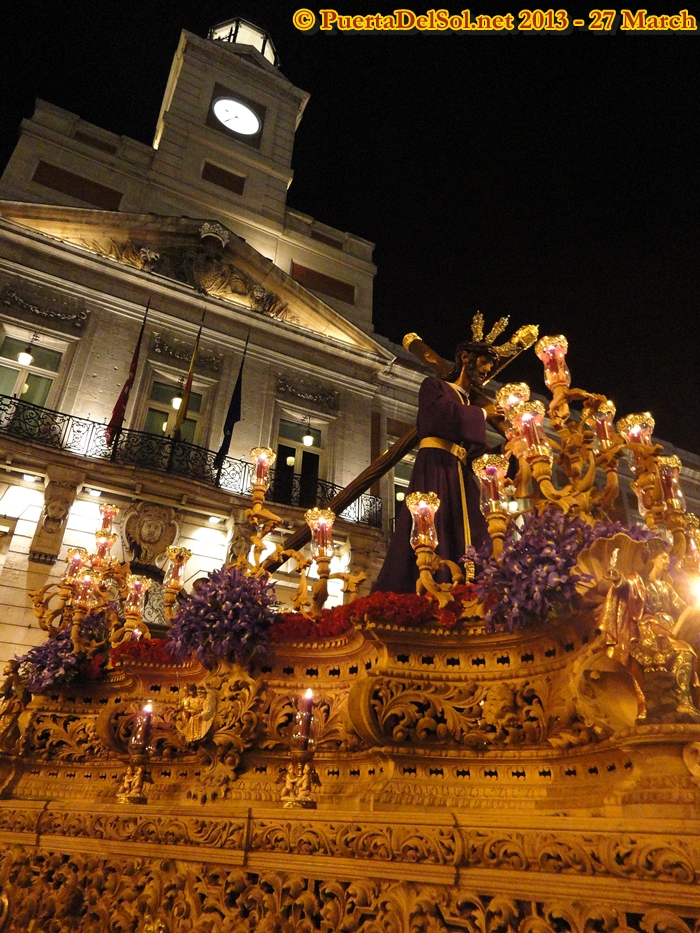 Today is Easter Sunday in the world of the believers – and that's a pretty large percentage of the population. It also marks the last day of the week long Holy Week festival of Semana Santa in Madrid and throughout Spain.
Events and lavish, yet often stoic processions are scheduled daily, with the most important days being Thursday and Friday, Jueves Santo and Viernes Santo respectively. In all, I witnessed four processions including one as an Official Press Photographer. That was quite an honor. (more on that later)
Some years I'll write about Madrid's Semana Santa processions before they happen, but that's all pre-procession-projectory. This year I decided to wait until the end to do a general summing up. In short, nearly half of the planned processions never made it out their respective church doors due to rain. The other half marched with at least some risk of rain during their (sometimes) 2+ hour processions.
Those I witnessed included:
Nuestro Padre Jesús de la Salud "Los Gitanos" on Wednesday, 27 March, from the Parroquia de Nuestra Señor del Carmen y San Luis on the Calle del Carmen
Nuestro Padre Jesús Nazareno "El Pobre" y María Santísima del Dulce Nombre on Thursday, 28 March, from the Iglesia de San Pedro
Nuestro Padre Jesús del Gran Poder y María Santísima de la Esperanza Macarena on Thursday, 28 March, from the Real Colegiata de San Isidro
María Santísima de los Siete Dolores on Friday, 29 March, from the Parroquia de la Santa Cruz – for which I was selected as one of the official PRESS photographers.
Wednesday's 8:30pm procession of Nuestro Padre Jesús de la Salud "Los Gitanos" was my first of the year. The weather was quite pleasant for this Holy Week procession in Madrid. I first went to the Church on the Calle del Carmen at 8pm, but couldn't even get close. The streets were packed with those awaiting the exit of the "paso" (or "float"). I darted down to the Puerta del Sol, where I knew it would pass, and positioned myself on the "front line" of the street's shoulder immediately in front of -and facing – the door of the Real Casa de Correos (with the clock tower) of the Puerta del Sol.
This procession portrays "pasos" of Jesus Christ carrying his cross and surrounded by purple flowers. Later came the Virgin Mary. And I was perfectly positioned to witness it all up-close and personal. And BOY was I perfectly positioned! Just before the procession reached me and the Real Casa de Correos, the masses to my right were moved to allow the procession's path to return semi-directly to the church by first going up the Calle de Preciados due to a forecast of rain sometime between 10:30pm and 11:00pm – as I overhead the procession leader tell someone to my right. This positioned me perfectly in the elbow of the procession path so I saw them coming and going, turning the corner at my shoulder. The float of Jesus Christ passed me at 9:30pm and the Virgin Mary passed me at 10pm.
Thursday's two attended processions were to both pass through the Plaza de la Villa so that's where I awaited them. Unfortunately, I arrived a bit late, 7:30pm, to get any good position for the Nuestro Padre Jesús Nazareno "El Pobre" y María Santísima del Dulce Nombre procession which left the church at 7pm. The plaza was already nearly full from bottom to top so I wedged myself in towards the top. The wind was whipping and rather cold under clear skies, but the inactivity of the wait made me even colder and my feet hurt more. Leading the procession, the horsemen entered the Plaza de la Villa at 8:20pm, but the float of Jesus Christ didn't arrive until 9:18pm and the Virgin Mary at 9:40pm, both stopped to rest below a balcony-full of dressed-up politicians or government workers before leaving the plaza up the Calle Mayor to then passing through the Plaza Mayor.
Seeing the entrance into the Plaza de la Villa of the first pointy-hooded "Nazarenos" of the second procession, I decided to "race ahead" of the first one, Nuestro Padre Jesús Nazareno "El Pobre" y María Santísima del Dulce Nombre, to meet it in the Plaza Mayor for additionally scenic photo backdrops. Unfortunately, I never made it. The streets were totally blocked so I wound back and found myself blocked again by the second procession, the one for La Macarena, formally known as Nuestro Padre Jesús del Gran Poder y María Santísima de la Esperanza Macarena.
Arriving "late" for this one, I'd missed the float for Jesus Christ and just caught the Virgin "La Macarena" passing in front of the San Miguel Church where I had a good view with lots of space among the crowd. After it passed, I was able to run ahead and catch it before she turned up towards the Plaza de la Villa and out of sight.
For anyone who has seen the La Macarena procession, it's quite emotional as "Saetas" are sung, the band plays soulful music, and along the way people shout "VIVA LA MACARENA!", to which the crowd shouts back, "VIVA!" Also an indivual would shout, "MACARENA!" and the crowd shouts back, "GUAPA!". (you'll see this in my video above) It really did give me chills. And dare I say it? At times I was compelled to shout in a musical tone, "AY, MACARENA!", but… I don't think people would take it in the lighthearted manner I intended it so I just kept my mouth shut. hehehe…
Good Friday, 29 March, it rained all morning, nearly all afternoon long, and I was certain all 3 of the processions would be canceled. In fact, both of the 7pm processions were canceled because it was still raining. The one I planned to attend at 7:30pm, María Santísima de los Siete Dolores from the Parroquia de la Santa Cruz, was still scheduled to go on.
I'd arrived at the Parroquia de la Santa Cruz, (big red brick tower very near the Plaza Mayor) Calle de Atocha, 6, at 6:45pm and it had stopped raining briefly, only to start raining again at 7pm, 30-minutes before the scheduled 7:30pm start of the procession through the streets of Madrid. It was delayed.
BackStory: A few months earlier I was selected to be one of the 3 official photographers for this important procession after the church saw my video of their procession from 2012, passing through the Plaza Mayor. It was a true honor. The Press Pass gave me full access to everything, a true privilege which I took very seriously.
With this honor, and the press pass clipped to my shirt, I walked among those preparing the floats, poking around and behind the floats within the Parroquia de la Santa Cruz. It also allowed me to get very up close to watch the faithful kiss the plaque of the "Heart of Jesus" as well as kiss the feet of the image of Jesus Christ, each of which was carefully wiped with a white cloth after contact.
It gave me a rarely-seen perspective as I constantly walked among those participating in the procession, front to back, side to side, beginning to end, never stopping to take photos and video, all this as the crowds crowded pushed to get a glimpse of María Santísima de los Siete Dolores along the path.
At 9pm, the procession finally left the Parroquia de la Santa Cruz, carefully and excruciatingly lowering the Virgin below the door frame and out to the momentarily clear skies outdoors. We passed through the Plaza de la Provincia, through the Plaza de la Puerta Cerrada and up the Calle de Cuchilleros, over to the Plaza Conde de Barajas, winding through the narrow streets of Madrid de los Austrias and into the wide-open Plaza de la Villa at 10pm, where surprisingly few people were waiting after the hour and a half delay. From here we entered the Calle Mayor and passed under the arch of the Calle de Ciudad Rodrigo to the Plaza Mayor at 10:30pm and exited the other side via Calle de Gerona to the Plaza de la Provincia and back again to the Parroquia de la Santa Cruz at 11pm.
Right at the end of the procession it started to sprinkle just a bit. Some might argue that, by some miracle, the clouds parted just long enough.
It was another wonderful, albeit weather-filled Semana Santa in Madrid. These processions are always an emotional spectacle even if you're not religious. The tradition, the music and artisan sculptures alone make them worth the wait.
Share THIS on Facebook!
Posted in About Spain | Tagged 2013, Holy Week, Jesus, jesus christ, la macarena, Madrid, maria, Maria Santisima de los Siete Dolores, pasos, Plaza de la Villa, plaza mayor, procesiones, Procession, procession route, Puerta del Sol, Semana Santa, Siete Dolores, virgen, virgin, Virgin Mary | 2 Comments
Posted on March 4, 2013 by MadridMan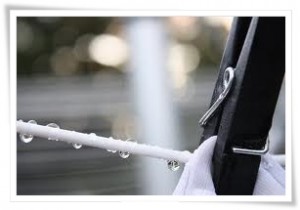 As those of you who know, here in Madrid it's either hot and dry OR it's cold and dry. So whenever it rains, snows (like MAYBE once a year – and only a "dusting" at that), or even gets cloudy, it makes the news. Today's one of those days.
Today, Monday, the clouds and threatening rain are making news not only on the news channels, but also in my own household! How often has it happened that after a perfectly sunny weekend it then gets cloudy on Monday and calls for rain either late in the day or in the following days. Usually, those rainy weather forecasts never come to fruition. If it does rain it's better if it rains during the week than on the weekend when we're all out and about, but I need to get my laundry done – and I do it on Monday mornings! Again, oh, sure, why not change the day since the laundry gods seem to have it in for me? Good question. I have my reasons.
Our rooftop has about 8 lines available for laundry hanging. In the summer when it's hot, laundry can dry in less than 30-minutes as it's literally like a solar oven up there. I love drying clothes in summer. It's so fast and easy. But you don't want to spend more than a few minutes hanging or taking down laundry as you'll either go blind or get sunburned. I always go up there with my sunglasses on, but I don't put on suntan lotion – although I should. In the wintertime it takes longer, of course. Today, it's about 48ºF/10ºC, cloudy, and VERY windy. The wind dries the sheets quickly, but those thick gym socks and jeans take all day long.
I've already taken down the sheets and the thinnest of clothing after 5 hours in the wind, but left the socks, jeans, towels to dry – with an ever weary eye on the sky as I work at my desk, just trying to catch those first sprinkles on the window so that I can dash upstairs to retrieve what's left.
What do I do then with the still-wet clothes? In the winter, in the afternoons/evenings, we have the heat turned on from about 6pm to 11pm. It's then that I'll drape the socks and still-damp clothing over the radiators for the last drying. The jeans, too, but one pair will occupy an entire radiator and they'll dry within an hour, depending on how wet they still are, of course.
On some winter Mondays, if I awake with two loads of laundry and an all-day-rain, I'll still wash the clothes, turn on the radiators, and hang them throughout the house. Not only are all radiators covered, all dining table chairs have T-shirts and pants draped over their backs and seats, the 2 clothes lines in the shower are full, the 1 clothes line on the terrace is full, the bed has things hanging off every corner, the sofa too. And I'll even put some button-down shirts on hangers and hang them from anthing I can find including the ceiling lamp! It's quite a sight, let me tell you, and barely anywhere to sit!
You know, coming from the USA where everyone dries their clothes in clothes dryers, whenever you'd see an outdoor clothes line full of clothes you'd think those people were poor – or Amish. You kind of pitied them in a way. In Spain, as you might know, nearly everyone air-dries their clothes. And now that I've been living in Spain for 7 years and visiting for the 10 years prior to that, I actually like seeing clothes-lines full of clothes. It kind of warms my heart. "That's a home," I'd think. Your typical Spaniard will tell you that there's nothing more natural than air or sun-dried clothes as they smell so good and require no out-of-pocket expense to get them that way. This is great and it also has absolutely no environmental impact whatsoever – apart from the visual one, of course.
More and more new residential buildings are getting creative about how they can both allow outdoor clothes-drying and hide them at the same time. The "terraza", or the clotheslines outside the kitchen or bathroom window, are often covered by alternating vertical planks-to-space-to-planks in order to hide the drying clothes behind them while still allowing air to circulate. Other newer buildings, those which are 4-sided communities built around a central patio or plaza, allow clothes hanging facing the patio, but not facing the street. On those rare occasions where the building is a tower and has no central patio and clothes are not allowed to be hung outside the windows facing the street, residents have no choice but to dry their clothes in electrical clothes-dryers or hang them on indoor lines or on portable foldable hanging racks, usually occupying an entire room and creating a damp, humid environment. That's not so nice.
By 4pm today it started raining just a bit and I hadn't noticed immediately. By the time I got up to the rooftop the floor was nearly complete wet – and so were what was left of my clothes hanging on the line! So imagine the inside of my house now. Imagine…
Share THIS on Facebook!
Posted in About Spain, Environment | Tagged clothes, clotheslines, hanging clothes, laundry, Madrid, rain, rooftop, weather | 1 Comment
Posted on February 22, 2013 by MadridMan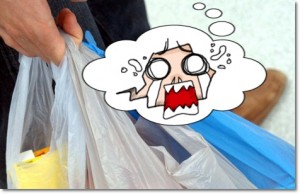 Wasn't it great living in the USA, driving from pillar to post, parking less than 50 meters away from any given store, leaving all your multi-stop purchases in your trunk while going out for more? Ahh… THOSE were the days of comfort, convenience, …and laziness.
That's not the case living in "The City", of course. Here, you walk, putting one-foot-in-front-of-the-other, dodging meandering Spaniards and random dog-do-droppings along the way. You go to one store, buy your groceries and carry them to the next store. There, you buy more and carry them to the next store, and so on, until you eventually carry everything home – and then, potentially, UP 4 flights of stairs to your flat.
Doing the on-foot shopping all sounds good-and-healthy and works well when patronizing only markets or shops, but you can't take outside shopping into supermarkets. Some people do their shopping with handy, albeit not-so-cool, wheeled carts, but even those can't be taken inside the supermarket shopping area. These, you have to lock them up – or leave them at the door at your own risk – until after check-out. Most supermarkets have "taquillas" or lockers into which you feed a returnable 1 Euro coin to lock up your stuff.
Planning is crucial. It sounds silly, but it's true. Sometimes you can't possibly fit your non-supermarket purchases (at the bakery, the chicken shop, the butcher shop, the olive shop, the nuts-and-snacks shop, the seafood shop) into one of those cubicle lockers. That means you have to do your supermarket shopping first – AND THEN take all that to those aforementioned shops afterwards. (Oh, gawd, I'm sweating just thinking about it – now that I have to do the weekend shopping today)
God forbid you have to buy milk or clothes detergent or something REALLY heavy, putting more stress on those joints. And even if you're strong (or a 70+-year old Spanish woman used to hard labor – notice I said "woman"), this can be challenging, not only carrying the 2-handed shopping bags several blocks, but also doing that painful twist-at-the-waist as you encounter oncomers on the narrow sidewalks, holding one bag in front of your body and the other bag behind as you pass.
So you've completed your shopping. Congratulations. You win a gold pin for achievement. You're still out on the street and it's lunchtime so you'd like to go someplace to eat. Great! – except you CAN'T because you can't lug all those bags of groceries and other miscellaneous bags into a bar/restaurant with you! And they CERTAINLY don't have lockers into which you can put your stuff.
Very few people living in the city have garages in their buildings in which to park cars – unless they're somewhat well-to-do AND their buildings are less than a quarter-century old. But even if I owned a car I wouldn't/couldn't take it food shopping. Here, you just can't drive shop-to-shop, 50-250 meters at a time, and dream of finding a parking space anywhere near where your objective. It's just not sensible.
So for now, as long as I'm living in the city of Madrid (and not well-to-do), I'll continue shopping on-foot. It's an easy trade-off for living in the city of my daily daytime dreams.
Share THIS on Facebook!
Posted in About Spain, Food, Money | Tagged car, car ownership, city shopping, daily shopping, garages, groceries, grocery, grocery shopping, Madrid, neighborhood, parking, parking spaces, shopping, shopping bags, shopping carts, shops, Spain, Spanish supermarkets, supermarket shopping, supermarkets, walking | 2 Comments
Posted on February 18, 2013 by MadridMan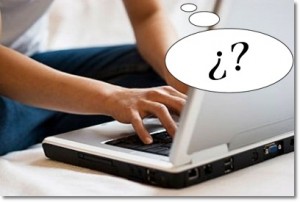 You know what they say, if you can't talk about anything else, you can always talk about the weather. Today is Monday, the day I usually do the laundry and hang them out to dry – on the rooftop clotheslines but I'm not, because it's rainy and cool. Sound boring? It is, to me, now.
My blog entries have always been a kind of "No Fluff Zone" for me and my readers since the beginning. "If it's worth writing, it's worth writing well and in detail," I always say. I know that "Writers write" and all that, but I've never been one to talk about what I had for breakfast, sore throats or bathroom habits. But sometimes when I scan back through the entries they look very long, maybe even long-winded and exhaustive, maybe even boring to readers more accustomed to the "short blurbs of life" as hosted by some of the social media websites.
The truth is, time passes and sometimes it's difficult finding topics which I think my readers will enjoy and appreciate. My joyful purpose is to bring Madrid/Spain to you, many of whom pine to be here "living the dream" as I am. Sometimes I get bogged down in everyday life and find it challenging to make the mundane seem interesting. I recall living in Ohio and even the most minuscule events in Spanish life was exciting to me.
Let's look on the positive side. When you become efficient at one thing it's time to start the next thing and achieve same. It SHOULD BE a never-ending cycle. Right? It's when we stop seeking the next thing that it all becomes mundane. Don't get me wrong, life has NOT become mundane for "MadridMan" in Madrid. FAR from it! But I've become somewhat efficient and comfortable, albeit still stimulating when I'm out and about.
For me, blog entries MUST be informative, detailed, taking on all sides of a topic, searching and/or exposing both the good and the bad, presenting each one with a point or, at the very least, a question. My readers deserve no less, which is mainly why my blog entries are sporadic at best. I am happy to share my trips into town when something unusual happens or when I visit someplace new. But if I go straight to the movies and come straight home afterwards, do you really want to hear the same story with little variation? Nah. I know, I know, it's my job to find subtle differences and present mundane things to me as unusual things to others.
This is one of those blogs I write and, at the end, I ask myself, "Should I really publish this one? Is it worthy? Is it fluff? Do people care?" Maybe they'd care more about the delicious "Tortilla de patatas con jamón serrano" I made for lunch on Saturday, or the Spanish friends whom came over last night for dinner at 9:30pm to watch "Los Premios Goya" (Spain's annual movie awards) until nearly 1am – all of whom had to get up at 5:00 or 6:00am to start their Monday workday, or caring for the elderly, or doing the shopping, or even my frequent power-walks along the newly redeveloped "Madrid Río". (I can practically hear you nodding in the affirmative about all of the above, "Yeah! So why doesn't this MadridDude write about THAT stuff?!?! Now THAT'D be interesting!")
Maybe I've just answered my own question. 🙂
"Get busy living, or get busy dying." – The Shawshank Redemption (movie, 1994)
Share THIS on Facebook!
Posted in General | Tagged Blog, blogs, fluff, fluff blogs, living in Madrid, Madrid, making life interesting, writing, writing blogs, writing good blogs | 3 Comments
Club Baloncesto Sevilla Infantil A: EL REAL MADRID
Venta de Marihuana Envios a Norte de Europa en mano madrid
Antiguos cafs de Madrid y otras cosas de la Villa.: LA
MIL M - Sexo. Masajistas sexo en Madrid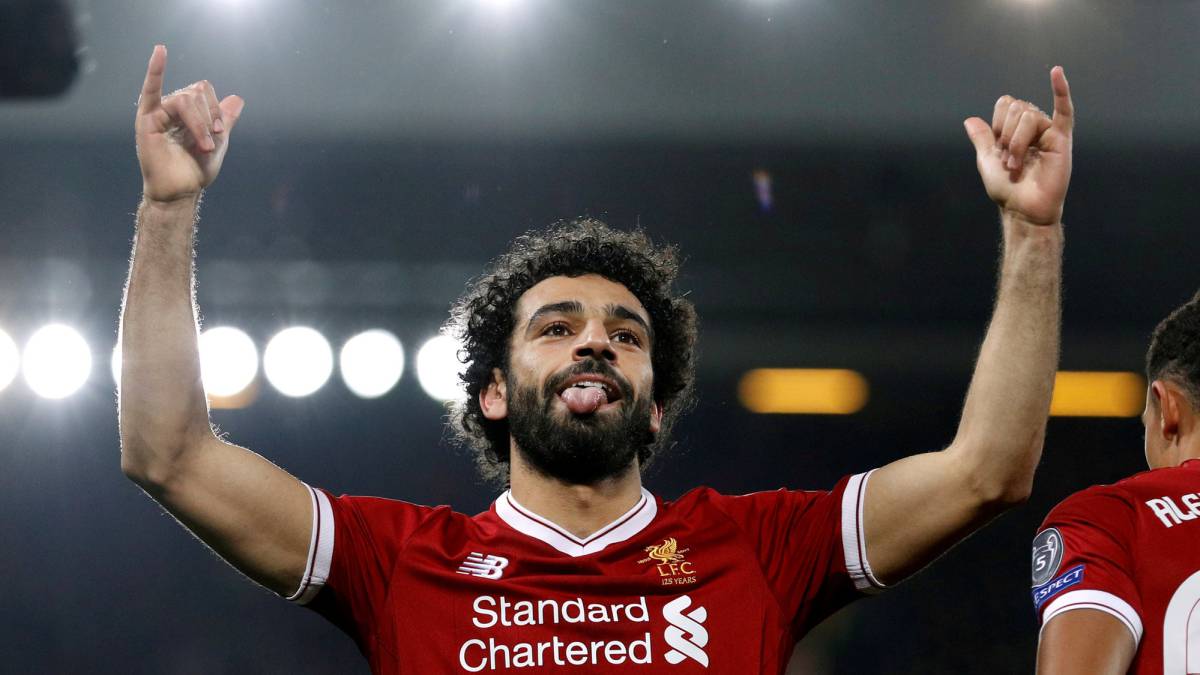 Real Federacin Espaola de Atletismo
Madrid antiguo, coleccion de fotos