Early Sports Fashion History to 1960
1900s
Women
The S-bend corset was fashionable during the 1900s. It thrust the hips backwards and forced the chest forward into a fashionable pouter-pigeon shape, emphasised with puffed, frilly blouses that were often embellished with decorations like lace collars and broad ribbon ties. Separates were popular, with skirts fitted over the hip and fluted towards the hem. Hair was worn in a centre parting, often looped around pads and false hair to create a wide 'brim' of hair around the hairline. This hairstyle was worn under vast, broad-brim hats with low crowns, and adorned all over with flowers, lace, ribbons and feathers.
Men
Men wore three-piece lounge suits with bowler or cloth caps. Jackets were narrow with small, high lapels. Most collars were starched and upstanding, with the corners pointing downwards. Some men wore their collars turned down, with rounded edges and modern knotted ties. Beards were now reserved for mainly older men, and most young men sported neat moustaches and short hair.

Driving Coat, Hammond & Co. Ltd.

Driving Coat
Hammond & Co. Ltd. (tailors)
1906-8
London
Woven houndstooth check tweed, lined with silk and woven wool
Museum no. T.96-1963
Given by Sir Phillip and Lady Joubert

This versatile double-breasted coat made of a heavy wool would have been ideal for outdoor wear. At the turn of the century a growing interest in sports and leisure pursuits led to more relaxed clothing for men. Comfortable clothes were needed to ride a bicycle, drive a motor car or play golf. This resulted in a range of informal styles that fed into mainstream fashion:

'A man's wardrobe is now almost as varied as a woman's. He has different costumes for walking, riding, driving, visiting, boating, hunting, shooting, golfing, bicycling, tennis, and cricket, dining, smoking, and lounging, football, racing, and yachting, to say nothing of uniform and the Court suit, besides the now developing motor-car costume'. (Mrs Humphry, 'Manners for Men', London 1897)

This suit has two slanting hip pockets with flaps and a small ticket pocket at the waist seam on the right-hand side. A tailor's label, stitched to the right inside breast pocket, is inscribed with the words, 'Hammond & Co., Ltd., 465 Oxford Street., London Fo 501 Mons. Paul Cocteau'. Paul Cocteau was the brother of the French writer and film maker Jean Cocteau. He preferred to purchase his sporting dress in England as he considered it to be the best quality.

Suit, designer unknown

Double-breasted suit
Designer unknown
About 1904
Great Britain
Flannel woven with a thin vertical pin-stripe, with mother-of-pearl buttons, and sleeves lined with cotton
Museum no. T.159&A-1969
Given by Mrs Brooks

Light-coloured suits such as this became popular in the 1890s. The matching coat, trousers and waistcoat in pin-striped flannel (known as 'dittos') were accepted dress for summer sports and holidays. The outfit was often completed with a straw boater.

The striped jacket had originally been worn for cricket, tennis and rowing and it became fashionable for seaside wear during the 1880s. The cut of this jacket is derived from the earlier 'reefer' coat, usually worn for sailing. The infiltration of sporting dress into informal styles of clothing shows how social conventions were relaxing in the late 19th century.

Conventions in dress applied to informal as well as more formal wear. It was important to be dressed appropriately for the occasion. One gentlemen's etiquette book wrote:

There are special suits for all kinds of outdoor amusements, such as shooting, golfing, tennis, boating, driving, riding, bicycling, fishing, hunting, &c., but into the details of these it is unnecessary to enter. It may be remarked, however, that it is easy to stultify the whole effect of these, however perfectly they may be 'built' by the tailor, by the addition of a single incongruous article of attire; such as a silk hat or patent boots with a shooting-suit. (Mrs Humphry, Manners for Men, London 1897)

Underpants, designer unknown

Underpants
Designer unknown
1880-1900
Great Britain
Machine-knitted silk, with pearl buttons and silk loops for braces, machine-sewn
Museum no. T.169-1960
Given by B.W. Owram

Vests and pants were worn next to the skin, under the shirt or trousers. Throughout the 19th century drawers had been worn, made of similar materials to the vest, including stockinette, cotton and wool; but by the end of the 19th century the distinction between drawers and underpants was recognised. Pants were either ankle-length to the mid-calf, drawers were either just below or just above the knee.

Some underpants were knee-length, to go under clothes for sporting wear: short pants of absorbent stockinette, for example, were worn for cycling. The loop of tape outside the waistband through which tongues of the braces were passed became general towards the end of the period. Many men preferred to have the vest and pants combined in one. These were known as combinations and became very popular in the 20th century.

Underpants were made in linen, cotton and merino, but machine-knitted silk was fashionable with the wealthy and also for summer wear. Underpants of natural coloured wool or cellular cotton were also popular as these fabrics allowed the skin to breathe. Such materials were seen by dress reformers as the healthy alternative to silk, which they claimed trapped harmful chemicals close to the skin. By the late 19th century vests were available in a range of colours, including peach, flesh tint, lavender, light blue and heliotrope.

A typical gentleman probably owned several sets of vests and underpants. They were often initialled with the name of the owner so they could be recognised during the laundry process. By 1906 the vast majority of men dispensed with underwear altogether in the summer months.

Top hat, James Lock & Co

Top hat
James Lock & Co.
1910s
London
Black silk plush, with a woollen band and satin lining
Museum no. T.216&A-1960
Bequeathed by Lady Beerbohm

In the early 19th century the top hat was the predominant type of headwear in a gentleman's wardrobe. It reached its peak of popularity during the 1840s and 1850s, when mass manufacturing and industrialisation brought fashionable dress within the reach of a much wider section of the population. During the second half of the century new informal styles, such as the straw boater and soft felt hat, as well as the more formal bowler hat, challenged the predominance of the top hat.

By the 1880s the top hat was relegated to more formal occasions when a gentleman would wear a frock or tail coat. Manners for Men, by Mrs Humphry ('Madge of Truth'), reported:

'Frequently a silk hat is never seen between Sunday and Sunday. Churchgoers still, to a certain extent, affect it, but in these days of outdoor life, bicycling, and so on, the costume worn by men in church is experiencing the same modifications that characterise it in other department.'

The shape of the top hat appeared at the end of the 18th century. It changed in shape over time and a range of different styles appeared as the century progressed. The gibus or collapsible top hat came into fashion in the 1840s and was often worn with evening dress. It was made of corded silk or cloth over a metal framework which sprung open with a flick of the wrist. It could easily be carried under the arm, making it more convenient for an evening at the opera or theatre than the rigid top hats. Some top hats had ventilation holes in the crown.

In the late 18th century and first half of the 19th century top hats were known as 'beavers'. This is because they were made of felted beaver fur wool. In 1862 Henry Mayhew's London Labour and the London Poor reported that 'the bodies of beaver hats are made of a firm felt wrought up of fine wool, rabbit's hair etc. ... over this is placed the nap prepared from the hair of the beaver.' The processes used to create the beaver hats involved the use of mercury. Contact with mercury often had detrimental effects on the hatters and led to the phrase 'mad as a hatter'. By the late 19th century most top hats were made of silk.

Norfolk jacket, designer unknown

Norfolk jacket
Designer unknown
About 1900
Great Britain
Checked tweed, with sateen and striped cotton lining and buttons of horn, hand- and machine-sewn
Museum no. T.356-1984
Given by Martin Kamer

The Norfolk jacket was a versatile garment which became an important item in a gentleman's wardrobe. It was originally worn by the Rifle Corps in the Volunteer Movement of 1859-1860 and was adapted for shooting costume during the 1860s. It was initially known as the 'Norfolk shirt' and was at first strictly reserved for country wear.

With the growth in leisure activities and sporting pursuits during the 1870s and 1880s the Norfolk jacket became acceptable for any form of outdoor exercise, 'being especially suited for bicycling, business, fishing, pleasuring, and the moorland' (Tailor and Cutter, April 1888). Golfing attire was particularly colourful, as this extract from Golf by Horace Hutchinson suggests: In the matter of Norfolk jackets and knickerbockers, spats and particularly coloured stockings, checks and stripes, the golfer is a bird of bright and varied plumage.'

This example was probably worn for general country wear. Inside one of the pockets are a piece of paper giving the monthly rainfall for the year 1900, a stamp, metal pin and a piece of string. By the 1890s conventions had become so relaxed that smart young men were seen wearing Norfolk jackets even in the city.

The Norfolk jacket was often made of Harris tweed and homespuns. It was frequently teamed up with matching knickerbockers and a soft cap such as a deerstalker. Its distinctive features were a box pleat at the centre back and another passing down each forepart. It also had a belt made of the same material. Women wore close-fitting versions of the jacket for sports, country wear and even fashionable dress. The jacket also appears in illustrations for the dress of young boys from 1859 onwards
1910s
Women
During this decade, frilly, puffed blouses and fluted skirts continued to be popular. A slightly high waistline was fashionable, as was a long tunic-like top worn over an ankle length A-line or 'hobble' skirt (cinched in at the hem). During World War I (1914–18), women adopted practical, working clothes and they sometimes wore uniform, overalls and trousers. Hair was worn in a centre parting, often looped around pads and false hair to create a wide 'brim' of hair around the hairline. This hairstyle was worn under vast, broad hats with shallow crowns, heavily trimmed with flowers, ribbons and feathers. Towards the end of the decade, younger women sported short bobs.
Men
The three-piece lounge suit was commonly worn, but from 1914 to the end of the decade, many men were photographed in military uniform. Hair was worn parted at the side or the middle. Older men sported beards, but younger men wore moustaches or went clean-shaven.
1920s
Women
At the very beginning of the1920s it was fashionable for women to wear high-waisted, rather barrel-shaped outfits, and tunic-style tops were popular. However, between 1920-2 the waistline dropped to hip level, obscuring natural curves for a tubular, androgynous look. Young, very fashionable 'flappers' wore their hems at knee level, with neutral coloured stockings and colourful garters. Hemlines drifted between ankle and mid-calf for the duration of the decade. Jewellery was prominent, including large brooches and long strings of pearls. Hair was worn bobbed, sometimes close to the head, and the distinctive cloche hat (a close fitting, bell-shaped hat) was very popular.
Men
Men wore narrow-cut lounge suits, with pointed collars turned down, and plain or simply patterned modern knot ties. Cloth caps were popular amongst the working class, though trilbies or homburgs were worn by the middle classes. Hair was cut very short at the sides, parted severely from the centre or the side and smoothed down with oil and brilliantine, or combed back over the top of the head.

1930s
Women
The drop-waist androgyny of the previous decade gave way to a slinky femininity in the 1930s. Parisian couturiers introduced the bias-cut into their designs, which caused the fabric to skim over the body's curves. Long, simple and clinging evening gowns, made of satin were popular. Often the dresses had low scooping backs. During the day, wool suits with shoulder pads, and fluted knee-length skirts were worn. Fox fur stoles and collars were popular, as were small hats embellished with decorative feather or floral details, worn at an angle. Hair was set short and close to the head, often with gentle 'finger waves' at the hairline. Sports and beach-wear influenced fashionable dress, and the sun-tan was coveted for the first time.
Men
Men now generally wore three-piece suits for work or formal occasions only. Two-piece suits (without a waistcoat) and casual day wear were becoming increasingly common, including knitted cardigans, tank-tops, and soft collared or open necked shirts. For the first time it was not obligatory to wear a tie. Trousers were very wide, with turned up hems and sharp creases down the leg. They were belted high at the abdomen. It was common for men to be clean-shaven, and bowler hats were now generally only seen by city businessmen.
1940s
Women
As a result of the war there were severe fabric shortages, which lasted until the end of the decade. Clothes were made with a minimum of fabric, few pleats and no trimmings. Skirts were a little below the knee and straight, worn with boxy jackets and broad, padded shoulders. Many men and women wore uniforms. From 1942 onwards some clothes were made under the government Utility Scheme that rationed materials. They are identifiable by a 'CC41' stamp, which is an abbreviation of the 'Civilian Clothing Act of 1941'. During the war, accessories were important because of their relative affordability; tall platform shoes or sandals, and tall flowery hats were fashionable. Hair was worn long, with stylised waves and rolls on top of the head. In 1947, Christian Dior introduced his 'New Look', which revolutionised1940s fashion. Skirts became longer and fuller, and boxy shoulders were softened to become sloping. Waists were cinched and hats grew wide and saucer shaped.
Men
During the war, most men wore military uniform of some kind. Hair was short at the back and sides, and most men were clean shaven. Men in civilian clothing were often dressed in lounge suits with broad shoulders, with wide trousers belted high at the abdomen. After 1945 many men leaving the armed forces were issued with a 'de-mob' suit, consisting of shirt, tie, double-breasted jacket and loose fitting trousers.

1950s
Women
The 1950s continued the late 1940s style with very full skirts, cinched waists and sloping shoulders. Another popular silhouette was the narrow pencil-skirt look. Daywear consisted of skirts and jackets or day dresses in tweeds and woollens. Dresses with pencil or full skirts were seen in either plain fabrics or floral prints. Separates were popular, especially waist length cardigans. Hats were either small pill-box styles or large brimmed, saucer-like hats. Hair was often cropped quite short and set in curls, or kept long and tied in simple chignons or ponytails at the back.
Men
Men's fashions still revolved around the suit. Grey flannel suits were common, worn with shirt, tie and pocket handkerchief. Tweed or check jackets worn with non-matching trousers were also popular, and open collars were permitted for casual wear. Hair was worn with a side parting but slicked back with 'Brill cream'. Teenagers began to appear as a separate group during the 1950s. Their fashions were influenced by American stars, who wore leather jackets and jeans. The Teddy Boys, who wore pointed shoes, tight trousers and long jackets with velvet trim, were also a significant teenage group.
1960s
Women
Young people's income was at its highest since the end of the Second World War, creating the desire for a wardrobe which did more than simply copy adult dress. Designers like Mary Quant and Biba label provided clothes that were aimed specifically at young people, of which the mini-skirt was the most distinctive introduction. Women wore pale foundation and emphasised their eyes with kohl, mascara and false eyelashes. Hair was long and straight or worn in a shaped bob or wedge. Towards the end of the decade the hippy movement from the west coast of America emerged, experimenting with colours, patterns and textures borrowed from non-Western cultures. Older or more conservative women still tended to dress in skirts below the knee with tailored jackets, coats or cardigans.
Men
Perhaps the most remarkable development in 1960s dress was the dramatic change in menswear. For the past 150 years, clothing for men had been tailor-made, and plain and sombre in appearance. Now, colourful new elements were introduced, such as the collarless jacket, worn with slim-fitting trousers and boots. During the mid-1960s frills and cravats were worn with vividly printed shirts. Finally, lapels and trousers took on exaggeratedly wide dimensions. Clothing became increasingly unisex as men and women shopped at the same boutiques for similar items.

Learn about the history of fashion from 1840 - 1900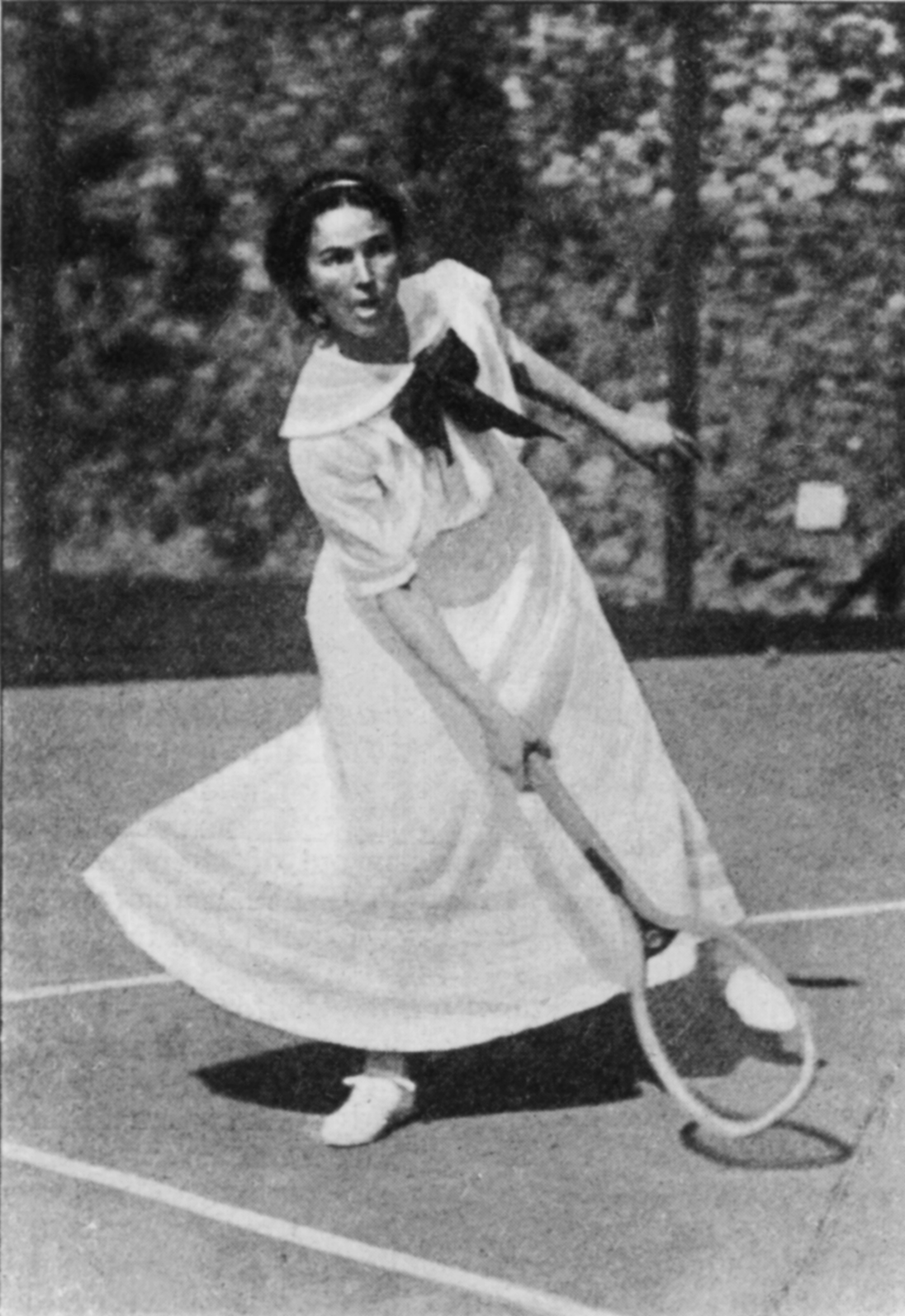 1930s Fashion History - Stylish Thirties
Tennis Rules, History, Prominent Players
Wimbledon 2015: Tennis fashion through
ATA History American Tennis
History of Fashion Victoria
History of Womens fashion -1900 to 1969