The naked runway: The most outrageous
begin >>
Nowadays, being a celebrity doesn't just involve working hard at excelling in your field, but is also about making a memorable entrance at the many award shows and other red carpet events. Going to swanky events like the Oscars or the Grammys means meeting tons of other celebrities, getting your picture taken and best of all, getting to dress up in luxury clothes.
SKIP INTRO >>
For the well-known attendees of these events, it is a great opportunity to get their outfits sponsored by high-end designer brands and show off millions of dollars' worth of jewelry. Many stars even try to outdo their last looks and stand out in the crowd, which often leads to some crazy outfits making their way down the red carpet.
When attending a high-profile event, celebrities occasionally make it a point to wear extremely revealing outfits that leave everyone talking. With some of the most stunning people on the planet, it is therefore no surprise that every awards show season, the press lines up along the red carpet in the hopes of getting a glimpse of what the stars are wearing.
ADVERTISEMENT
Everyone makes sure to look their best as they don't want to wind up on the "worst dressed" lists that abound in magazines and online. The red carpet has become such an fundamental part of Hollywood events that there are even entire shows, such as the famous Fashion Police, based on the pre-event, for which people excitedly tune in. Who could forget the late Joan Rivers standing on the carpet and asking all of the famous faces, "Who are you wearing?"
And so, in an effort to inspire, shock and awe, there have been many risqué red carpet looks that stand out in our collective memory. Some are remembered as breathtaking, such as Beyoncé's legendary sheer and sequined Met gala dress from 2015. Others, though, stick out for how out there and wacky they were, such as, some would say, Lady Gaga's strange meat dress.
Regardless of personal taste, however, we feel that some of the looks we've seen have been so staggering they deserve to be inducted into a red carpet hall-of-fame. As such, we have compiled a list of some of the most revealing and jaw dropping dresses to ever grace the red carpet. so sit back and take a look: you won't believe how much these celebrities got away with.
begin >>
Gwyneth Paltrow
Despite being an accomplished actress, these days many people associate Gwyneth Paltrow with her wellness and lifestyle company Goop, which publicizes items the average consumer can't afford. So it's no surprise that Gwyneth would wear an expensive designer dress that most people would never dream of even trying on at the Iron Man 3 premiere. In this instance, there seems to be a lot going on here, with Gwyneth walking down the red carpet in this color-block, sheer number, which has "potential wardrobe malfunction" written all of it.
Gisele Bündchen
Besides being Tom Brady's wife, Gisele Bündchen is a world famous supermodel who has been ranked number 16 on the list of the richest woman in the entertainment industry. It seems that Bündchen can do no wrong when it comes to fashion choices, and this was still the case in 2008 at the Met gala. Bündchen held everyone's attention when she showed up in this revealing, rose-pink satin dress, and she looks more than comfortable having all eyes on her.
Rita Ora
Rita Ora is known for her wild fashion choices but this was more of a subtle look for her if you can believe it. While other cutout dress we've seen so far run the risk of being tacky, Rita knows how to do revealing in a classy and elegant way in this look that was perfect for the Vanity Fair Oscar party. Although the sides of the dress are sheer, they are balanced out by the train and Rita's gorgeous updo. This is the see-through look done right!
Beyoncé
The Met gala is one of those annual events where are the weird and crazy outfits come out but now and then, a celebrity chooses a show stopping dress that is talked about until the gala the next year. This was the case with Beyoncé's 2015 see-through and floral gem dress, which reminded all of her fans who runs the world. The added touch of her high ponytail made for a truly iconic look that people won't soon forget.
Jaimie Alexander
It looks like Jaimie Alexander was going for an inkblot look when she wore this squiggly, cut-out black dress on the red carpet at the Thor: The Dark World premiere in 2013. Dresses with see-through panels are a hot trend in the fashion world but it takes someone with a lot of confidence to pull them off. While this style isn't for everyone, we think Jaimie pulled it off by keeping her accessories to a minimum, thus leaving all the attention on her dress.
January Jones
The Mad Men actress was most likely channeling her inner mad man at the Golden Globes in this red dress as you'd have to be mad to wear it. While it's probably an expensive, couture dress, it does little to flatter the actress and the deep-v neckline goes so low it almost reaches her bellybutton. In addition, the dress looks like it has two separate hemlines, as the bottom half continues with a lengthy fringe. On the bright side, the dress proves red is definitely her color.
Bella Thorne
Bella Thorne is often spotted in rainbow colored outfits by paparazzi, however, when she shows up to a red carpet she looks elegant and stylish. The young actress and singer could pull almost any style off and this instance was no different. Thorne did the sheer panel justice at the Critics' Choice Awards as it's not too big that it takes away from the rest of the dress. She definitely knows what she's doing when it comes to red carpet looks.
Paris Hilton
Our girl Paris showed up in this sparkly number at the premiere of Inside Out at the Cannes Film Festival in 2015. This dress made Paris look like she was dripping with diamonds, and it is obvious from the paps behind her she stole the show. While the dress got mixed reviews, it definitely wasn't the only revealing outfit she's ever worn, as the heiress is known for her love of saucy and barely-there ensembles.
Jennifer Lopez
Everyone in the world has likely seen this jaw dropping number that J-Lo wore to the 42nd Grammys. In fact, this Versace dress is so famous that it has its very own Wikipedia page! No one could stop the chatter about this dress back in 2000 and it still gets brought up to this day as an iconic moment in Grammy history. While she has made herself known as somewhat of a style icon, this look definitely caused some polarizing opinions amongst fashion junkies.
Kim Kardashian
This is the first Kim Kardashian appearance on out list but it won't be her last. Kim's style has evolved over her many years of fame, and it now seems she is giving a go of more "high-end" fashion trends which is evident by this outfit she wore to a fashion show. While she has a team of stylists working to choose outfits for her, this look just did not do anything for the reality star. We don't even want to know how much she paid for a fishnet jumpsuit that looks like it was eaten by moths.
Heidi Klum
Supermodel Heidi Klum could basically wear a garbage bag and make it look good so it's not surprising that she looked stunning in this deep-v, gold dress that she rocked at the Academy Awards in 2013. Even though it's a cut that reveals way more than it conceals, she still managed to look classy and stunning. Every time Heidi goes to a red carpet event she does not disappoint, and this time was no different.
Lady Gaga (again)
Welcome back to the list, Lady Gaga! Surprisingly, this is one of Gaga's more tamed looks and that is really saying something. The star decided to go for a more classic vibe at the 2015 Grammy Awards, in this low-cut, high-slit metallic dress. All eyes were on Gaga as she walked alongside legendary singer Tony Bennett, looking like a silvered, Art Deco-infused version of Jessica Rabbit. Topping it all off were her statement necklace, earrings and bracelet in emerald green. All in al, nice going, Gaga!
Gigi Hadid
Instagram muse-turned supermodel Gigi Hadid has already managed to strut her stuff on the Victoria's Secret catwalk and many other fashion shows. There probably hasn't been a style of clothing that Gigi hasn't tried, so we're not all that surprised when we see her wearing something unusual. Gigi had heads turning at the AMAs in this all white two-piece ensemble with a thigh-high slit and an open cage top. Gigi looks pretty happy about this look too!
Miley Cyrus
Outside the recording studio and movie and TV sets, singer-actress Miley Cyrus is known for her wacky wardrobe. Cyrus has been seen on stage in crazy leotards and without any outfit on at all in her music video for Wrecking Ball. While this wasn't the weirdest outfit we've ever seen the pop-star in, it definitely ranks up there as an odd thing to wear to an awards show. Her dress that she wore to the MTV EMAs seems crudely sewn together and the boots are just a confusing accessory.
Candice Boucher
Top model Candice Boucher chose quite a unique dress to show up in to the Cannes Film Festival, back in 2011. Only a model could pull such a statement dress off as even though the dress is floor length and long sleeved, most of the garment is completely sheer. Even though this look is a little bit of a mess, Candice is doing a confident pose and smiling, which makes us want her to forgive her for such a fashion disaster.
Lady Gaga
We couldn't have a list of crazy and revealing dresses without mentioning Lady Gaga. While the pop star has toned her wardrobe choices down in recent years, when she first made her foray into the music world, she was known for being quite creative in the costume department. She took the fashion competition to a whole new level when she showed up at the MTV Awards in a dress made entirely of meat. We can only imagine what she smelled like that night.
Taylor Swift
Taylor Swift has had so many looks over the years that we don't even know who she is anymore. The country singer turned pop superstar attempted a more edgy look in this silky dress, but we think she missed the mark when she showed up to the Vanity Fair Oscar after party. The v-neckline is so deep that it could be going scuba diving and the asymmetrical slit doesn't do anything for her tall and slim figure. Taylor normally wows us with her red carpet looks this one left us feeling like it's a missed opportunity.
Emily Ratajkowski
Emily Ratajkowski is an actress and model who has appeared in movies like Gone Girl and Entourage. She showed up at the Cannes Film Festival in this relatively covered up dress with a peek-a-boo panel in the chest area. Emily took the phrase "little black dress" to a whole new level in this ensemble, combining lace, satin and netting for a truly unique look. Although it doesn't match everyone's taste, Emily pulled it off as only a model-turned-actress can.
Nicki Minaj
We can't say that we are ever surprised by the outfit choices that Nicki Minaj makes and this blue number is actually pretty tame for the famously provocative rapper and model. Minaj has a gorgeous and voluptuous body and we don't blame her for wanting to show it off, in this blue gown that hugs her curves in all the right places. Every panel on this dress is perfectly placed to avoid any mishaps – not that a woman like Nicki would ever let that happen.
Kim Kardashian (again)
Ever since Kim Kardashian married Kanye West, it seems that he has taken over the job of her stylist as she has a much more modern look. We bet that Kanye had something to do with this outfit as Kim is wearing only a skirt and blazer but seems to have forgotten her shirt! However, since the gorgeous reality star can basically pull off anything, we'll concede that while this look is certainly revealing, she does look stunning.
Jennifer Lopez (again)
J-Lo turned a lot of heads when she wore this hot outfit that matched the red carpet at the Met gala in 2015. She knows how to shock the fans in the right way and this was one of those moments. This gown was revealing in all the right places and added a lot of class to the gala. Sometimes we forget that J-Lo is almost 50 years old and has two children as it seems like she keeps getting younger with every passing year.
Laverne Cox
We guess black leather is the new black as this Orange is the New Black actress rocked this one-shoulder piece on the Grammys red carpet. This dress is revealing in all of the right ways without being too over-the-top. This is one a celebrity who knows how to rock a red carpet, managing look almost demure in a leather-and-chains combination, which is no easy feat. We expect to see a lot more stunning outfits from Cox in the future.
Diane Kruger
Oh Diane. Not only was this dress awkwardly revealing, it was extremely unflattering on her beautiful figure – and this is a woman who played Helen of Troy! The fabric looks like it was made from a curtain and sort of just hangs there. It looks like everyone behind Kruger on the Golden Globe red carpet was looking the other way – probably to avoid the fashion disaster taking place right in front of them. Let's hope this dress stays in the 2000s, where it belongs.
Aislinn Derbez
Aislinn Derbez is a Mexican actress who wore this show-stopping dress at the Latin Music Awards in 2016. This look does not leave much to the imagination, however, somehow Derbez seemed to pull it off. There is a lot going on with this dress with the cutouts, slits and plunging neckline but it all balances out in a way that makes the actress look like a runway model. The simple accessories and natural makeup also add to her classy look.
Angela Sarafyan
Angela Sarafyan is an actress who has appeared in the show Westworld and in the Twilight movies. A first we weren't sure if the sides of this dress were nude or her actual skin but it looks as though it is the latter. We think this dress would have been a lot more flattering had it just, well, continued along the sides, as the chasm-like slits are just a little too wide to be tasteful.
Hilary Swank
Hilary Swank is best-known for her role in Million Dollar Baby and she definitely looks like one in this dress. Swank made quite the statement in this black dress with a plunging neckline that she accessorized with a diamond pendant. While this daring look would not look good on a lot of people, it is very flattering on the actress who wore it to the Vanity Fair Oscars after-party.
Cher
Cher never seems to age but sometimes the 71 year-old makes outfit choices that are slightly beyond the pale. Cher was definitely turning heads when she wore this skimpy leotard and over the knee-high boots back in 2010 at the MTV Video Music Awards, but we think her take-no-prisoners attitude really pulled of the look, as she strutted her stuff down the (black?) carpet. Confidence is really key with an outfit like this, and in Cher's case, she had it in spades.
Kendall Jenner
We've talked about one Kardashian sister but now it's time to focus on one of the Jenners. Kendall Jenner is likely the least dramatic sister in the Kardashian-Jenner clan, and she has made quite a career for herself as a budding supermodel. Jenner is not known for making quite as daring fashion choices as her sister Kim, however, in this instance at the Much Music Awards Kendall decided to show off her long legs in a dress with slits all the way up to her hips!
Ellie Goulding
Ellie Goulding normally looks amazing on the red carpet but there is just something about this dress that isn't quite right. The centered slit in front is so high that it might as well have been a mini dress, and the weird neckline and chest area ends up giving her a frumpy look. Ellie has a gorgeous figure, but this dress that she wore to the 2017 Brit Awards is just not doing her any favors. We have faith in Ellie, though, and trust her to get it right next time.
Alessandra Ambrosio
Brazilian supermodels are really starting to take over our list! This is likely because they are absolutely stunning and know how to dress. However, in this one case we have to admit that Ambrosio's stylist made a mistake with this look. While the Victoria's Secret angel looks beautiful as always, the dress has so many extreme slits that it ends up hanging off her, instead of flattering what is an unbelievable figure. On the plus side, both her makeup and jewelry are gorgeous.
Irina Shayk
We've seen a lot of see-through panels and cutouts on this list, but Irina Shayk took this to a whole new level at the Vanity Fair Oscar party with a see-through jumpsuit that seems to have a piece of black fabric draped over half of her body. Listen, girl, you do you and taste is subjective, but we have to say that the only thing that would make this outfit even crazier is if that full bodysuit ended up covering her feet.
Bella Hadid
Her sister made out list and now it's Bella's turn. This is another dress that has less material than there is skin on this model's body. While the red color looks gorgeous on Bella, the shape and cut of the dress leaves a lot to be desired. We don't know who is styling models lately but some of the models on our list might want to look into choosing their own red carpet looks.
Ciara
Ciara made sure all eyes were on her when she showed up to the Billboard Music Awards in 2016 wearing this slinky, silver outfit. This is a look that will divide audiences, as you'll either love it or hate it. We happen to think that Ciara rocked this dress, especially since she made sure all eyes were on it by toning down her hair and makeup. Ciara certainly knows how to make waves in the fashion world.
ADVERTISEMENT
101 Nearly Naked Celebrities on the Red
The most memorable red carpet dresses
The 20 Most Revealing Oscar Dresses
Selena Gomez Shows Serious Skin in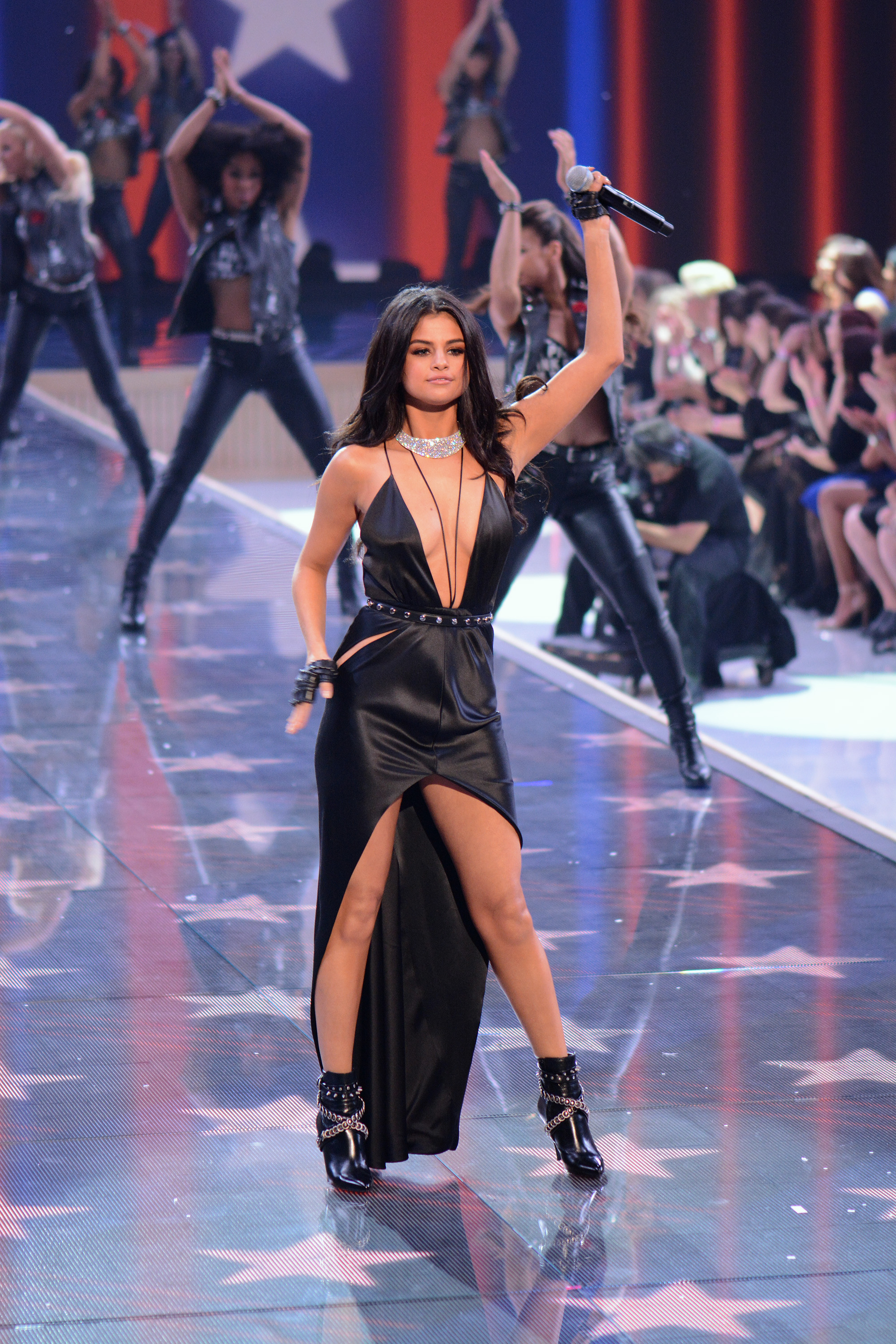 15
16 Super 90s