Old-Fashioned Chicken Pot Pie Recipe
Stumped for dinner? Get our life-saving Dinner Daily newsletter. You (and your stomach) can thank us later!
2 view more photos
Top Review by
brigitte I wanted to show my son that home made Chicken Pot Pie was not only better tasting and more nutritious than the frozen, ready made Chicken Pot Pies he's been eating, but also that home made Chicken Pot Pie is not as difficult as he might have imagine. This recipe served the purpose. We were not disappointed and even I was surprised at how easy this was. We used a ready made pie shell and now I can't wait to try this recipe with the home made pie crust. You will not be disappointed! Thank you Debber for making me look like I knew what I was doing (this was the first time I ever made Chicken Pot Pie) and for making a believer out of my son!
See All Reviews
Make a Tweak Ask a Question
2 recipe photos
Ingredients Nutrition
The Top Crust

1 1⁄4 cups milk, hot to the touch
2 tablespoons shortening
2 tablespoons butter
1 tablespoon sugar
1 tablespoon yeast
1 1⁄2 teaspoons salt
1⁄2 teaspoon tarragon
1⁄4 teaspoon pepper (or more)
3 1⁄2 cups flour

The Filling

4 cups cooked chicken breasts, cubed
2 1⁄2 cups chicken broth (from cooking chicken meat)
1 tablespoon butter
1 onion, chopped
4 carrots, peeled, sliced
4 celery ribs, chopped

Optional Filling Ingredients

canned mushroom (optional)
fresh mushrooms (optional)
thyme (optional)
rosemary (optional)
curry (optional)
peas (optional)
broccoli (optional)
mixed vegetables (cooked) (optional)
potato (optional)
turnip (cooked) (optional)

The Gravy

3 tablespoons chicken fat
3 tablespoons butter
1⁄3 cup flour
1 1⁄2 cups cream, half-n-half or 1 1⁄2 cups milk
1⁄4 teaspoon pepper

The Glaze

1 egg
1 teaspoon water
Directions
FOR THE CRUST.
Place all ingredients in your bread-maker (according to manufacturer's directions, mine go in "liquid first"); program for "Dough" or "Manual" then press "Start.".
The dough will be very sticky at first (like biscuit dough); it will firm up by the end of the kneading time.
While the dough is kneading, prepare the filling.
FOR THE FILLING.
Cook chicken breasts in your normal way (I use water & cooking sherry), reserve broth and separate fat if you can (used in the Gravy).
Melt butter in hot pan, saute onion & carrots until lightly browned, add celery, saute until limp-ish.
Dump veggies and chicken into large bowl.
FOR THE GRAVY.
Melt butter and fat (USE ALL BUTTER IF YOU DIDN'T SEPARATE THE FAT FROM THE BROTH) in same pan (as veggies), whisk in the flour.
S-L-O-W-L-Y add the reserved broth, continually whisking out the lumps.
Whisk in the cream and S & P.
Turn off the heat, stir in meat & veggies.
FOR THE GLAZE:
In a small bowl, mix egg and water, beating to a frothy mess; set aside.
ASSEMBLY.
Lightly spray or butter a 13x9 pan; pour chicken/gravy mixture into this dish.
Transfer bread dough to a floured work surface; knead by hand five times (count 'em); now let it rest for five minutes (this works, trust me).
Flour a rolling pin and roll dough into a 10 x 14-inch rectangle; do NOT over-work the dough, light touches are best!
Use a pizza cutter or knife to cut rolled-out dough into two-inch squares or diamonds if you're really creative!
Place squares/diamonds on top of the chicken-veg-gravy mixture in the pan--aim for a cobblestone look (overlap them a bit).
Brush generously with egg glaze (this will give the dough a nice brown--slightly shiny--finish).
Put into a COLD oven, turn heat to 350 (the dough will rise a bit while the oven heats); bake 35-45 minutes--the dough will be a lovely rich brown color.
Let rest about 5 minutes before serving.
With a green salad or a fruit salad on the side you have climbed to the top of the pedestal!
Nutrition Info
Serving Size: 1 (333 g)
Servings Per Recipe: 8
Calories 713 Calories from Fat 352 49% Total Fat 39.2 g 60% Saturated Fat 19.2 g 96% Cholesterol 164.1 mg 54% Sodium 877.6 mg 36% Total Carbohydrate 56.3 g 18% Dietary Fiber 3.5 g 13% Sugars 4.4 g 17% Protein 32.9 g 65%
Serves
Yields
13x9 pan
Units
US Metric
Like what you see here?
Add to collection
New Collection
Healthy Hungry
collection name
No Results
Whoops! There are no results for your search. Please modify your search and try again.
Old Fashioned Sugar Pie Recipe Call Me
Old Fashioned Banana Cream Pie - OMG
Old-Fashioned Chicken and Dumplings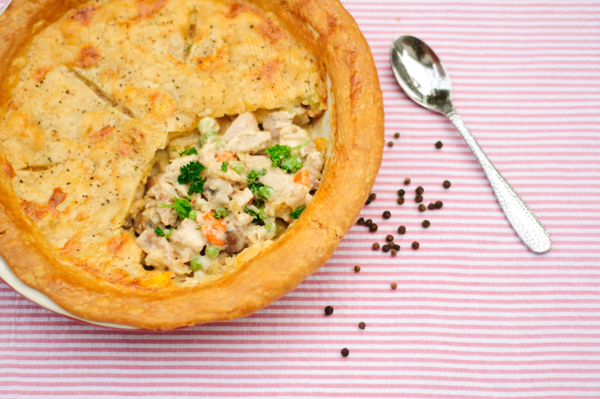 Deep South Dish: Old Fashioned Egg
1940s Fashion Women's Hairstyles
35 Beautiful Pakistani Ladies Shalwar Kameez Dresses 2018 - Folder